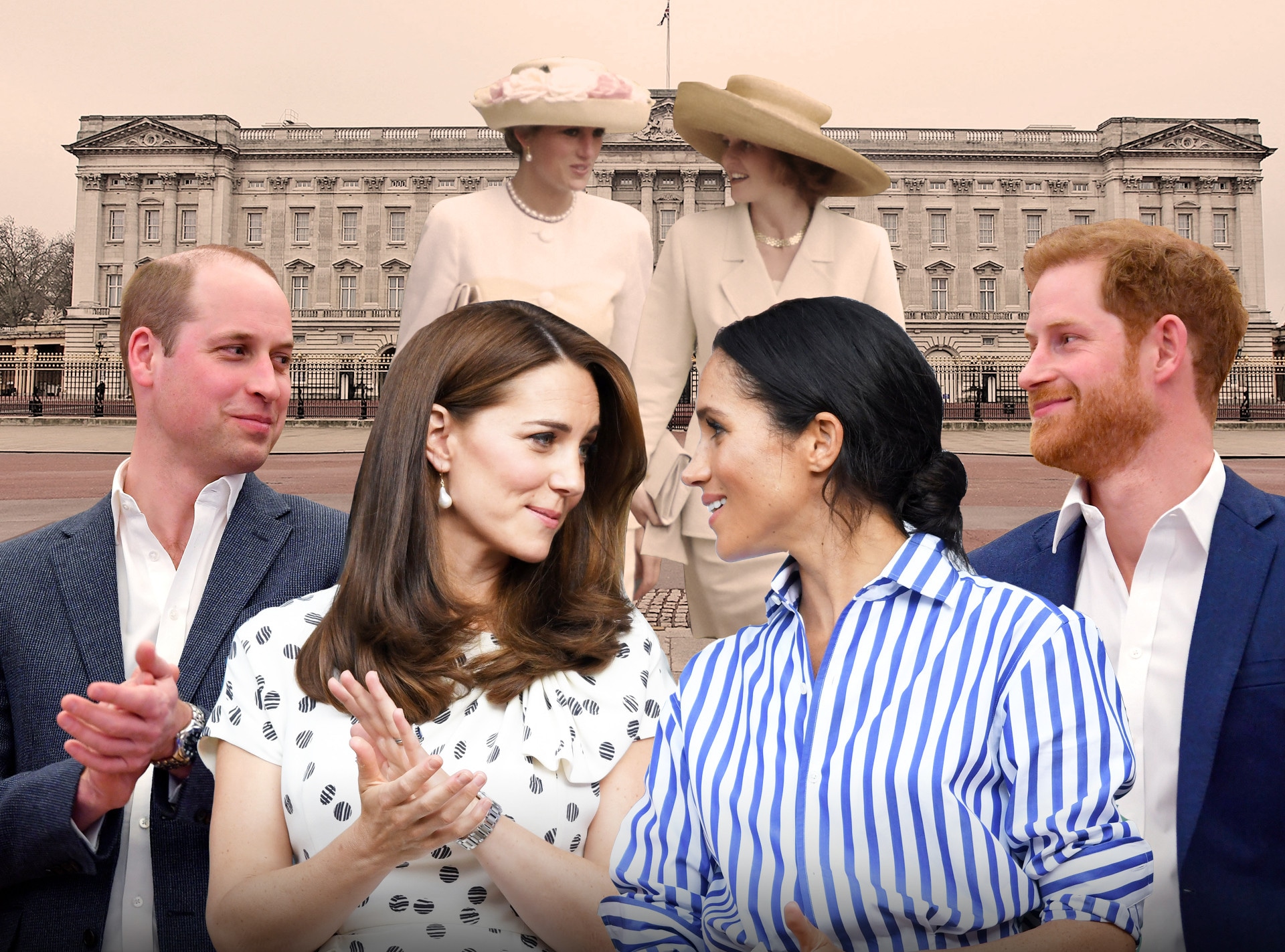 Getty Images; Melissa Herwitt/E! Illustration
When Sarah Ferguson married Prince Andrew and became the Duchess of York, Princess Diana was thrilled.
She and Sarah, whose schoolgirl nickname "Fergie" was fully adopted by the media on sight, were distantly related (fourth cousins) and had reconnected a year before Diana's 1981 wedding, which Sarah attended, sitting in the front pew at St. Paul's Cathedral. Their mothers were old friends and the daughters had become partners in crime—almost literally, such as when they dressed up as cops to crash Andrew's bachelor party, went to a nightclub instead and were promptly mistaken for kiss-o-gram girls.
"It was so hot in the wig and my feet were killing me—the shoes were two sizes too small," Diana later relayed the particulars of the evening to a guest at a Buckingham Palace garden party, the BBC reported at the time.
But that was the effect that the vivacious, fun-loving Fergie had on Diana, who, wanting a kindred spirit to tote the weary royal load with, had sat Sarah next to her eligible brother-in-law Andrew at a luncheon during Royal Ascot.
Fergie, in turn, adored her sister-in-law, whom she has called one of the funniest and most beautiful people she's ever known. Incidentally, she was also glad to have a confidante who had already been in the trenches for a few years.
And Diana was indeed fully entrenched.
By the time Sarah and Andrew got together in 1985, Diana had been married to Prince Charles for four years—and while she had the agog adoration of the press and plenty of common people in her court, her relationship with her husband and his family was already suffering under the weight of unmet expectations and an astounding lack of straight-forward communication.
"Maybe I was the first person ever to be in this family who ever had a depression or was ever openly tearful," Diana, who suffered postpartum depression after Prince William was born in 1982, told Panorama's Martin Bashir in 1995. "And obviously that was daunting, because if you've never seen it before how do you support it?"
Asked how that affected her marriage, she replied, "It gave everybody a wonderful new label—Diana's unstable and Diana's mentally unbalanced. And unfortunately that seems to have stuck on and off over the years."
But Diana and Fergie, for all the things they had in common, primarily blew past their real issues, including their respective insecurities—both inherent and media-driven—and their trouble adjusting to being cogs in the royal machine.
"I always felt safe in mimicking Diana—she was so far ahead of me on the learning curve, such a deft ambassadress for Britain and the Royal Family," Sarah wrote in her 1996 book My Story. "Nothing fazed her. She gave no hint to me or anyone of the problems she shouldered at the time."
From her clothes to her poise, "I thought Diana had all the answers."
Graham Trott/REX/Shutterstock
My Story was the first of several memoirs from Fergie, who has also written children's books, lifestyle guides and two histories of Queen Victoria, as well as had her own Oprah-produced reality show.
But that's because she and Andrew divorced in 1996, rendering her free to earn money as she pleased (though her splashier methods did not go uncriticized) and spill her royal beans.
Presuming the present generation of young royals stay married, there will be no tell-alls forthcoming from Meghan Markle or Kate Middleton (about them is another story, but not from them), and therefore no juicy dish straight from their perspectives about their lives—or about each other, for that matter.
Chris Jackson/Getty Images
Interestingly, a palace insider told the Daily Express last year, before Meghan married Prince Harry, that the incoming royal had a lot in common with Fergie—who, after not being invited to Kate and Prince William's 2011 wedding in the wake of yet another scandal, did attend Harry and Meghan's nuptials in Windsor last May.
"The Duchess of York is very colorful and very interactive," the insider said. "She has a particularly robust character. They're similar, Meghan and the Duchess of York. It's not a bad thing."
Of course, Harry's cousins' mother is hardly the only person Meghan has been compared to. Just as Fergie was compared top to bottom, inside and out, with Diana, Meghan and Kate haven't done or worn much—be it together, separately or years apart—that hasn't been dissected for commonalities.
And while Meghan has won a legion of fans and has been hailed as a welcome new addition (as Fergie was) as the monarchy continues its quest to seem modern, one can also describe that level of scrutiny as being put through the ringer. Moreover, the assessments of how she and Kate compare are by their very nature intended to elevate one and put another in her place. It just depends whom you're asking.
Though the reality of her and Diana's situation couldn't have been stranger back in the 1980s and '90s, all the way up until Diana's untimely death in 1997, Fergie has had the luxury of time and hindsight to sift through the good times and bad—and chooses to focus on the good.
And the Duchess of York can't stand to see history repeating itself.
"Women, in particular, are constantly pitted against and compared with each other in a way that reminds me of how people tried to portray Diana and me all the time as rivals, which is something neither of us ever really felt," Fergie wrote in an essay published in Hello! this week. She doesn't say so explicitly, but it's been read as being in response to the ongoing saga of how Meghan is getting along with her sister-in-law. Their relationship, as well as how Meghan is getting along, in general, remains a hot topic months after a celebrity news cycle typically peters out.
But these aren't normal celebrities, of course.
Meghan, Kate, Prince William, Prince Harry and even the queen for that matter are public figures whose actual job is to be out in public. Actors and singers, et al., can get away with saying they don't do many interviews or attend events because their only real job is making movies or music. The royals—and these royals in particular—are expected to be out there. And they kinda have to be themselves, or a convincing facsimile, lest they attract the poison pen of those who will accuse them of being...disingenuous.
Meghan only had to show up to be accused of being everything other than who she is—which is a person with whom Harry obviously does not find fault. And because there was another attractive young duchess in the picture—boom, a built-in feud took shape, spurred on by not even a photo of Kate and Meghan looking less than perfectly fine, but by the assumption that two women, put together by circumstance, can only have a relationship of extremes.
These days, the Kensington Palace social media team is busy playing whack-a-troll, deleting vile and sometimes downright abusive, threatening comments directed at Kate and Meghan posted on the palace's Instagram page—some from people actually daring to claim they're a proponent of one or the other.
"You can delete and report and block people and the police have options around particular people. It's something you have to manage because there's no other way to control it," a source told Hello!, which launched the #HelloToKindness campaign to encourage positivity on social media, in January.
"I rarely if ever go 'below the line' on social media or news websites and read people's comments," Fergie, who endorsed the kindness campaign, wrote in Hello!. "I know that a lot say nice things, but there's a large minority who seem to think that all the normal rules of society don't apply to the internet."
This is from someone who was dubbed "the Duchess of Pork" in 50-point font and probably once thought she had already seen the depths to which the strive to sell papers could go.
And, as a real inside expert on royal relationships, she knows there are many shades of gray between the black and white.
News UK Ltd/REX/Shutterstock
"From the start, humor lay at the core of my staunch friendship with Diana," the duchess wrote in her 2001 book What I Know Now: Simple Lessons Learned the Hard Way. "In public we'd poke fun at the pomposity around us; in private we'd banter in rapid fire, to see who had the quicker wit. We were great ones for practical joking, as well."
Sarah continued, "The memory I cherish most, though, is Diana's laughter at our regular Sunday lunches, when it was just family, and we could be ourselves."
Those who felt they knew Diana far outnumber those who intimately knew her, which is why the late princess' true self and what she really went through remains such an enduring topic of conversation, more than 21 years after her death.
The truth was, Diana and Fergie appreciated each other, and often needed each other, but the nature of the attention paid to them—by the press and their shared family—inevitably caused, in addition to flashes of envy or jealousy, the sinking belief within each one of them that she wasn't as good as the other.
A former Palace advisor mused to royal biographer Sally Bedell Smith for her 1999 book Diana in Search of Herself, "I wonder what would have happened if Sarah had not been there, because the two of them were trying to break the system."
In What I Know Now, Fergie admits to "straining to emulate Diana's panache." The press was obsessed with the Princess of Wales and fawned over her looks, her style and her figure. The athletic, curvaceous Fergie was at first lauded as a bubbly dose of fresh commoner air when she started seeing Andrew, the exciting redheaded counterpart to the blond glamour-puss.
Together they were the "Merry Wives of Windsor."
Soon enough, however, everyone was a fashion critic and quick to point out the duchess' fluctuating weight, while she was desperate to stay slim. And Diana, while she was charming the daylights out of everyone, suffered from bulimia for years.
"It became fat Fergie against wonderful Diana," The Sun's Harry Arnold, the late journalist who was first with the news that Charles and Diana were an item in 1980, told The Diana Chronicles author Tina Brown.
Diana, meanwhile, marveled over how Fergie made her adjustment to royal life look effortless.
From the beginning, Fergie "came to lunch at Buckingham Palace and didn't seem daunted by it all. I wasn't quite sure how to take it," Diana recalled in tapes given to biographer Andrew Morton in the early '90s,.
"Suddenly, everybody said, 'Oh, isn't Fergie marvelous, a breath of fresh air—thank God she's more fun than Diana," the princess continued. "I felt terribly insecure. I thought maybe I ought to be like Fergie. And my husband said, 'I wish you would be like Fergie, all jolly. Why are you always so miserable? Why can't you be like Granny [the Queen Mother]?'
"I'm quite glad I'm not like Granny now. And I made so many balls-ups trying to be like Fergie."
Diana acknowledged that she "got terribly jealous and [Fergie] got jealous of me...I couldn't understand it—she was actually enjoying being where she was, whereas I was fighting to survive. I couldn't understand how she could find it so easy. I thought she would be like me and put her head down and be shy."
Anwar Hussein/Getty Images
The Princess of Wales, who among her siblings-in-law was closest to Andrew, also felt the sting of how quickly Queen Elizabeth II and Prince Philip took to Fergie, who was an adept horsewoman, enjoyed the outdoors, had a ribald sense of humor and seemed naturally at ease—qualities the monarch and her husband greatly enjoyed. Diana's sister-in-law would be the one invited over for a quiet dinner at the palace while Andrew, serving in the Royal Navy, was away, and even Princess Anne, Charles' generally undemonstrative sister, called Fergie "a very, very nice girl."
"When the day is over [the queen] likes to relax and be comfortable," a source told Vanity Fair in 1987. "Chatting to Sarah is probably a little like chatting to a younger version of the Queen Mother. She's cozy."
"In private, I called her mama," Fergie revealed in My Story. "And it meant so much when she spoke of me as 'my daughter-in-law,' as she did...When she waved me to sit next to her in the car or at church, I felt favored and blessed."
Just a year after Andrew and Sarah married on July 23, 1986, there was already speculation that Diana had soured on her new sister-in-law because everyone else liked her so darn much. Or, better yet, that a problem maybe hadn't taken shape yet, but was looming.
"At first it was lovely for the princess to have someone of her own age to giggle with," a close friend of the family told Vanity Fair in 1987. "Now I think she can't help but make comparisons. The duchess has all the perks and none of the real stresses and strains. As time goes by, that will become more and more apparent. I predict there will be competition."
Well, the Brits do love their wagers.
Also by then, what Diana later astutely described to Bashir as the tendency to see her as unstable—in contrast with Fergie's perceived fortitude—had taken hold in the popular imagination.
Despite Diana's admitted resentment over how much Charles seemed to like Fergie, ironically it was the Prince of Wales—the cerebral, sensitive member of the family—who's said to have found Fergieto be... a little much.
"For him she's too backslapping and boisterous at present," a family friend told VF. "That'll have to calm down."
Calm down it did.
For a time, Fergie's stock was on the rise, as she started dressing in more designer clothes, got her private pilot's license and continued to seem like the life of the party, while Diana was criticized for being the life of the party, because she was partying without Charles. Fergie, however, was not so frequently dinged for going out alone, the duchess—unlike the princess—not expected to be perfect. The princess—unlike the duchess—was seen as unable to get a handle on her husband.
At Balmoral as a newlywed, Fergie was "a glowing ball of happiness," she recalled in My Story. Everything was going right for her, including her press, while Diana—who never seemed to enjoy the annual summer trip to the royal residence in Scotland—"felt so wretched in every way."
"I'd watch out for her, be strong for her," the duchess described her own feelings at the time. "I was so hearty and well-grounded, built to be leaned on. In short, I was a sublimely considerate sister-in-law, and I'm sure I made a bad time for Diana positively nightmarish." (If she was referring simply to the fact that she was openly happy while Diana was miserable, Fergie was being a little hard on herself.)
"But even in my fleeting glory," Fergie concluded, "I knew that I tiptoed a tightrope and that Royals never worked with nets."
Despite their markedly different "honeymoon" periods, Diana and Fergie eventually proved to have another thing in common: Neither liked the feeling of being neglected, Fergie while Andrew was away for weeks at a time with the navy and Diana almost from day one.
The Princess of Wales felt unmoored in her marriage early on and, by the late '80s, she and Charles were leading increasingly separate lives while putting on an impressive front for William and Harry's sake. Charles also eventually resumed his relationship with ex-girlfriend Camilla Parker-Bowles, making for a marriage that was "a bit crowded," as Diana put it to Bashir.
Diana and Fergie, both of whom had mothers who left their fathers for other men, started spending time in the company of other gentlemen.
Andrew and Fergie told the queen at Christmastime in 1991 that they intended to separate—and the Daily Mail forced their hand in March 1992 when the paper ran with the scoop. The palace suspected Fergie of leaking the news but, according to The Diana Chronicles, Andrew Morton said that it was Diana who tipped off the paper, wanting to distract from an exposé that was about to be released. (Richard Buskin's unauthorized Diana: The Story Behind Her Private Life beat Morton's Diana: Her True Story in Her Own Words to the shelves by a few weeks that year.)
"The Duchess never suspected Diana as the source of the leak," Brown wrote.
Despite the royal family's general chagrin over the collapse of her marriage, Diana was still the mother of a future king, and the press tended to lay the blame for her troubles at Charles' feet (not to mention that dratted Camilla). Diana in turn became warier of being linked to Fergie, as the duchess' press couldn't have been more unflattering. And according to Morton at least, Diana wasn't above throwing her friend under the bus.
Still, Diana and Fergie's respective troubles brought them closer together. Both mothers of two, they could once again bond over the absurdity of their situation and the nonsensical demands of royalty, a club that didn't want either of them as a member but couldn't expel them entirely.
In 1991, while on holiday with the Firm at Balmoral, the two went on a tandem nighttime ride on a motorbike and plowed over the golf course. Then they took the queen's Daimler for a joyride around the castle grounds, Diana behind the wheel and wearing a chauffeur's cap, Fergie riding in the backseat.
"Sarah Ferguson was a very, very useful friend to the Princess during the months before the divorce," Diana's onetime media adviser Jane Atkinson told Tina Brown. "If she hadn't had her house to go to she would have gone mad."
"She was two years younger than I, and I strove to support and protect her as I would a younger sister—as I still do today, as a best friend," Fergie wrote in My Story.
Still, it's also been hypothesized that Diana was the one who tipped off the paparazzi to where Fergie would be vacationing in Nice with American businessman John Bryan in the summer of 1992. Racy photos of the two canoodling were splashed all over the Daily Mirror on Aug. 20. Philip saw the pictures while Fergie was sitting in front of him at Balmoral, and the queen recommended she go back to London at once.
The toe-nuzzling snaps became a far more memorable and joked-about scandal than The Sun publishing—three days later—the transcript from a leaked tape of a phone conversation Diana had with James Gilbey, who called her "Squidgy" and repeatedly declared his love for her over the course of 40 minutes (you could also call a hotline and listen to it).
In the end, being held in such esteem by the queen and Philip made Fergie's fall from favor all the more spectacular. The media, so in love with her unaffected realness for years, was only too happy to change "down-to-earth" to "frumpy" and "faux pas" to "disaster" as they were "York" to "pork."
"The British people are now fed up with the frolics of Fergie," read a take in London's Daily Star. "It's one thing to be a troubled wife with marriage problems. It's another thing to be a trollop."
"I had been tagged 'unsuitable' for royal life, and the charge stuck," Sarah, stripped of her HRH honorific but still the Duchess of York after she and Andrew divorced, wrote in My Story. "I was frozen out and not just in the Palace; the wind from all the doors slamming in my face might have knocked me over."
Anwar Hussein/Getty Images
Diana was more well off financially than Fergie after her separation and subsequent divorce, and she busied herself with William and Harry and her own causes, including traveling the globe to raise awareness of HIV/AIDS affecting children in Africa and backing an effort to ban landmines around the world. But the two remained in touch, forever linked by their tumultuous royal journeys.
They vacationed together in France after Charles and Di's divorce announcement in August 1996, but then Fergie's book came out that November.
After she died, rumor had it Diana was put off by a crack the duchess made in My Story about getting a plantar wart after wearing the princess' shoes, an anecdote Diana called "unkind." (Though if the princess was put off by that, seemingly any number of other tidbits in the book could have upset her as well. And Diana also reportedly asked Fergie not to answer questions about her on her book tour, but the duchess did anyway.)
Diana biographer Simone Simmons has said that Fergie also encouraged Diana to do the Martin Bashir interview, which Diana later regretted.
"He duped her into it because he got her at a weak spot when she was a bit down," Simmons said in the 2017 Amazon documentary Diana: The Woman Inside.
"I said, 'Who advised you to do this awful thing?" Simmons recalled. "She said, 'Well, Fergie and [actress] Ruby Wax. 'I said, 'Yeah the brains of Britain! Oh my God!'"
"It is true that our friendship was periodically strained," Fergie wrote in her 2011 book Finding Sarah. "Sadly, at the end, we hadn't spoken for a year, though I never knew the reason, except that once Diana got something stuck in her head, it stuck there for all.
"I wrote letters, thinking whatever happened didn't matter, let's sort it out. And I knew she'd come back. In fact, the day before she died she rang a friend of mine and said, 'Where's that Red? I want to talk to her.'"
Fergie wrote, "Diana's death left a God-sized hole in my heart. I loved her so much."
If only Fergie or Diana had an advocate such as George Clooney in her corner back in the day.
"I do want to say, they're just chasing Meghan Markle everywhere," Clooney, who attended Meghan and Harry's wedding with wife Amal Clooney, told Australia's Who magazine. "She's been pursued and vilified. She's a woman who is seven months pregnant and she is being pursued and vilified and chased in the same way that Diana was, and it's history repeating itself.
"We've seen how that ends. I can't tell you how frustrating that is, just seeing them broadcast a letter from a daughter to a father, she's getting a raw deal there and I think it's irresponsible and I'm surprised by that."
James Gourley/BPI/Shutterstock
It's sweet that he's surprised.
But if there's one silver lining to the rabid press coverage of Meghan, and of her relationship with her father (who shared a letter she allegedly wrote to him after her wedding with the press, perhaps forever ruining their chance at reconciliation), and her connection with Kate, it's that times have changed for the better as well.
For one thing, her husband, Prince Harry, didn't propose to Meghan fueled in part by expectations that he'd pick a wife who'd make a suitable queen. Like his father, Charles, he did perhaps pick someone whom he hoped his mother would have liked, but Harry fell in love with a woman whom he seemingly does have a lot in common with. (As did William, though as second in line to the throne he had to consider the queen bit.)
Both brothers also have the dueling burden and luxury of hindsight as far as knowing how the media can get out of control—the horrific end result to which George Clooney was referring, as well as the lengths the press will go (reminiscent of those who were eavesdropping on Diana and Charles, years later William and Kate were among the targets of hackers deployed by the now-defunct News of the World) to gather information.
Moreover, neither Meghan nor Kate would have to go through what Diana did, silently suffering from depression and an eating disorder. Nowadays the young royals acknowledge that they're human. Harry has talked about going to counseling, with William's support, to deal with lingering issues from his mother's death. Mental health awareness has become one of the family's prominent causes.
And the palace insider who compared Meghan to Fergie, knowing how the latter's marriage turned out, was quick to note that the Duke and Duchess of Sussex would have a far different sort of marriage than the Duke and Duchess of York. "It's very different now, time-wise," the source said. "It's more modern."
Sarah would agree that neither Meghan nor Kate should have to grin and bear situation they're not comfortable with.
"I spent my entire first pregnancy alone," Fergie recalled to Harper's Bazaar in 2007. "When Beatrice was born, Andrew got 10 days of shore leave, and when he left and I cried, they all said: 'Grow up and get a grip.' So don't let them tell you what to feel, how to do things, who you are. Be yourself."
But wanting to focus more on how it could have been, and maybe even on how it sometimes was, Fergie says that when it comes to Diana, the important thing for Meghan and Kate to know is how happy she would have been to see Harry and William end up with them.
"She'd really just be so proud," the duchess said on Good Morning Britain in November. "Even before they got married, Diana would have been just literally going 'I can't believe these boys have done so well.'"
Diana "had this enormous compassion," her former sister-in-law remembered, "and I honestly think she'd be so proud of the wonderful Meghan and Catherine as well. She'd want to embrace them and say, 'You're doing well.'"
And anyone in Meghan and Kate's situation (everyone talks about how Meghan is rubbing Kate the wrong way, but no one ever notes how uncomfortable Kate may feel about having to share these viperous headlines), or even William and Harry's for that matter, could stand to remember Fergie's take on what her and Diana's relationship was actually like, regardless of how it was framed.
"In any sibling relationship," the Duchess of York wrote, "there are ups and downs and peaks and troughs, but we were always steadfast in our friendship. We never let the sun go down on too many heated discussions. Our bond was never broken."