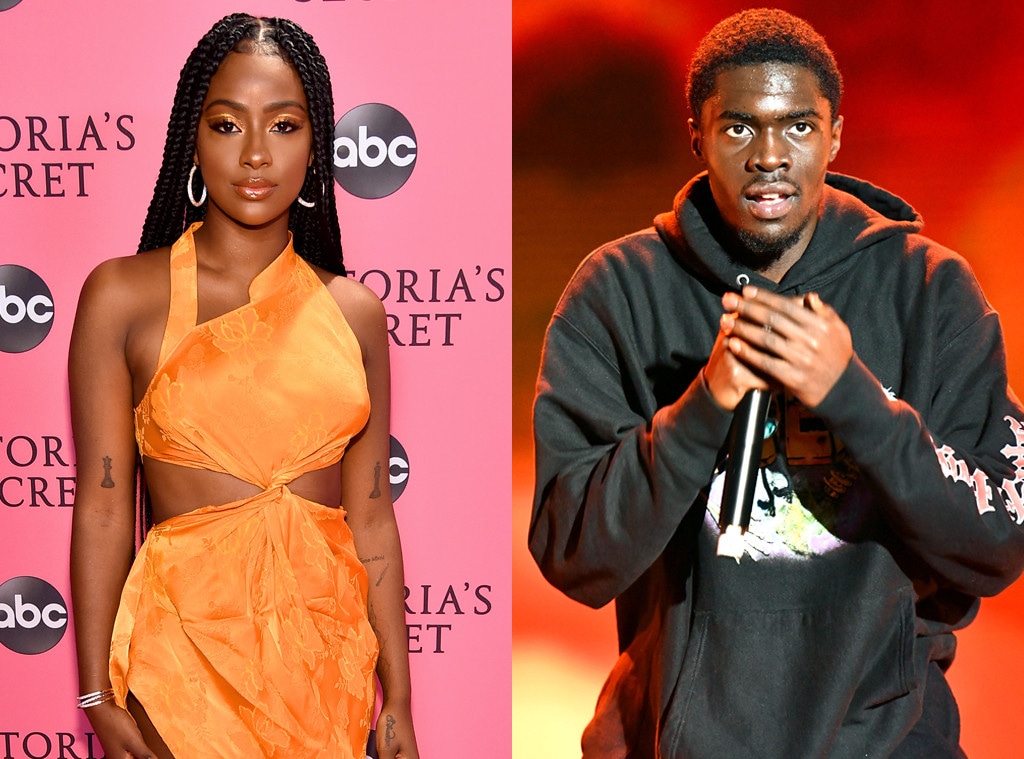 Theo Wargo/Getty Images for Victoria's Secret; Scott Dudelson/Getty Images
Justine Skye is accusing Sheck Wes of abuse.
The "Build" singer took to Twitter on Monday to share details of an alleged incident she claimed took place in the presence of her friends, her boyfriend and Wes.
"Taking a walk with my friends and my man and Sheck Wes (my abuser) and his friends decide to STALK US. Two cars full of n----- while we sat in the car like a b----," she tweeted. "You're pathetic sheck and you beat women. You hit your girl before me and you'll do it again."
The recording artist then added, "You're pathetic... and all the people defending you, ya whole b---- ass label..everyone. You spreading lies about me. Moral of the story is, if you never put your hands on me.. you wouldn't be in this situation and you just keep making it worse."
Wes denied the allegations just a few hours later.
"I've chosen to remain silent until now out of respect for actual victims of abuse," he tweeted. "But I cannot stand by while lies are repeatedly told about me. I never hit or beat any women and I did not beat up or jump anybody."
However, Skye continued to assert her claims.
"I literally have footage of you jumping over the fence of my crib to attack me Sheck... your lies are even more disrespectful," she wrote in reply.
She then shared footage of Wes climbing over a gate.
"Are you going to lie now and say this is not you too?" she captioned the footage.
Wes later tweeted, "Just clarifying this is a video of me hopping a fence to get my stuff back from a girl who refused to give me my stuff . Once again for the record I never hit or beat up any woman."
"Refused?" Skye replied. "THIS specific incident was BECAUSE I was trying to give you your things... you decided to react violently and irrational because you 'are a grown a-- man and I'm not going to disrespect you' because I put them in garbage bags for you to pick up."
She then added, "Did you forget about the time you launched my phone across the room at the Montrose hotel, slapped me in the face with money saying 'get a new one bitch,' the two hotel security guards holding you back from attacking me while I ran away. The cops coming..."
"This is a complete lie," he replied to the tweet. "I called my hotel to come get you away from me because I stayed there a lot and I was a young artist scared and afraid of a girl like you. All this back and forth is childish, people talk and resolve or go to police not provoke social media."
In addition to these tweets, Skye shared a photo of an alleged text exchange between herself and Chase B in which she claims "he's breaking things" and that she "locked myself in a room."
E! News has also reached out to his management team for comment.
Earlier this month, the 23-year-old star posted a cryptic tweet.
"Don't be discouraged by the success of evil people," she began. "Their demons will follow them wherever they go... things aren't always how they seem."
Last October, during Domestic Violence Awareness Month, the singer released a personal and moving track titled "Build." The music video that accompanied her song featured real-life events she experienced with abuse.
She spoke to Billboard about the video, saying it was difficult "reenacting something I have been through."
"There were people in the room, and other women in the video that have been through [abuse], too. For my mother to watch [the filming was emotionally draining]. It was very sad. I was thinking about all the women who have experienced this," she told the publication.
"I've played the video for some people, and it was triggering. For the most part, I hope that people get the message I am trying to spread, which is awareness of the situation. Standing up to [domestic violence] is extremely important. It can happen to anyone," she said.
Adding, "You [must] find the strength to remove yourself from the situation. Understand that you are important. You are valuable. Your life is valuable. Your love is valuable! You deserve so much better."
At the time, people suspected Skye was accusing Wes of abusing her when she released "Build." However, she had never revealed the identity.
For more information on domestic abuse or to get help for yourself or someone you love, visit the website for The National Domestic Violence Hotline (http://www.thehotline.org/) or call 1-800-799-7233.