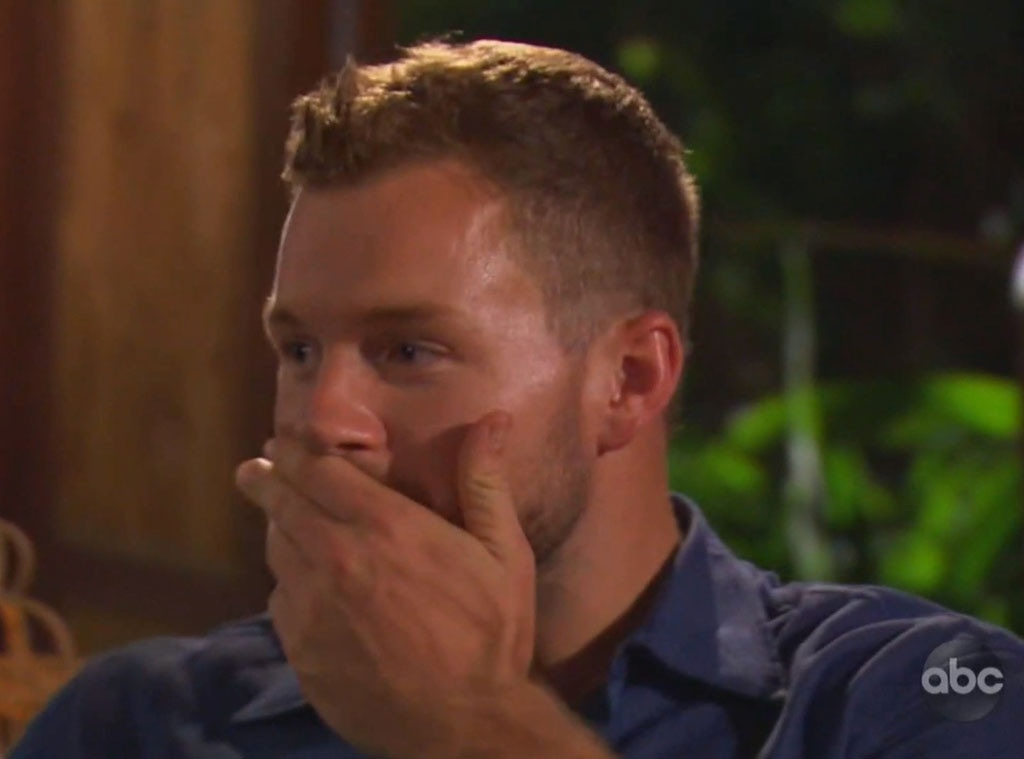 ABC
Much like Chris Harrison promises every week, Monday's episode of The Bachelor involved a lot of drama and even more tears.
Last week's episode ended with a "To Be Continued..." that involved Colton Underwood walking off and leaving Onyeka and Nicole from Miami to fight it out about being there for the right reasons. That argument bears some resemblance to the unforgettable Taylor Nolan-Corinne Olympios argument about emotional intelligence and what it really means. Unluckily for Onyeka and Nicole, both women were deprived of roses at the ceremony.
It was a hard week for Bachelor Colton, especially given the tearful breakup with Elyse Dehlbom, who just wanted "the time and attention that a relationship deserves."
Alas, we digress. Colton and the remaining ladies packed up their bags and ventured from Thailand over to Vietnam. Their dates involved a spa day, some fighting and more. From the start of the episode, it was clear Demi was going to have a prevalent role in tonight's episode.
Another notable and repetitive theme throughout the episode: warning Colton about the other women in the house (or hotel).
Demi made herself out to be that contestant since she first stepped out of the limo at Bachelor Mansion in her yellow skirt and top combo. After all, she uttered to Colton on night one, "I haven't dated a virgin since I was 12."
On the date, however, Demi opened up to Colton about wanting to be "soft and sensitive" with him. They even called her mom Tina who just got out of federal prison, making it the first "normal phone call" she's had with her mom in years.
"You have raised a fabulous daughter," Colton told Tina.
On another night, Demi snuck over to the 27-year-old's room and did her best to gain some extra one-on-one time with the leading man. "I'm not leaving Vietnam without making a big move with Colton," she said in a confessional. "I've got to go really balls-to-the-wall this time. Hopefully, after tonight, Colton won't be 'the virgin' anymore."
Unfortunately for the 23-year-old, her plan didn't exactly work out like she originally envisioned. Perhaps the thunderstorm in the background foreshadowed her future?
Despite her attempts to de-rose Colton, the philanthropist sent her packing back to Texas. 
Demi showed up at Colton's hotel room in jean shorts and a tight pink shirt. She admitted to Colton that she was "falling in love with you."
"I didn't think I would ever feel the way I felt about you the way that I do now," she said. "I never thought it would be this real for me. It's really scary for me to even say that."
She continued, "I feel so confident and so happy with what's going on between us. I now feel like I am falling in love with you. I just want time to be able to enjoy each other and to just let myself fall."
Although Demi showed lots of vulnerability, Colton told Demi the feelings weren't as mutual. "I appreciate you saying that to me, Demi. I really do," he told her. "It means a lot. You continue to make me feel special."
He said he thinks about their relationship a lot, but "there's a part of me that just doesn't know if we can get there. I don't know right now if I can see myself with you at the end of this. I can't sit here and after hearing that tonight, put you through a rose ceremony." 
Colton then told her she was "incredible and you're going to make someone so happy."
Just like Sydney, Demi heeded warning about some of her fellow contestants. "There are certain girls who seem like a safe choice, but at the end that it's not actually going to be safe because you're not gonna end up happy in the long run," she said.
Demi wasn't the only one to depart Vietnam a tad early. Sydney, the 27-year-old NBA dancer, went home. After finding out she was on the group date and didn't receive a one-on-one date, Sydney tearfully said in the confessional she was "disappointed" about the outcome. "I need that one-on-one time in order to know if he's the one for me or he's someone I can take home to my family," she added.
During the cocktail party after their date, Sydney explained that she was feeling apprehensive because she didn't get some of the answers she was really looking for. She and Colton sat down for a chat at the dinner after the group date where Sydney said she wanted to "be fully honest and open."
"I feel like ever since someone's like, 'Hey, you're The Bachelor,' it's a lot of pressure. Everybody expects me to have everything figured out, and I don't. I don't have it figured out," Colton told her. "I'm not naive to the fact that there's other people here and I know every relationship is so different."
Sydney then called out some of his other relationships that have progressed quickly. "My fear is that with the choices that you've been making, you are taking a lot of the easier choices with the people that you are pursuing. If that's what you're looking for, great," she told him openly.
She continued, "I'm kind of at a crossroads because I want something real and I want something magical and I want everything that you're looking for."
Sydney explained to Colton that she doesn't "regret being here and don't regret what I've done so far."
She remained realistic about their relationship and talked about some of her difficulties connecting with The Bachelor, unlike some other women on the show. "If it was right, it would be a lot easier than it has been between the two of us. I just don't think we can get there based on me just needing more," she said.
The NBA dancer then took herself out of the competition and said, "I am gonna go home today."
As he walked her out, Colton told Sydney, "I've known from the very beginning how much you've given up to be here. I'm sorry."
Before heading into the black SUV and driving off into the horizon, Sydney offered him one huge piece of advice. "There are some very wonderful people in that group," she said. "Find them. Figure out who they are. Don't be distracted by shiny things, especially now."
Each week brings us closer and closer the much-anticipated proposal in some far-flung and beautiful location. Colton, however, remains mum about his potential engagement. He told E! News recently that he won't give any hints as to the conclusion because "1. I wouldn't want to spoil it for people, but 2. There's been a lot of ups and downs. I sort of want to take the viewers and everybody on that ride with me. I wouldn't want to spoil it for anybody."
At least we know the fence jump will (maybe???) happen next week.