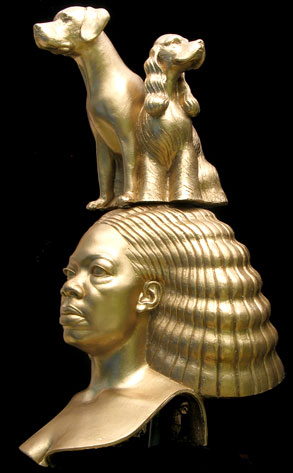 Daniel Edwards/ Leo Kesting Gallery
The Britney-giving-birth-on-a-bearskin-rug guy has done it again.
Sculptor Daniel Edwards, also responsible for Paris Hilton Autopsy, has fashioned a new conversation piece, this time a bust of Oprah Winfrey with "puppy versions" of her beloved late cocker spaniel, Sophie, and golden Lab, Gracie, perched atop her head.
Memories of Sophie and Gracie: A Puppies Memorial is a tribute to Winfrey's feelings for her dogs and also a reminder to all pet lovers to do what they can to prevent premature canine fatalities, Edwards says. (Sophie died in March of kidney failure, but Gracie choked on a ball last year.)
Explains John Leo, codirector of New York's Leo Kesting Gallery, a regular Edwards exhibitor: "To represent Sophie and Gracie together, joined in Oprah's memory as they were in life and in Oprah's heart, the artist depicted them as conjoined at the hip and sharing a common tail."
Nope, nothing weird about that.