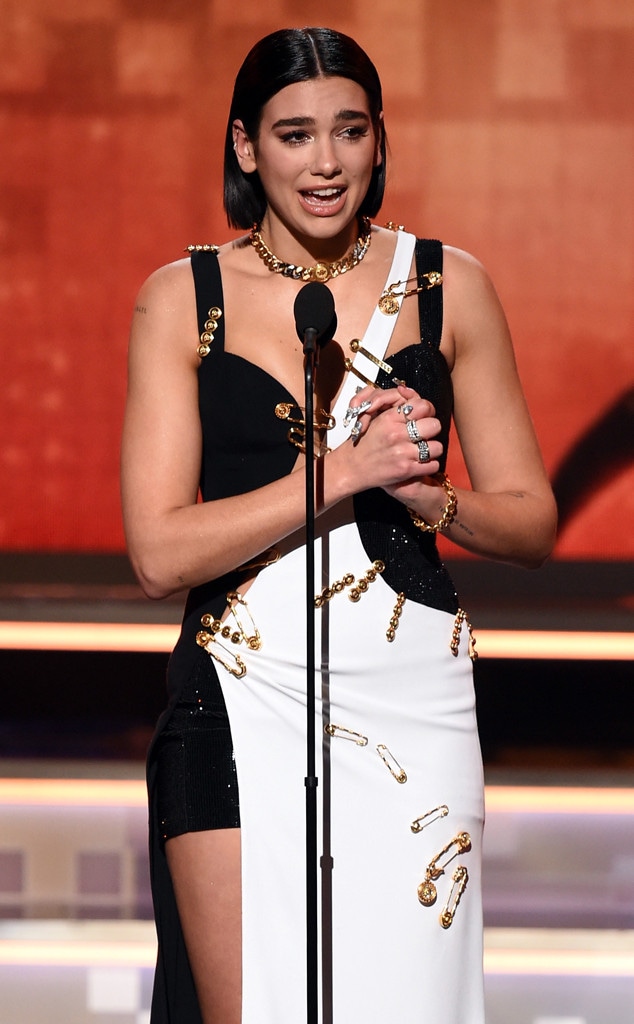 Kevin Winter/Getty Images for The Recording Academy
It's a good night to be Dua Lipa.
Immediately after the "New Rules" singer burned up the 2019 Grammys stage with a sizzling performance alongside St. Vincent, she was awarded with her second trophy of the night in the all-important Best New Artist category. 
Receiving her award from last year's winner Alessia Cara and long-ago winner Bob Newhart, she returned to the stage and was so overcome, she forgot to take her award out of Newhart's hands. But she wasn't too overcome to get in a slight jab at Recording Academy President Neil Portnow.
"Oh my goodness. Thank you so much. I don't even know where to begin," she started. "I guess where I want to begin is to say how honored I am to be nominated alongside so many incredible female artists this year because I guess this year we've really stepped up."
You'll recall that last year that, after female artists failed to earn much recognition at the 2018 Grammys, Portnow said that women needed to step up. And, well, it didn't go over very well.
After getting her jab in and turning her thank yous to her family, Dua had an important message she wanted to share with everyone watching at home. "I have one thing that I really want to say is for anyone that hasn't realized how special they are to have a different story, a different background, a name that honors their roots because they just want to be normal, whatever the hell that means, just know that no matter where you're from or your background or what you believe in, never let that get in the way of your dreams because you deserve it," she continued. "And I'm proof that you can do whatever you put your mind to."
And there would've been more to the speech, too, but like Drake before her, she fell victim to the mic cut-off as the show cut to commercial.
Not cool, Grammys producers!
Dua won during the Grammy's marathon award handout prior to the televised ceremony, taking home a trophy for Best Dance Recording for her song "Electricity," recorded with Silk City, made up of Mark Ronson and Diplo.
In the category of Best New Artist, she was nominated against Chloe x Halle, Luke Combs, Greta Van Fleet, H.E.R., Margo Price, Bebe Rexha, and Jorja Smith.
Congrats, Dua!