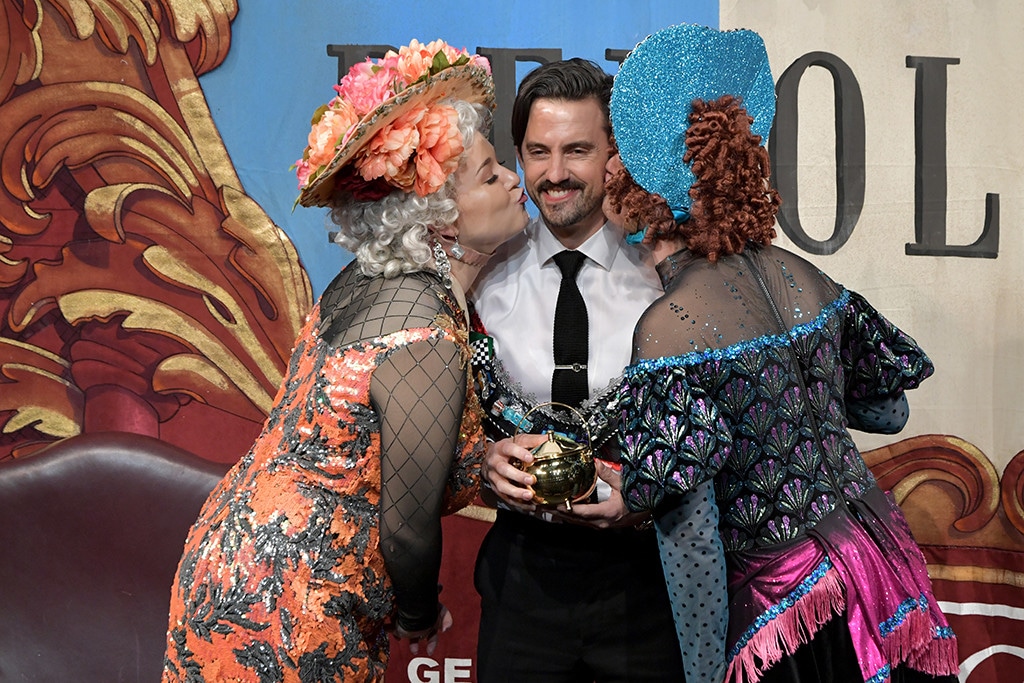 Paul Marotta/Getty Images for Hasty Pudding Institute of 1770
Your favorite TV dad Milo Ventimiglia is following in the footsteps of the likes of fellow hotties Ryan Reynolds and Paul Rudd.
On Friday, the 41-year-old This Is Us actor was honored as the 2019 Man of the Year by Harvard University's Hasty Pudding Theatricals group. At a roast ceremony on the Cambridge, Massachusetts campus, he wore a decorated bra of honor and received a golden Hasty Pudding Pot and kisses from male performers dressed in drag, as per tradition.
Plus, Ventimiglia's mom Carol was his plus-one to the event. How sweet!
The Hasty Pudding Theatricals, the oldest theatrical organization in the United States, hands out the Man of the Year and Woman of the Year awards annually to performers who have made lasting and impressive contributions to the world of entertainment. Bryce Dallas Howard was honored as the 2019 Woman of the Year last month.
The actor had to earn his Pudding Pot by completing tasks such as singing Fergie's "Big Girls Don't Cry" (he starred in the music video), giving a lap dance in order to compete for the title of Sexiest Man Alive, and to rap the entirety of the Fresh Prince of Bel-Air theme song.
Paul Marotta/Getty Images for Hasty Pudding Institute of 1770
At the ceremony, which was co-hosted by Clase Azul, Ventimiglia explained exactly why his friend Alyssa Milano named her son Milo Thomas Bugliari after him. He said as the crowd erupted into cheers and laughter, "Alyssa named him after me because I was the first person to tell her husband Dave that he was in love with her, so they named their baby after me."
Milano is married to CAA agent Dave Bugliari.