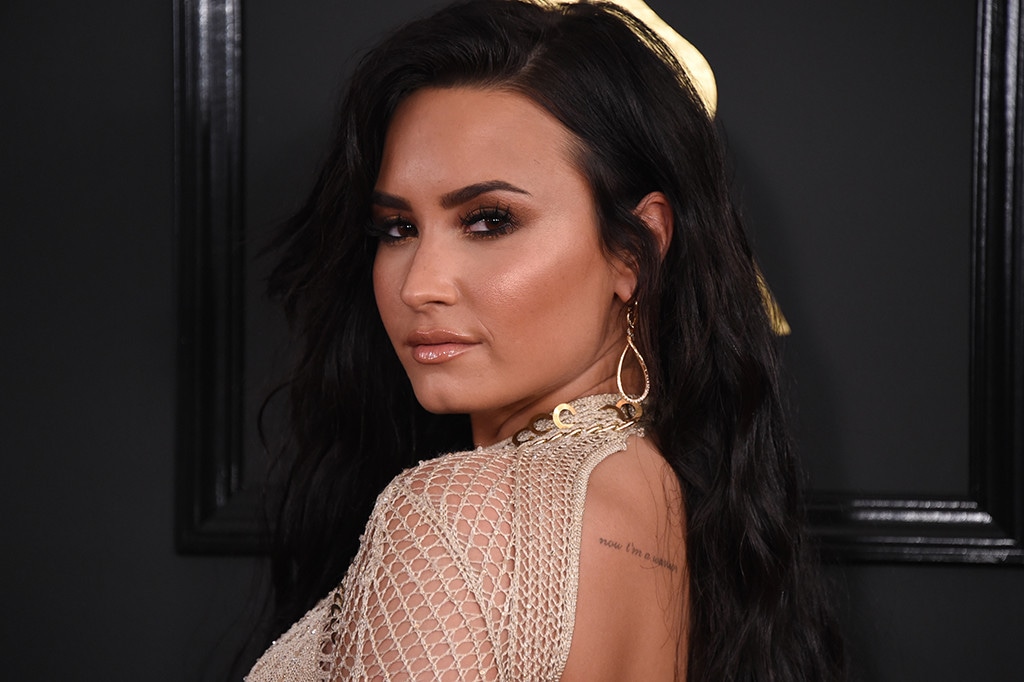 Phil McCarten/CBS
For many artists, winning a Grammy is a career highlight. For Demi Lovato, it's a peak she has yet to reach.
"Winning a Grammy is the pinnacle of success as an artist in the music industry," she once told the Recording Academy. "So, to me, it would just be all of my dreams coming true."
Lovato made her Grammys debut in 2016, when she performed a group tribute to Lionel Richie. She then earned her first nomination in 2017 for Confident—an album about coming into her own after struggling with addiction, eating disorders and bipolar disorder. It was up for Best Pop Vocal Album. However, Adele ended up taking home the trophy for 25. 
"Of course, everyone in the category was amazing," Lovato told Ellen DeGeneres, "but even my mom was like, 'You know that Adele is going to win this.'"
Still, the loss didn't rock Lovato's confidence. In fact, she credited the nomination with helping her stay in the biz. The former Disney Channel star had announced plans to take a "break from music and the spotlight" just the year before.
"I got a Grammy nomination, and I felt like it was God's way of saying, 'You're on the right path. Stay strong at what you do and work hard,'" she told Official Charts. "I'd [gotten] fed up with the media twisting my words and making me sound a certain way. When I got the Grammy nomination, it changed things for me."
The second nomination came this year. The "Sorry Not Sorry" singer earned a nod in the Best Pop Duo/Group Performance category for "Fall in Line" with Christina Aguilera.
"Woke up filled with hope," Lovato tweeted after learning of her nod. "Dreams come true y'all... thank you @xtina. I love you so much."
Part of the dream came from sharing the acknowledgement with one of her idols. 
"I grew up in Texas, singing to @xtina every day, DESPERATELY trying to hit her high notes," Lovato tweeted. "If you would've told me I'd have a Grammy nod with her I would've laughed in your face!! This is so surreal."
Another part may have come from having the song's message be so well received. Lovato once described the music video as "powerful" and said its message of "women supporting each other through their struggles" was "so important" to her.
Or, perhaps, the dream stemmed from the fact that Lovato had just survived a struggle of her own and was "grateful to be alive."
In July 2018, Lovato was hospitalized after suffering an overdose. The news came just a month after she released "Sober," a song about relapsing. The artist had celebrated six years of sobriety just four months before; although, a source told E! News she had gone on a "downward spiral." 
The "Skyscraper" singer's family and ex Wilmer Valderrama  rushed to the hospital to be by her side.
"We got there as quickly as we could," her mother, Dianna de la Garza told Newsmax TV. "Dallas and Madison and I jumped out of the car at the emergency room and ran into the emergency room to be by her side. She just didn't look good—at all. She was in bad shape. But I said to her, 'Demi, I'm here. I love you.' And at that point she said back to me, 'I love you, too.'"
However, it looks like all of Lovato's hard work is paying off. In January, she celebrated six months of sobriety.
And just like in "Fall in Line," Lovato can count on the support of other women to help her get through this tough time. During a recent interview with The Associated Press, Aguilera described Lovato as someone who knows how to "be strong and pull through."
"Everybody has their own things they go through," Aguilera said, "and I'm just so proud of her and I just think she is so adorable and such a talent."