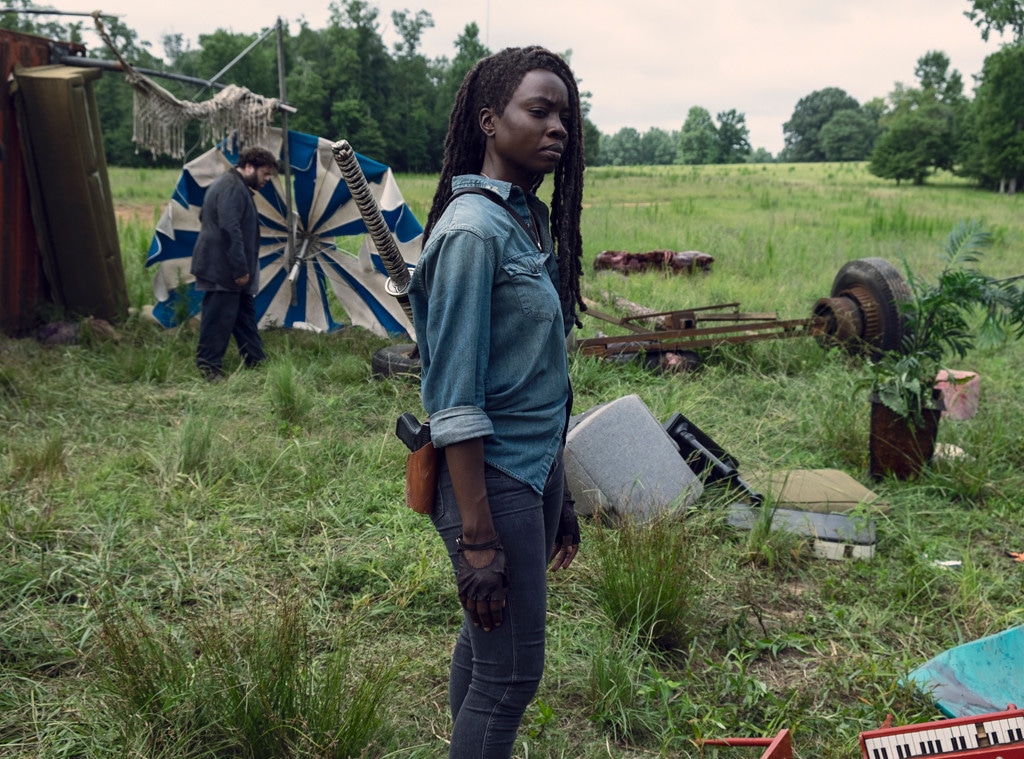 AMC
Danai Gurira is following in the footsteps of Andrew Lincoln. 
THR reports that Gurira has signed on for just one more season of AMC's The Walking Dead, after which she will likely join Lincoln in the series of movies about Rick Grimes. 
The actress, who has played Michonne since season three and also starred in last year's Black Panther, will reportedly appear in "a handful of episodes" in season 10 before transitioning to the movies, which makes sense given that that's where Michonne's boyfriend/the father of her child will be...and given the fact that Gurira is now a big-time movie star and part of the Marvel Cinematic Universe. 
Andrew Lincoln and Lauren Cohan both left the series earlier in season nine. Cohan is now starring in an upcoming ABC show Whiskey Cavalier, and Lincoln will be starring in the series of TV movies about his TWD character, an announcement that was made immediately after his final episode aired. 
"It's not the beginning of the end, it's the end of the beginning," said Lincoln in a statement at the time. "And I like the idea that we get to tell a bigger story, maybe with a sort of wider vista. And I've always been interested in what's going on out there, you know, whether or not there is contact with the wider world. I want to know the meta of it all. And I suppose to be able to kind of touch upon that in a contained story for me is a very exciting proposition... Maybe it's the start of a bigger story."
Gurira's character Michonne, a fan-favorite character in both the TV show and comic books, stepped into a leadership position on the series following the departure of Lincoln's Rick Grimes.
In addition to The Walking Dead and Black Panther, Gurira is an accomplished playwright and was nominated for a Tony for writing Eclipsed.
AMC declined to comment. 
The Walking Dead returns Sunday at 9 p.m. on AMC.