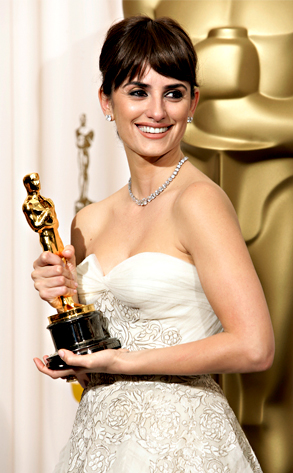 ABC/ADAM LARKEY
Has anyone's Oscar been stolen on Oscar night? Or lost?
—Miss Keli, via Twitter
Probably. But more often they go missing years later.
Angelina Jolie recently told the press she has no idea where her Girl, Interrupted Oscar is. She handed it off to her mother, Marcheline Betrand, who carefully hid it away because of its obvious significance to the history of mankind.
But Bertrand has since passed away, and Jolie was recently quoted as saying, "I didn't actually lose it, but nobody knows where it is at the moment."
Matt Damon also may not know where his Oscar is for Good Will Hunting. Seriously...
Damon told the London Daily Express: "I know it ended up at my apartment in New York, but, unfortunately, we had a flood when one of the sprinklers went off when my wife and I were out of town and that was the last I saw of it."
He added that he hopes to find the Oscar safe and sound in storage.
Who arranges seating for awards shows? Saw lots of "conveniently" placed people.
—Mab, via Twitter
It's done by the Academy's membership committee in partnership with the ceremony's production team. The longtime spokesguy for the team was Otto Spoerri, a Swiss accountant who was considered the ultimate arbiter of Hollywood power. (But really, he didn't pick the winners, just picked where everybody was going to sit, so I'm not sure I buy that one, especially since I am the ultimate arbiter of Hollywood power.)
He once reportedly sat James Woods way too close to a volatile ex named Sean Young; after that, Spoerri vowed to never make that mistake again.
He also took care to never seat the nominees too close together. "You don't want to see a sad face next to a happy face," he once said.
Anyway. Spoerri, whose official job was controller of the Academy, passed away last year. Seats are still determined by the Academy membership committee along with the ceremony's production team.
Why do all these pale-skinned women—Miley Cyrus, Anne Hathaway—wear light-colored dresses that wash them out? The worst of all was Evan Rachel Wood, who was one color from top to bottom.
—Anne, via Facebook
Editorial and commercial stylist Rania Abdulla points out to me that pales are all the rage for spring, and many of the dresses you saw last night came from designers' upcoming spring collections.
Take Anne Hathaway, for example. She may have channeled Resurrection Mary in that very light-colored gown, but it happens to be part of Armani Privé's upcoming spring collection—so exclusive that most mere mortals can't even get it yet.
So if a celebrity or, more likely, her stylist feels the absolute need to be on the bleeding edge, then jewel tones and pastels are out, and über-pales—no matter how unflattering—are in.
Got a question about Hollywood? ASK IT: answerbitch@eonline.com