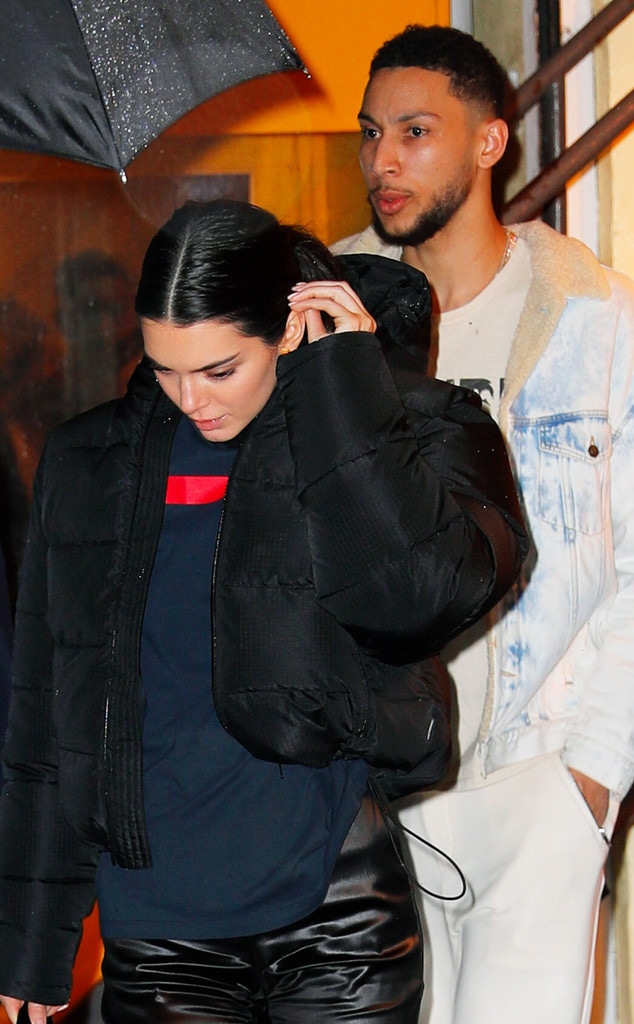 Gotham/GC Images
A grill and a scare—Ellen DeGeneres really puts her show guests in the hot seat. 
Such was the case for Friday's show with supermodel Kendall Jenner. Despite being a guest several times, the reality star had never been scared by DeGeneres and her team as they do with other show visitors. "Honestly, I was a little offended that I haven't ever been scared before," she admitted. Behind the scenes, DeGeneres even tried by having fake snakes fall from the ceiling in Jenner's dressing room before the show, though they didn't really give her the same level of scare. 
So, the show went on and the subject slyly turned to Jenner's beau, 22-year-old point guard Ben Simmons. The comedian kicked off the conversation by generically talking about Jenner's love of basketball. 
Then, they casually showed a photo of her on the sidelines with Simmons also on the court and in the frame of the shot. "Who's that guy that's in the way?" DeGeneres asked. 
"I'm not so sure," Jenner answered coyly. 
"I'm not either. I don't know anything about basketball," the host continued. 
"Obviously, you're dating this guy who's on this [Philadelphia] 76ers—is that what it's called?...I don't know basketball," DeGeneres added, clearly trying to get the details. "How long have you been dating him?"
However, the runway star didn't divulge much. "For a bit now," she said, keeping details to a minimum. 
It got really fun when DeGeneres asked if her famous mom, Kris Jenner, approves. As Kendall began to say, "I think so," a Kris look-alike popped out of the side table in between them and scared the star. 
"I'm shaking!" she admitted. 
Simmons wasn't the only person in the Kardashian-Jenner network DeGeneres wanted dirt on. "So, Kylie is now is going to have another baby?" she asked, referencing a recent Instagram post of the beauty mogul and boyfriend Travis Scott that was captioned, "baby #2?"
"She is not," her older sister said. "I think she was just like we are looking good and we're really into each other and maybe baby number two is gonna happen...they're practicing. Right? Is that what you call it?"
Kendall continued, "She's really interesting...I love her so much. She has a mind of her own. She's really clever."
Bottom line? "I don't think she's pregnant, no." As for the engagement rumors, as far as Kendall knows, Kylie is not heading down the aisle yet.  
"If he did [propose]," Jenner said, "she hasn't told the family yet."