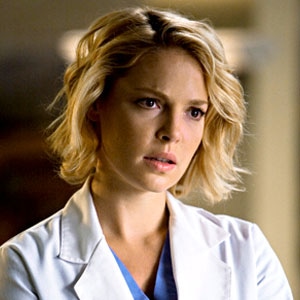 ABC/RANDY HOLMES
Oh, Grey's Anatomy.
You always keep us guessing, especially when it comes to the fate of one Dr. Isobel Stevens, aka Katherine Heigl—aka the AWOL actress who is, according to inside sources, thisclose to getting ABC to sign off on her leaving the show for good. 
First we heard she had a brain tumor. Then she didn't. Then maybe it was a brain aneurysm. Then maybe not. And now...a diagnosis is drawing near.
So what the bejeezus is wrong with Izzie?!
Click in for the latest on that, plus inside scoop on a life-threatening car crash on One Tree Hill, another Desperate Housewife whose life is in danger, the status of Jesse Spencer on House and much more exclusive TV scoop, courtesy of your questions...
Jamie in Arcadia, Calif.: Please tell me Fringe's Peter and Olivia are finally going to get it on!
Joshua Jackson sure wouldn't mind it. "Peter is a shallow, vile, hedonistic, nihilistic man," he tells us. "So, if Olivia (Anna Torv) would sleep with him, I think he would." Now it's just convincing Olivia to hop in the sack. That shouldn't be too hard, right?
Sarah in Del Mar, Calif.: Happy early birthday, Kristin! As a present, how about some Chuck  scoop?
Awww, thanks. I know you fans join me in being a little worried about the future of our favorite dork, Chuck, but Josh Schwartz assures me, "NBC has been as positive as they can without saying we're officially coming back." I'll keep you posted!
Cedric in New York: Any scoop on the Gossip Girl spinoff?
Krysten Ritter, who plays Lily's big sis, Carol Rhodes, tells us "It's set on the Sunset Strip, and I am down for whatever. I'm excited to see what they do with my hair. Like Tess McGill, Working Girl hair." Ah, break out the Aqua Net!
Sarah in New Orleans: Any info on when The Hills is coming back? What's in store for next season?
Oh, you know, nothing much, just…Lauren and Heidi are getting back together!! Check out the first trailer over at the L.A. Times Showtracker blog and join us in our shock!
Rachel in Mesa, Ariz.: Enough with Cameron and Chase not getting enough screen time on House, I just want to know if they'll be back next season!
They have almost finished shooting the fifth season of House, and Jesse Spencer tells me, "I'm proud to say that I'll be back, pretty much the whole time," during season six. Anyone care to join me in a holler?
Melanie in Santa Barbara, Calif.: I love this year's Paley Fest lineup! I'm getting tickets for everything—will we see you there as usual, Kristin?
Well, you won't see me there—I'm due to have a baby right about then—but Team WWK will be on the case, and they'll be bringing you all the scoopage from the red carpets and panels. If you haven't seen the rundown yet, check it out, and don't forget to order your tickets starting Thursday!
Friday, April 10: It's Always Sunny in Philadelphia
Saturday, April 11: 90210
Monday, April 13: True Blood
Tuesday, April 14: Dr. Horrible's Sing-Along Blog
Wednesday, April 15: Dollhouse
Thursday, April 16: The Big Bang Theory
Friday, April 17: The Mentalist
Saturday, April 18: Desperate Housewives
Sunday, April 19: Pushing Daisies' last unaired episodes
Monday, April 20: Battlestar Galactica/Caprica
Tuesday, April 21: The Hills
Wednesday, April 22: Big Love
Thursday, April 23: Fringe
Friday, April 24: Swingtown celebration
Amanda in Boston: Any scoop on Sons of Anarchy? I can't believe we have to wait until fall for more.
First of all, how fantastic was Johnny Lewis (SAMCRO's Half-Sack) on Criminal Minds last week? Definitely one of the show's more notably chilling/charming killers. Second, SOA show runner Kurt Sutter just posted on his blog about season two: "This season is all about alliances. We are going to explore and exploit the bonds we have with our brothers, our family, our country and our god. As I was writing this first script, I smiled when I realized that I get to channel all my twisted Catholic angst into a show about men who play God." Can't wait!
Kaitlyn in Camano Island, Wash.: What's the latest update on the Sex and the City sequel? Will Chris Noth come back as Mr. Big?
I caught up with Kristin Davis, who tells me that all four of the ladies are signed on and raring to go, but "I can't speak for Chris." Don't worry just yet, unlike Evan Handler's Harry, who may not make it, I just don't see them ripping Carrie's true love away from her. Who's with me?
Francesca in Chino, Calif: Kristin, how about some Heroes scoop? Please?
Check back tonight for a spanking-new Redux! In the meantime, I can tell you that one of the Heroes is something of a hero in real life. I'm told that on his way to a Stand Up to Cancer event (a great organization, by the way), Greg Grunberg and his son rescued a stray dog that'd been hit by a car and took the dog to the hospital. Are you reading my mind, Greg? 'Cause it says that I like you.
Liz in Manhattan, N.Y.: I'm so glad My Boys is coming back! Any scoop?
There's a possibility Jo (Nia Vardalos) may be back to cause some trouble for Andy (Jim Gaffigan) this season. Nia tells me, "We left my storyline unresolved just in case." Speaking of stealing husbands, Nia says she'd love to reunite with John Corbett on United States of Tara: "Maybe I should have an affair with [Max]." As if he didn't have enough women to deal with!
Tyler in Sacramento, Calif.: I noticed you are really good about giving BSG news, but I never hear anything about Eureka. Any news? Like maybe when season three is continuing?
There's no exact date yet, but I'm told that Eureka 3.5 will likely launch in July. Only five short months...
Trent in Prescott, Ariz.: Kristin, please tell me you have some scoop on Two and a Half Men!
Charlie Sheen's real-life neighbor, Paris Hilton, may be looking to book another acting gig soon! When our very own Michael Yo asked Paris what show she would love to be on, she said, "I really love Two and a Half Men. It's my dad's favorite show. He told me to watch it, and I did, and I loved it." Maybe she could play, I don't know, Charlie's neighbor? A little art imitating life, perhaps?
Jesse in San Francisco, Calif.: Will Luke Perry finally show up on 90210?
Highly doubtful, according to Jennie Garth. At the Costume Designer Awards, we asked her when he would be on the show, and Jennie jumped right in, saying, "I don't think he is." Bummer.
Nancy in Cedar Rapids, Iowa: Eric Christian Olsen is so great on Brothers & Sisters. Any chance he'll be staying around?
Eric Christian Olsen has two more episodes left of B&S, but then he'll be starting a new show for ABC called Threesome, written by Ricky Blitt (Family Guy). Olsen says the show is not as dirty as its name makes it sound: "It's a really funny comedy. It's about these two roommates and the girl that I fell in love with." Anything that keeps Eric on ABC is fine by me.
Neil in Charlotte, N.C.: Have you heard anything about Josh Schwartz's new series, Rockville?
I actually just caught up with one of its stars, Andrew West, who is just as good-looking as a Josh Schwartz leading man should be! The new web series premieres on March 17, and Andrew tells me, "It's a comedy about a group of college-age kids hanging out at a rock club in east L.A., and it's fantastic. Lots of great music, lots of great bands and very funny. It's from Josh Schwartz, so it has to be good." As for the Gossip Girl spinoff, Andrew is keeping his fingers crossed he'll join the cast, but he will play Ashley's (Amber Stevens) new boyfriend in the upcoming season of Greek. And BTW, he's also her real-life boyfriend too, lucky gal!
Sam in Sauvie Island, Ore.: Enough about stupid Izzie already! Any dish on Meredith and Derek who are the whole point of Grey's Anatomy in the first place!?
Good news Mer-Der fans: There's an upcoming ep called "Elevator Love Letter," and you know all of Meredith and Derek's best scenes happen in the elevator! That said, Derek is going to need Mer in the weeks to come—in the next new episode he decides to quit his job after learning exactly how many patients have died under his care. And if you aren't an Izzie fan, you should definitely watch the next episode—the interns diagnose her with something "unsettling." (Maybe she just needs a little Pepto-Bismol?)
Student Doc: I hate to be the bearer of bad news, but every med student taking neuro right now is going nuts on how textbook Izzie's brain tumor is. Which, while sad, will give us back a little of that beloved Grey's Anatomy drama we all love.
I'm certainly not one to argue with med students! But I'm also not one to argue with Shonda Rhimes, and she specifically told us "no" when asked if the rumors of Izzie getting a brain tumor were true. See for yourself here. She couldn't have been lying, could she? If you are a Grey's Anatomy viewer who happens to be a med student, doctor and/or brain surgeon (paging McDreamy!), please comment below and give us the skinny. Is Izzie's tumor really a lock?
Tim in Riverside, Calif: Are they going to kill off Carter on ER? Please find out!
I can tell you that Carter was definitely hooked up to a dialysis machine—not a chemotherapy machine or some other device, which I would say means his prognosis is better than average, at least.
Laetitia from Paris: Salut, Kristin, I heard that Peyton from One Tree Hill is gonna lose her baby in a car crash? She's my favorite character. Please tell me it's not true.
I love that your favorite character is one you haven't even met yet! I have a soft spot for Peyton and Lucas' spawn, too. (Or wait, did you mean Peyton is your fave?) Anyhoo, regardless, a source tells me this: "There is a car crash, but Peyton will not lose the baby because of that. She will be OK. But so far we don't know if the baby lives or dies yet in the finale." Ugh. Have your family-sized Kleenex box standing by, just in case!
Mischa in Deming, N.M.: If Nicollette Sheridan is leaving Desperate Housewives, does that mean they are going to kill off any other housewives?
Some of the ladies on Wisteria Lane are worried, especially Dana Delaney, who tells me they're shooting a scene in Griffith Park here in L.A. where she, Mike and Dave go camping and someone has a gun! We know that someone is Dave, so does that mean Katherine is getting the ax, too? "I think we always worry that we're going to lose our jobs," Dana tells me. "Nobody is safe on Wisteria Lane!"
Julie in Pittsburgh: Kristin, I can't believe that you didn't mention the fate of our dear Penny in your Lost Redux! Ben was bloody and at the marina and that could only mean that he was there looking for her and to make good on his promise to her dad. I'm dying to know if she's OK! When will we know? Thanks!
Sorry Julie, Sonya Walger would not comment on whether Ben got to her in the last episode, but says "anything is possible" regarding Penny showing up on the Island. When I asked her whether she was related to anyone we already know, like Charlotte or Daniel, she coyly replied: "She could be." Hit the comments with your guesses!
Craig in Orlando, Fla.:  I just saw Walt from Lost on some commercial for chicken wings or something! Give us some scoop on past Losties! I want to see Charlie, Shannon, Libby, Boone, Ana-Lucia, Eko, Nikki and Paulo!
Charlie is a definite possibility. (And you Shannon fans really just need to go see Taken—Maggie Grace and Liam Neeson are great together.) We just caught up with Dominic Monaghan and he told us, "I never close doors...I loved working on Lost because it felt like a big film, it was such an event...I would like to [come back]! If it was up to me I'd be back every so often, but that's more of a writer's question." Meanwhile, you can catch Dom in this summer's Wolverine flick, out May 1. According to Dom, "My character's story begins the angry motivational moves for Wolverine. I'm a guy who was friends with Logan in his earlier Army days, and something goes down in an Army sortie, and because of that, Logan gets brought back into a combat scenario." Can't wait! (P.S. Got Q's for Lost stars Fionnula Flanagan or Malcolm David Kelley? Email us at tvdiva@eonline.com, and we'll try to get you answers!)
Maria from Riverside, Calif: Gossip Girl! Please! I miss it so.
You and me both, sister. Word on the street is that Georgina will come back a totally different person. My guess? George.
Mike in Aurora, Colo.: I dig Dollhouse! Any chance you can tease what's coming up next week?
Did you know that the Dolls can be remotely deactivated via telephone? Well, it's possible, it happens, and it's bad news for Echo (Eliza Dushku). Who makes the call? Clues point to the mysterious active known only as Alpha. And guess who'll be playing him? Alan Tudyk (aka Wash from Firefly).
Kathryn in Richmond, Va.: It's been so long since Samantha Who? was on the air. Do you have any scoop?
Yes I do! Mr. Billy Zane is about to change everything! Christina Applegate says, "[He] comes and causes a lot of confusion for everybody. That whole arc was five episodes, and it's quite good. Because of him, it changes the course of who she is. As we come into the third season, which we hope we get, everything will be different." If you promise to bring back Billy Zane, I'll promise to drool over him and watch the third season.
Mike in Hollywood, Calif.: Entourage scoop please!
They'll be introducing some new characters on the show this year. Perrey Reeves tells me there will be some new, recurring girls this season. No word yet on if anything of them have been cast.
Ricky in Brockway, Pa.: Will Jasika Nicole ever have more screen time on Fringe?
The running joke is how many lines she'll have in an episode, but Jasika says that's about to change. "She's the only person besides Peter who is privy to all this information that's going on. They obviously couldn't just pick any old junior person to do this job because she has access to all this information that's really important. So there's a reason that she's there." Finally! Maybe next time she'll have five lines.
Anna in Dallas: I know Kath & Kim isn't doing so well in the ratings, but will you still tell me what's coming up?
How about I let John Michael Higgins tell you? "My character is having a bachelor party, which is interesting to watch." Watch out Ms. Day—Mr. Knight is out to party!
Sabrina in Cleveland: I love Taylor Swift and am so excited to see her on CSI! Can you tell us anything else about her episode?
We were just on set for CSI's upcoming 200th episode, and the cast had nothing but great things to say about the adorable country starlet. Eric Szmanda tells us: "She did a great job! She kind of transformed herself; she's not giving people Taylor Swift; she's giving them the character. I think this will be the first of many roles for her." The ep airs March 5.
Lacey in Utica, N.Y.: I'll take 90210 scoop if you've got it!
Things are really going to start heating up between Liam (Matt Lanter) and Naomi (AnnaLynne McCord). Says McCord, "Things are getting a little hot and steamy. Then, as if what we're doing is not enough, Naomi starts having wet dreams. It's hilarious. All I'm going to say is 'banana in a pocket.' " By the way, AnnaLynne also tells me Eden will be back on Nip/Tuck: "I have one more episode airing that I've shot so far, and then I don't know what's next for it, but I don't fall off, so you never know, I could come back...The last episode I'm with Kimber and Ram. I'm pretty mean. That's all I'm going to say." In other news, we'll be meeting Adrianna's Aunt Nancy in the finale. She's described a good egg, which makes me worry that she'll be taking off with either Adrianna or her baby...
Adrianna in Poughkeepsie, N.Y.: Nip/Tuck is so crazy! I can't look away! Dish, mama!
At long last we're going to get a look at Christian and Sean when they were young. The show is casting now for twentysomething hotties who look like Julian McMahon and Dylan Walsh to appear in flashbacks to the boys' college days.
Marina in Anaheim, Calif.: Kristin, any news on CSI?
Just that the writers are poking a little fun at their boss' old show. In case you didn't know, CSI show runner Naren Shankar used to write on Star Trek: The Next Generation (alongside Battlestar boss Ronald D. Moore), and I imagine it's not a coincidence that an upcoming episode focuses on the wild personalities at an Astro Quest Redux convention in Las Vegas. Good times!
Sarah in Addison, Texas: You have to know who killed Jenny on the L Word by now!
You want to know who really shot Jenny? Everyone just assumes that it's Alice (Leisha Hailey) because the spinoff in prison is centered on her, but as she told me at TCA, she could be wrongfully accused. Truth be told, even the cast doesn't know. Kate French tells me most of the series finale was shot against a green screen, saying, "I think they did that to throw us all off. Maybe it'll just be my mug shot. Maybe I [killed Jenny]." Hmmm. I'll be hitting the series farewell party next week, so send your Q's for the actresses to tvdiva@eonline.com.
Lindsay in Houston: I cannot wait until this summer! Talk to me about True Blood!
Sookie's power is not unique to her. She'll meet a young Texan named Barry who reads minds, and they freak each other a little when they discover each other's powers. Also, great news for us Eric fans: We'll be catching up with him in 10th century Scandinavia, likely when he was first turned into a vampire. Holler!
Dana in Tampa, Fla.: Got any new Supernatural news?
Just that Lilith will likely raise her adorable little demonic head again in episode 20. Supernatural is casting for a suddenly possessed cutie-pie 11-year-old who turns into an evil ice queen. (And that's Lilith if I've ever heard her described.) Oh, and for you angels fans: Castiel returns on March 12, and we'll next see Uriel on March 19. Rejoice!
Marcus in Little Rock, Ark.: Supernatural!
Don't you hate it when your friends get hooked on demon blood?  Well, Dean and Bobby are going to stage an intervention on Sam for just that and keep him prisoner.
Dalia in Riverside, Calif.: Anything coming up on United States of Tara?
After last week's appearance of the urinating fourth alter, Max (John Corbett) turns to Tara's therapist for advice. According to her, this new alter, or "poncho goblin" as Max calls it, may be a huge step in helping Tara discover why she developed disassociative identity disorder in the first place. Hmmm, anyone else thinking back to the premiere when Tara was overly concerned about Marshall wetting the bed? Also, Marshall will turn to Kate for some sisterly advice when he still can't figure out if his crush Jason is gay or not.
—Additional reporting by Natalie Abrams, Jennifer Godwin, Blair Hagata, Breanne Heldman, Megan Masters & Taryn Ryder