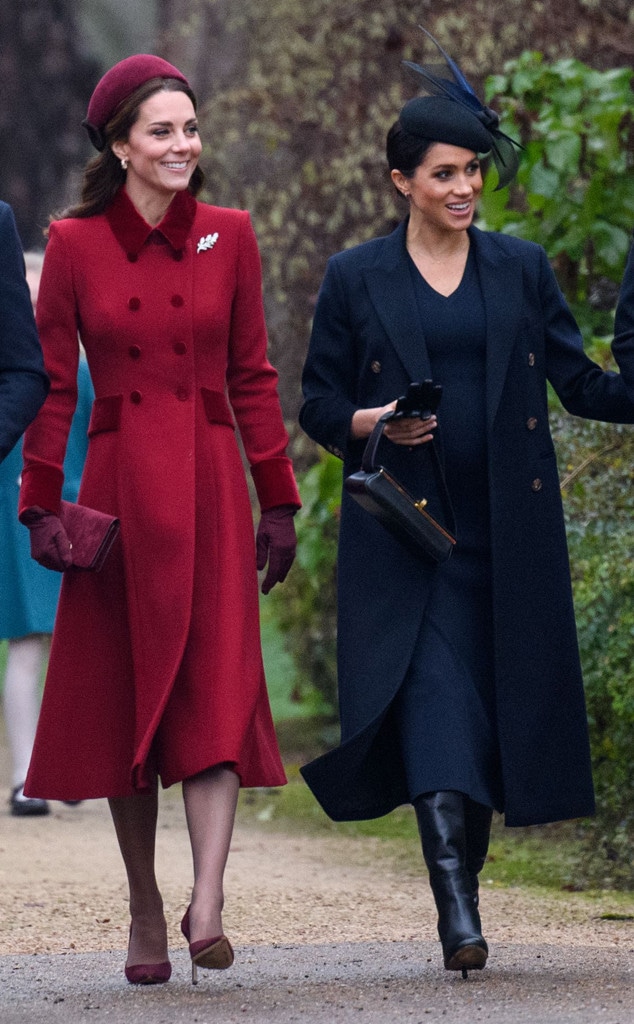 Tim Rooke/Shutterstock
There is no questioning that the royal family's impact on the world of fashion is real.
Since stepping out with Prince Harry, Meghan Markle has been under a microscope as she navigates her new life in the monarchy.
While her adherence to royal protocol and her background has brought no shortage of headlines, it's her sense of style that has pumped $210 million into the British economy alone according to The Hollywood Reporter. The Meghan effect has been proven time and time again as each item that the Duchess wears runs out of stock almost instantly.
Markle is not alone in causing a fashion frenzy. Her sister-in-law and Duchess of Cambridge, Kate Middleton, along with her children Prince George, Princess Charlotte and Prince Louis as well as the late Princess Diana have all sparked the same demand for items. These royals do not only cause clothing and accessories to sell out worldwide, they also have become global trendsetters.
Princess Eugenie and Princess Beatrice have also caused a stir in the fashion world when they take style risks at royal events.
This type of royal influence dates back to 1863 when Princess Diana Alexandra married Queen Victoria's eldest son Prince Albert Edward. Her newly married status and independent style made her fashion icon for women at the time.
With the addition of internet and social media, the modern-day monarchy's impact has been taken to the next level.
Before becoming the Duchess of Sussex, Markle was already an influencer in her own right.
The former Suits actress had always wanted to do more than act. While she was still starring on the USA Network show, she created The Tig, a lifestyle blog, where she shared tips about travel, food, beauty, and of course, fashion.
It's her sense of style that people noticed when she made her first appearance with Prince Harry at the 2017 Invictus Games in Toronto. She paired a collared white top with distressed jeans from Mother for the occasion which some critics deemed too casual for the appearance but others felt was a perfect fit for the wheelchair tennis match they were attending. Regardless, both items had a spike in sales after she was seen wearing them.
The aforementioned shirt, by Markle's friend and fashion designer Misha Nonoo, has since been advertised on "the shirt that sealed the deal". In fact, some royal insiders claim that Nonoo was the friend who played matchmaker for the royal couple though they have never confirmed who was responsible for introducing them.
For those who didn't want to shell out the money for the exact same pieces, fans searched for look-alike versions for less with the help of websites like Meghan's Mirror which chronicles all of the Duchess' looks.
Following her engagement to Prince Harry, interest in the former UN Ambassador's style has only increased.
Markle made waves with the outfits she wore for her official engagement announcement and accompanying photoshoot. She selected a semi-sheer Ralph & Russo couture gown, which retails for $75,000. The dress received attention globally not only for the price tag but also for the break from traditional royal attire.
The demand for the Line white coat she wore for the announcement actually crashed the brand's website causing them to rename the jacket 'the Meghan'.
The Northwestern alum carried a tricolor tote from Strathberry at a charity event for World AIDS Day, which sold in only 11 seconds after photos of her with the item surfaced. Her love for Strathberry's bags has only continued to grow as she is regularly seen with items for the luxury brand.
On May 19, 2017, the California native wed her prince in a Givenchy wedding dress. The design received international attention and a slew of copycat designs.
Kirsty Wigglesworth/PA Wire
The Palace announced the pair were expecting their first child in 2018. Not only have there been wagers about nearly everything about the pregnancy, Markle's maternity style has caused worldwide envy.
From Oscar de la Renta dresses to Roland Mouret gowns, the royal has continued to show off her glamour side while sporting a baby bump. The Duchess has also put a focus on sustainability and charitable organizations through her fashion especially while on an Australian tour with Prince Harry last year.
She selected items from brands including: Reformation, known for its efforts minimize waste; Rothys shoes, which are created from recycled plastic bottles; and Outland Denim, which are made by Cambodian women rescued from human trafficking and sexual exploitation.
She is clearly aiming to create change even with her fashion.
There have been countless comparisons made between Markle and Middleton but both women have proven their influence in fashion. It is estimated that Prince William's wife could boost the UK fashion industry by $205 million annually according to Business Insider.
Some might say The Kate Effect, or her ability to increase sales of items she dons, took off following the royal couple's engagement announcement on Nov. 16, 2010. The iconic blue dress, which matched new sapphire engagement ring, she picked for the occasion was made by niche brand, Issa.
The demand for the frock was so great that the company grew too quickly and eventually was forced to shut its doors in 2015. However, the dress resurfaced in 2018 and can now be found at some UK retailers.
Standard/REX/Shutterstock
On her wedding day, the University of St. Andrews graduate selected an Alexander McQueen gown which was named the "the wedding dress of the decade". The dress was hailed for changing bridal trends as well as make designer, Sarah Burton, a household name. In fact, similar to Markle's dress, knockoffs of the design were made including one very budget-friendly option from H&M.
But, it is her own love of affordable brands that makes The Kate Effect so powerful!
In March 2013, the Duchess was photographed at Warner Bros Studios in a polka dot dress from Topshop. The price tag was only $76 and it should come as no surprise that the dress sold out within an hour.
The Anita Dongre frock that the Duchess wore during a royal tour of India was also a fashion game changer. The interest in the dress was intense that the brand's website crashed and brought more name recognition to the Indian designer. 
Middleton has been known to be loyal to her favorite designers. Jenny Packham has dressed the Duchess for everything from her debut engagement as a royal in 2011 to her first public appearances outside the hospital with Prince George and Princess Charlotte. She selected a red dress from Alexander McQueen, the same brand that dressed for her wedding, for photos outside the hospital with Prince Louis.
Even though all three of the Duchess's children are still under six years old, they have become mini fashion icons.
The Windsor family has generated sales for brands including Crocs, Rachel Riley, Little Alice London and JoJo Maman Bébé after the young royals have been photographed in their attire.
Who can forget when Prince George sported a My 1st Years blue gingham bathrobe while he meeting President Barack Obama? As the sweet photos made their way around the world, the adorable garment sold out in seven minutes. When the company made it available again for presale, it sold about one per second.
While Princess Charlotte proved to be a mini fashionista when she arrived in a periwinkle floral dress, which retails for $51, to see her new baby brother at St. Mary's Hospital. The frock, by Little Alice London's Alice Avenel, became a must-have item and sold out within 24 hours.
Even the youngest of the royal family, Prince Louis caused a white and blue cotton smock by Spanish brand La Coqueta to sell out after he wore it for his grandfather Prince Charles' 70th birthday portraits.
All three children may already be trendsetters but their influence in fashion is only expected to increase as they grow older.
After all, their grandmother, Princess Diana, was a style influencer whose versatility and ability to use fashion for a greater purpose was noted by press across the world.
Ranging from glamourous outfits for overseas trips to simpler attire for philanthropic visits, she always found a way to dress for the occasion.
During a 1985 appearance with Prince Charles in Australia, she went against expectations and selected to pair her blue gown with an emerald-and-diamond choker—but wore as a tiara rather than a necklace.
On a charitable visit at a London hospital in 1987, she was photographed shaking hands with an AIDs patient without wearing gloves. The statement went well beyond fashion and dispelled the incorrect notion that the disease could be transmitted by touch. 
In her personal time, she was often seen in casual attire while out with her sons, Prince William and Prince Harry, whether they were going to Disneyland or McDonald's. She even allowed the boys to wear jeans and baseball caps which some thought was a break from royal protocol.
Jayne Fincher/Getty Images
But, one dress further elevated Princess Diana's status as a fashion icon.
Following the revelation of Prince Charles' affair with Camilla Parker-Bowles, she wore what royal watchers deemed the "revenge" dress, a off-the-shoulder black dress by Christina Stambolian, to a Serpentine Gallery benefit. While the frock didn't exactly follow royal modest protocol, the fashion risk paid off and cemented Princess Diana as a global trendsetter.
Princess Eugenie, a cousin of Prince Harry and Prince William, is another royal who has made a name for herself in fashion circles. The 28-year-old married Jack Brooksbank in 2018 and her wedding dress was one of the most talked about aspects of the wedding.
The daughter of Prince Andrew and Sarah Ferguson selected a Peter Piloto dress with low portrait neckline that revealed her scoliosis surgery scars.
"[It's] a lovely way to honor the people who looked after me and a way of standing up for young people who also go through this," the bride explained in an ITV interview prior to her nuptials. "I think you can change the way beauty is, and you can show people your scars and I think it's really special to stand up for that."  
Even before her wedding day, Princess Eugenie enjoyed defying royal convention. Over the years, she has been photographed in scene-stealing hats, shown her bare legs, donned bold red lips, and even wore a leather dress which some felt is too much for a royal.
Her sister, Princess Beatrice has also become known as a fashionista in the royal family. Once known for over-the-top patterns and hats, the royal has now shown off a sleeker style that fits with current trends.
Amelia Windsor, the third cousin of Prince Harry and Prince William, has taken her fashion influence to the next level by becoming a model. She has walked in Fashion Week for Dolce & Gabbana and been featured on the cover of Tatler and Vogue Japan.
Unlike other royals, Queen Elizabeth II is not swayed by fashion fads. Instead, she follows the rules of royal fashion to a tee. She often wears monochromatic outfits that show her affinity for a wide variety of colors. But, one thing that does remain the same is her Anello & Davide heels which has worn for more than 50 years. Regardless of trends, her style is seen all over the world.
Princess Margaret had more fun with fashion over the years because she was not required to stick to the same strict protocol as her older sister. She had the freedom to explore her own sense of style. She loved fashion forward designs in both clothing and accessories. She was ahead of her time wearing cat-eye sunglasses and fit-and-flare dresses that are still popular today.
She also wore many hats and crowns. The most notable of which, the Cartier Halo tiara, was also donned by Middleton on her wedding day in 2011.
Before the modern day monarchy, in 1863, Princess Diana Alexandra married Queen Victoria's eldest son Prince Albert Edward making her quickly rise into the fashion ranks.
As the royal couple gained popularity, women began copying Alexandra's wardrobe. Not unlike Markle, she still had to prove her loyalty to Britain. In fact, on her wedding day, her future mother-in-law Queen Victoria insisted that she wear British lace rather than the Belgian dress that was bestowed by the King of Belgium. The design of fabric included roses, shamrocks and thistles to represent England, Ireland and Scotland.
On her wedding day, she donned an altered version of the original dress for a simpler silhouette marking a change in women's fashion at the time. Women were then interested in wearing tailored looks for daytime.
From Princess Diana to Duchess of Sussex, the royal influence on fashion shows no signs of stopping. We can hardly wait to see what trends Prince George, Princess Charlotte and Prince Louis start in the future!