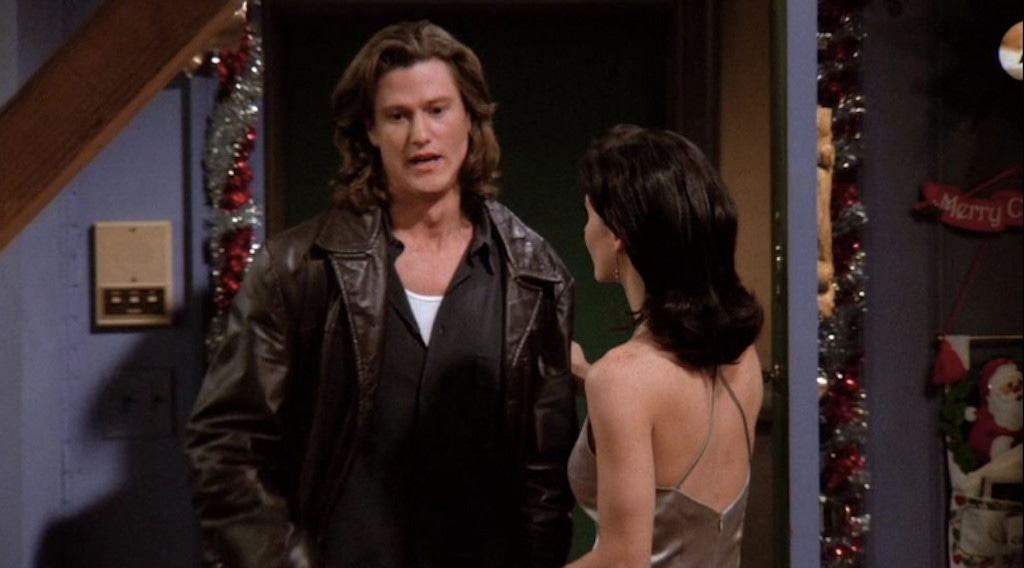 Warner Home Video
So no one told you that they were gonna feel this way...
Remember Fun Bobby on Friends? What about Rachel's ex Barry? And her Italian boyfriend Paolo? The U.K. newspaper The Guardian caught up with the actors who played these and other minor yet memorable characters on Friends, which aired for 10 seasons until 2004...and is now probably your go-to on Netflix.
Fun Bobby: Vincent Ventresca played the character, Monica's on-again, off-again boyfriend, and we discovered in season two that Fun Bobby is only fun when he drinks, and he drinks a lot.
"I was starstruck by David Schwimmer (Ross)," the actor told The Guardian. "Of course, the girls were incredible and you sort of fell in love with them. But David was the one I desperately wanted to like me; and he was the one most not interested in meeting anyone."
He also described what it was like doing a scene with Matthew Perry (Chandler) and Matt LeBlanc (Joey).
"If the audience didn't laugh, we'd huddle together and Matthew Perry would say, 'What if we tried this?' And Matt LeBlanc would say, 'Yeah!'" he said. "And we'd break again and do the scene. It was like being at a football game."
Ventresca went on to play Billy in the film Romy and Michele's High School Reunion, which stars Friends cast member Lisa Kudrow, and had roles on shows such as The Invisible Man, Dollhouse, Wicked City and The Fosters.
Michael Loccisano/Getty Images for SXSW
And Ventresca still makes that Friends money; he told Guardian he receives about $2,000 a year in residuals for the two episodes he appeared on.
Barry Farber: Mitchell Whitfield played the ex-fiancé of Rachel (Jennifer Aniston). He was actually brought in to audition for the roles of Ross and Chandler.
"I went back multiple times, and then they realized Ross was the role for me," he told The Guardian. "I got down to the very end, and was testing for the show. At the last minute, they said, 'We're bringing in one more guy to read.' That guy turned out to be David Schwimmer."
Jason Merritt/FilmMagic for Variety Magazine
Since Friends ended its run, Whitfield has focused on doing voiceover work for animated shows such as Transformers: Robots in Disguise, Sofia the First, Legend of Korra, Goldie and Bear and Vampirina.
"My wife, she cringes a little bit because if I had ended up getting the part of Ross, I'd have made tens of millions of dollars," he added. "But I never think about that."
Kathy: Paget Brewster played the part of the season four guest character, who dated Joey, then Chandler. She talked to The Guardian about some hilarious on-set antics among the actors.
"They would make fun of each other. If someone made a joke and it didn't work, they'd all turn on the person and be like, "You blew it, Lisa!'" she said. "They would bust each other's balls. And they started adding this thing into the script that they did to each other in real life: one of them would be talking, and they'd all pretend to fall asleep."
Dimitrios Kambouris/Getty Images for Tribeca Film Festival
"Matthew Perry always had to have the last bit," she said. "If it was the end of the scene, he would consistently pitch something. They'd make fun of him for literally always wanting to have the last laugh."
Brewster went on to star on shows such as Huff, Law & Order: Special Victims Unit, Community, Another Period and most recently, Criminal Minds.
Paolo: Italian actor Cosimo Fusco, who played the role, told the Guardian, "When I taped my first episode, no one had seen it on TV yet. While we were filming, they announced the show had been commissioned for 12 episodes. Jennifer Aniston basically cried in my lap because nothing like that had ever happened to her before."
"They were all very normal," he said about the cast. "All of them had a great human side. They were very humble—and really trained. They'd spent years trying to get the right jobs."
After Friends ended its run, Fusco went on to continue to star in various Italian projects and also played Hannibal Cotta on the HBO series Rome.
Vittorio Zunino Celotto/WireImage
"I can work in the most exquisite film, but the minute people find out I was Paolo, they're like: 'Oh my God!'" he told The Guardian.