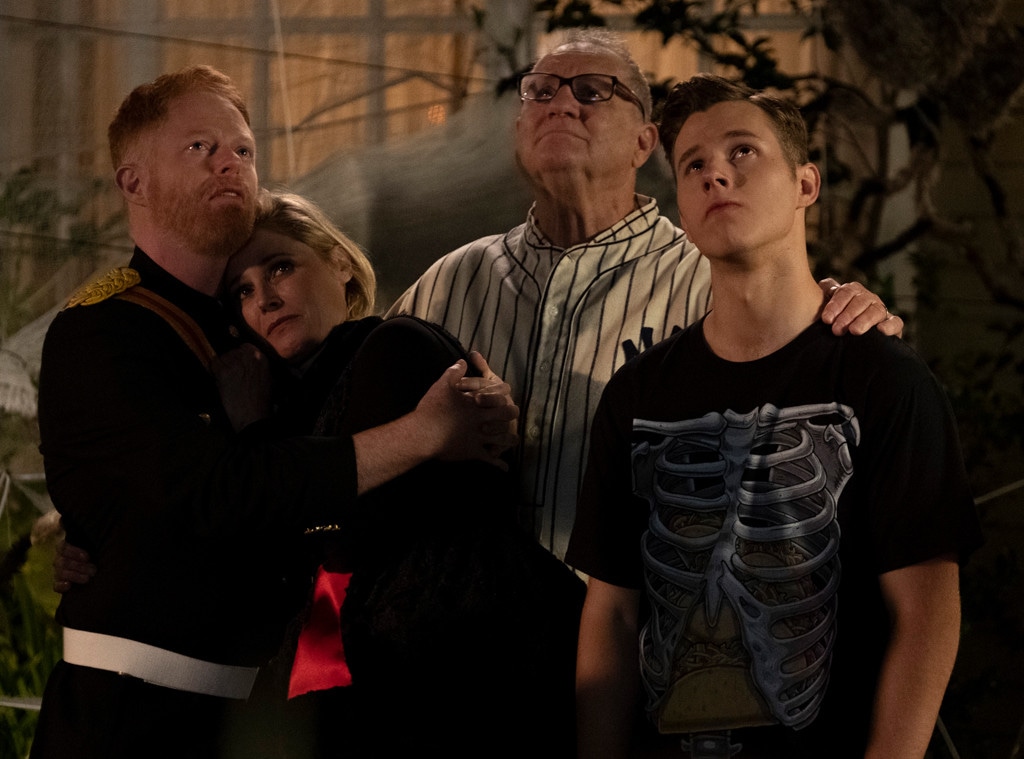 ABC
After more than a decade fans are going to have to say goodbye the goofy, fun, complicated members of the Pritchett, Dunphy, Delgado, Tucker clan and we're not so sure we're ready.
On Tuesday, ABC announced that Modern Family would be coming back for one more season, making its next season (season 11) its farewell run. While it's super exciting that the comedy's current season isn't its last it's still a bittersweet pill to swallow.
Despite getting another season, fans are not thrilled to have to say goodbye to the wacky family that make up this Emmy-winning series. In fact, after talks of a possible spinoff started to surface yesterday, fans are even more intrigued by what's to come and what will happen next for their favorite characters.
"I would love it. No one would be happier if there were one," ABC president Karey Burke told press about a spinoff after her Television Critics Association winter press tour panel. "This next year, from what I hear, is all about...they have big plans. There are some surprises and big milestones coming."
While a spinoff would be amazing, we aren't betting on anything just yet when it comes to this lovable family finding a second life with one of its characters switching into the lead character role.
Instead, we are not-so-subtly panicking about what's going to happen to us when the show ends. Can we live without the patriarch Jay Pritchett (Ed O'Neill) swooning over his precious pup while trying not to be a big softy every week?
What about his wife Gloria Delgado-Pritchett's (Sofía Vergara) high-heeled adventures as a mom and everyone's favorite—maybe minus Claire—in-law or step mom?
Of course we're going to miss the duo's kids too because Manny's (Rico Rodriguez) theatrical relationship drama is too funny and Joe (Jeremy Maguire) is sort of the unsung hero of comedic timing...even as a little kid.
As Modern Family viewers know this is just one branch of the ridiculous family tree that makes up this modern family. The second, and possibly the most beloved, is Claire (Julie Bowen) and Phil Dunphy (Ty Burrell). With her hardcore work ethic and strict rules and his past as a male cheerleader and lover of magic, this couple is too great not to love.
Their three kids have evolved so much throughout the past 10 years that we actually might miss them most when the show ends. Haley (Sarah Hyland) is not a kid anymore now that she's pregnant and starting her own family, while Alex (Ariel Winter) has become much more independent and proven she has more to her than just brains.
Luke (Nolan Gould) is still hilarious, but now he's making us stop and consider that perhaps he's not the so-called "dummy" in the Dunphy clan, but someone who is just figuring out who he can be.
Last, but not least, is everyone's favorite uncles!
Mitchell Pritchett (Jesse Tyler Ferguson) might be an uptight lawyer, but over the years he's managed to get in touch with his farmer side, dance like no one's watching and excel as a brother, husband and son.
His husband Cameron Tucker (Eric Stonestreet) on the other hand is over the top, flashy and our favorite football coach ever...maybe because he really knows how to rock those short shorts!
Their daughter Lily (Aubrey Anderson-Emmons) has some serious sass and manages to not only put up with her crazy dads, but she usually teaches them a thing or two about life, which we can't help but love.
The moral of the story is that this family of characters is so diverse and well-rounded that it's going to be really hard to let them go when the series comes to an end.
The only question we have for you now, is which character will you miss the most?
Vote for your favorite member of this wild family below and make sure to tune in to the ABC series for the rest of this season and next!
Modern Family airs Wednesdays, 9 p.m. on ABC.
Modern Family Character Poll