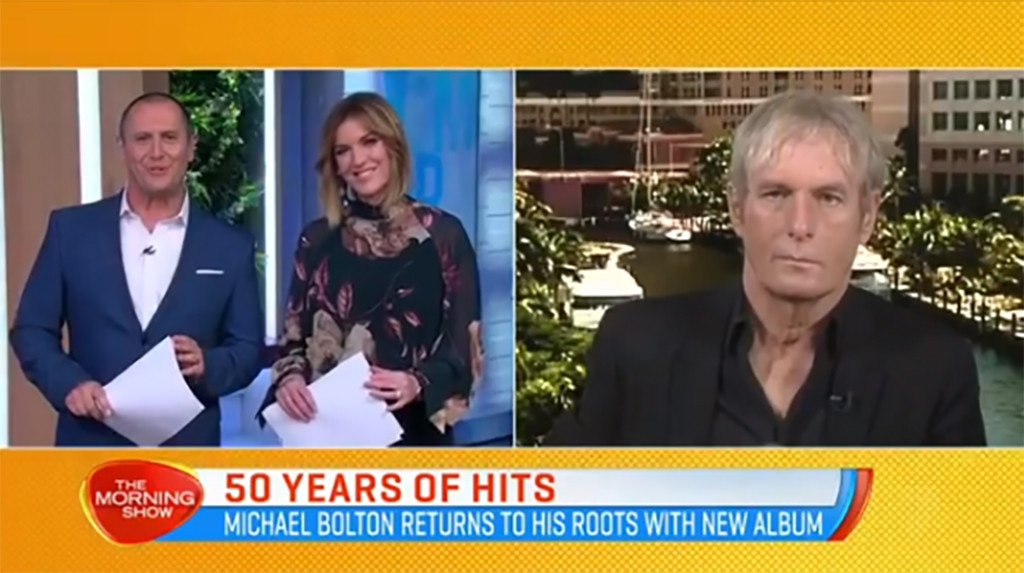 Seven Network
For our money, we don't think it gets any better than this Michael Bolton interview.
Last week, the 65-year-old When A Man Loves a Woman crooner appeared via satellite on the Australian program The Morning Show to promote a new album that celebrates his entire catalog, A Symphony of Hits, which is set for release on Friday. Just as the interview was starting, he appeared to fall asleep. Bolton later laughed off the incident, joking that it was "fake news."
Co-host Larry Emdur posted on his Instagram page a clip, which has gone viral.
"Michael, you got us OK?" Emdur asked, then chuckled and said, "Maybe he's just updating Instagram."
"Hi Michael, it's Kylie and Larry, we're with you live," co-host Kylie Gillies said.
Bolton then opened his eyes and said, "It's gone silent."
On Tuesday, Bolton tweeted, "I got my first record deal when I was 15 and I haven't slept since!! In all seriousness there were technical issues with the live feed and they caught me tweeting!"
20th Century Fox Home Entertainment
"We had a great interview once they fixed the glitch," he added. "#FakeNews #50thAnniversary #SymphonyOfHits."
20th Century Fox Home Entertainment
Bolton is not the first celebrity to appear to fall asleep during an interview, especially satellite interviews with morning programs.
In 2013, Morgan Freeman  appeared to catch some zzzz's during a live interview with FOX affiliate Q13 in Seattle to promote Now You See Me. The actor later told People, "I wasn't actually sleeping. I'm a beta tester for Google Eyelids. I was merely updating my Facebook page.
In 2011, Harry Belafonte appeared to be asleep during a live interview with KBAK-TV in Bakersfield, California. His rep later said in a statement that the singer's earpiece wasn't working, "so he decided to take the time to meditate before the rest of his Day-O."