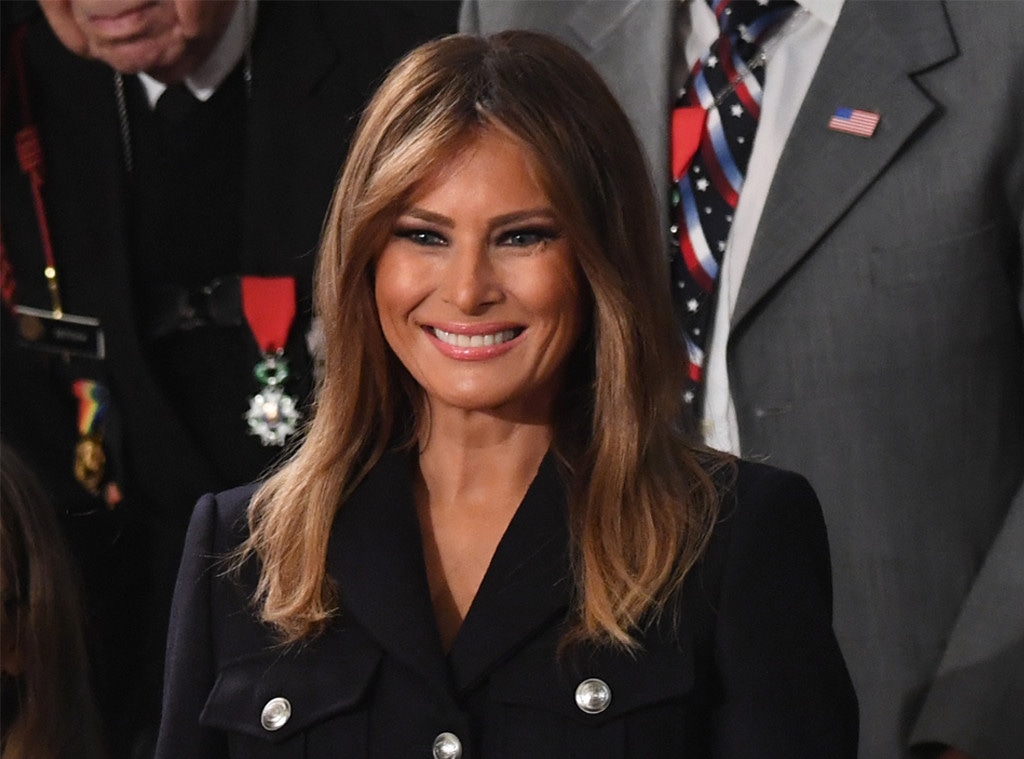 SAUL LOEB/AFP/Getty Images
President Donald Trump is making his first address in 2019 to a divided Congress.
On Tuesday evening, viewers anxiously watched the State of the Union address as they listened to the president discuss the government's immigration system, the price of healthcare, prescription drugs and more.
During the broadcast, people also noticed the fashion statements that were made, including Melania Trump's bold outfit choice.
Notably, the First Lady's all-black ensemble, which is a Burberry design, caught the attention of viewers. She opted for a sleek, blazer-like dress that featured sizable silver buttons. She completed her look with matching black heels.
E! News can confirm that her Burberry coat is priced for $2,390.
As for Ivanka Trump, she stood by her husband Jared Kushner. She kept things simple, yet striking with a black Alexander McQueen military jacket and skirt. She paired her suit with an Alexander McQueen belt.
E! News has learned that all three items cost a total of $3,613 (due to a sale).
If you noticed, many female leaders wore white to the State of the Union address.
MANDEL NGAN/AFP/Getty Images
The House Democratic Women's Working Group invited female leaders of both political parties to wear white in honor of the 100th anniversary of the women's suffrage.
It was a symbol of solidarity, and in today's climate, it proved to be a powerful representation of the women currently in office.
Among those wearing the striking color were Alexandria Ocasio-Cortez, Ana Maria Archila, Nancy Pelosi and Dean Phillips, who was one of the few male leaders showing his support in an all-white suit. Others wore a white ribbon.
SAUL LOEB/AFP/Getty Images
"Wearing the suffragette white is a respectful message of solidarity with women across the country, and a declaration that we will not go back on our hard-earned rights," Florida Democratic Rep. Lois Frankel, the chair of the Women's Working group, told CNN.
Both the First Lady and Ivanka opted for black ensembles, which were bold choices.
If anything, it was a jarring contrast, considering there was a sea of white at the State of the Union.
However, Tiffany Trump chose to wear white, opting for a simple long-sleeve blouse and pencil skirt. Although, it's unclear if her outfit of choice was meant to be a statement.
Last year, the First Lady interestingly wore white to the State of the Union address, which was also a statement in and of itself.
During this time, people showed their support for the Time's Up and #MeToo movements by wearing all-black outfits and the Time's Up pin.
"The importance of #TimesUp & #MeToo is about more than demanding decency & respect - though that is certainly a major part of it," the House Minority Leader Pelosi wrote on Twitter.
"We must recognize & cherish the brave ppl who stand up to demand their stories be heard. I'm proud to know so many of my colleagues feel the same way."