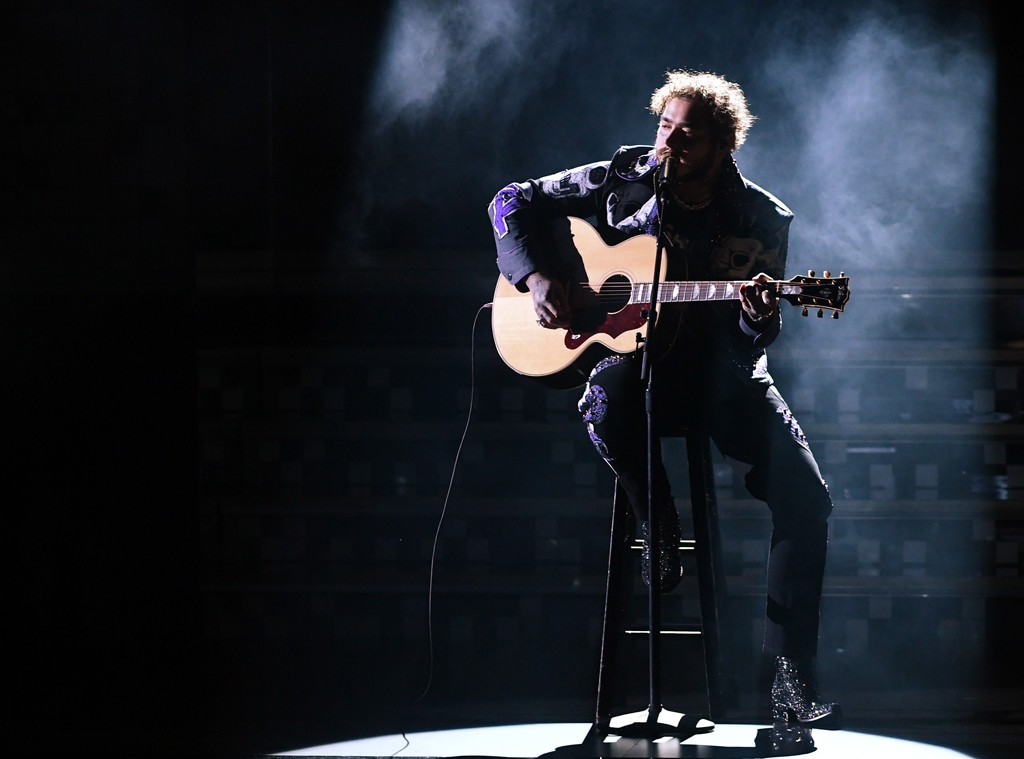 Kevin Winter/Getty Images for The Recording Academy
Post Malone definitely made everyone say "Wow" at the 2019 Grammys on Sunday night.
The 23-year-old singer was nominated for four awards, including Record of the Year, Best Pop Solo Performance, Album of the Year and Best Rap/Sung Performance, and performed along side Red Hot Chili Peppers at the show.
At first, Posty sang "Stay" from Beerbongs & Bentleys and then transitioned into "Rockstar." He showed off his musical prowess by beginning the set with the acoustic song as he sat on a stool and strummed his guitar. During his second song, rapped to the beat playing with what was presumably the Chili Peppers adding their guitar, too.
The rendition of "Rockstar" bore extra significance because 21 Savage, who is featured on the song, was arrested by ICE on Feb. 3 and remains in custody. Their collaboration is nominated for Record of the Year.
The "Bank Account" was reportedly supposed to perform tonight with the singer, but just because he wasn't physically there, it doesn't mean he wasn't there in spirit. The "I Fall Apart" singer wore a black shirt under his coat that said "21 Savage" on it.
When "Rockstar" ended, RHCP began their set alongside Posty and at one point, lead singer Anthony Kiedis pulled an Adam Levine Super Bowl Halftime Show and took his shirt off.
Unsurprisingly, the "Better Now" singer made quite a statement with his appearance. He wore a dark matching jacket and pants that had crystal skulls on the back. He also had on black glittery boots. He never disappoints when it comes to fashion moments!
VALERIE MACON/AFP/Getty Images
The 23-year-old's red carpet look was a big statement, too. He donned a pink jacket and pants with crystal stars on it and the same colored boots.
Since his 2016 release of his debut album Stoney, Malone has taken the music world by storm and emerged as one of hip-hop's biggest names. He's no stranger to awards and nominations thus far, either. He led the nominees at the 2018 MTV Europe Music Awards and won Song of the Year at the 2018 MTV VMAs. To top it off, he gathered up six nominations at the 2018 American Music Awards where he won Favorite Male Aritst - Pop/Rock and Favorite Album - Rap/Hip-Hop.
He's dabbled a bit in fashion, too. Posty teamed up with Crocs late last year and designed his own shoe, which immediately sold out. Not even Madonna could get her hands on a pair.
Win or lose, the Grammy nominee knows how to party and throw one, too. At the VMAs and AMAs, Posty rocked the red carpet and show with a plethora of drinks. He walked the pre-show event with a red Solo cup in hand, evoking some major college-era throwbacks. It may also be safe to say that he will be ordering some delivery to his home, as he is wont to do. In October, Malone shared his top picks from Postmates, which included $8,000 worth of biscuits from Popeyes (that's 10,000 biscuits, FYI).
Needless to say, congratulations on the nominations and the off-the-charts performance, Posty!