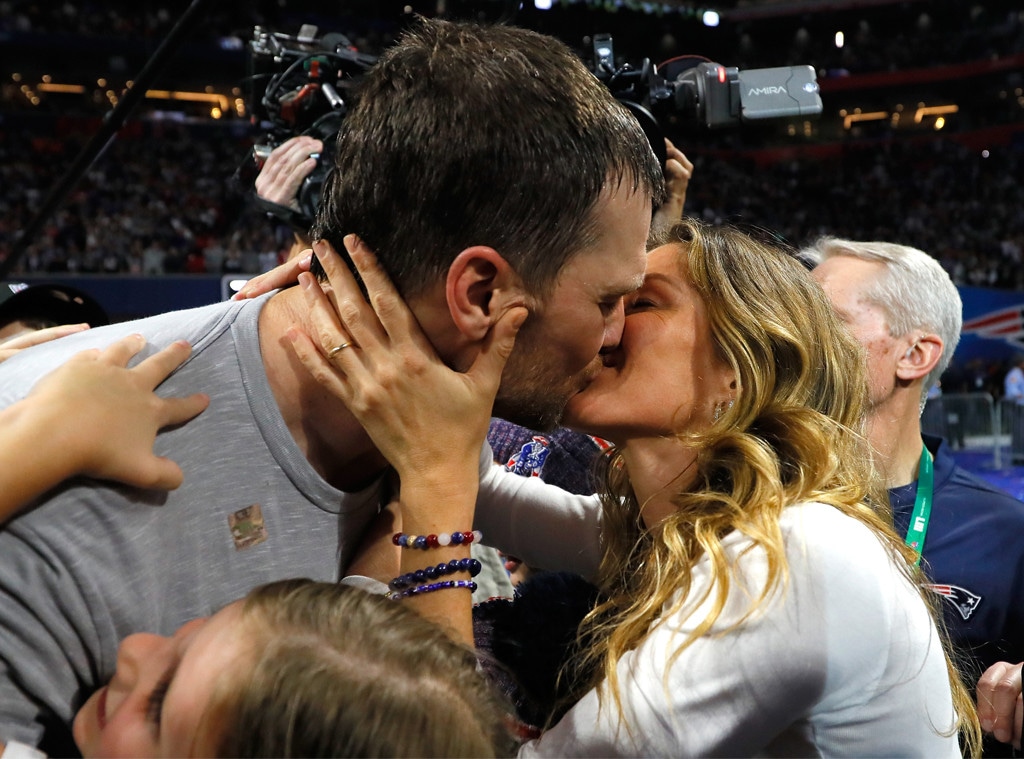 Kevin C. Cox/Getty Images
Tom Brady and the New England Patriots won Super Bowl LIII on Sunday, and nobody was happier for the quarterback than his wife and kids.
After the team clenched its sixth Super Bowl victory, Gisele Bundchen and the kiddos ran onto the field at Atlanta's Mercedes-Benz Stadium to congratulate the athlete. The supermodel planted a big kiss on her husband's lips and their 6-year-old daughter, Vivian, leapt into her father's arms. She also gave her proud papa a squeeze and let out a big cheer when he brought her onto the stage for the presentation of the Lombardi Trophy. The little lady was all smiles as she held up the prestigious award. 
Of course, she wasn't the only one of Brady's kids to celebrate his big win. His sons, Benjamin (9) and Jack (11) were also right by his side. All three kids proudly wore Patriots jerseys with their dad's number, 12, on the back.
Bündchen also applauded her main man via Instagram.
"What a special night," she wrote alongside a few snapshots. "Congratulations Patriots! Congratulations my love! Your tireless commitment, discipline and hard work never seizes to amaze me. We love you!"
It looks like the football star's family members had been cheering him on before the big game, too. Just a few hours before kickoff, Bündchen posted a picture of Vivian rocking her jersey and spending a little time on the field.
Scott Cunningham/Getty Images
"Let's go papai !!! Let's go pats !!!" she captioned the image.
Bündchen also shared a photo of herself wrapping her arms around her spouse just a few days before the Super Bowl.
"I got your back," she captioned the snapshot
"And I have yours!!!!" he wrote in the comments section.
Streeter Lecka/Getty Images
The Patriots faced off against the Los Angeles Rams and beat the team 13 to 3. The event was certainly a star-studded affair. Not only did several celebrities attend the big game—including Vanessa Hudgens, Meghan Trainor, Behati Prinsloo, Russell Wilson, Ciara, Emily Ratajkowski and more—but Maroon 5, Travis Scott and Big Boi performed during the Super Bowl halftime show. 
Congratulations, Patriots!