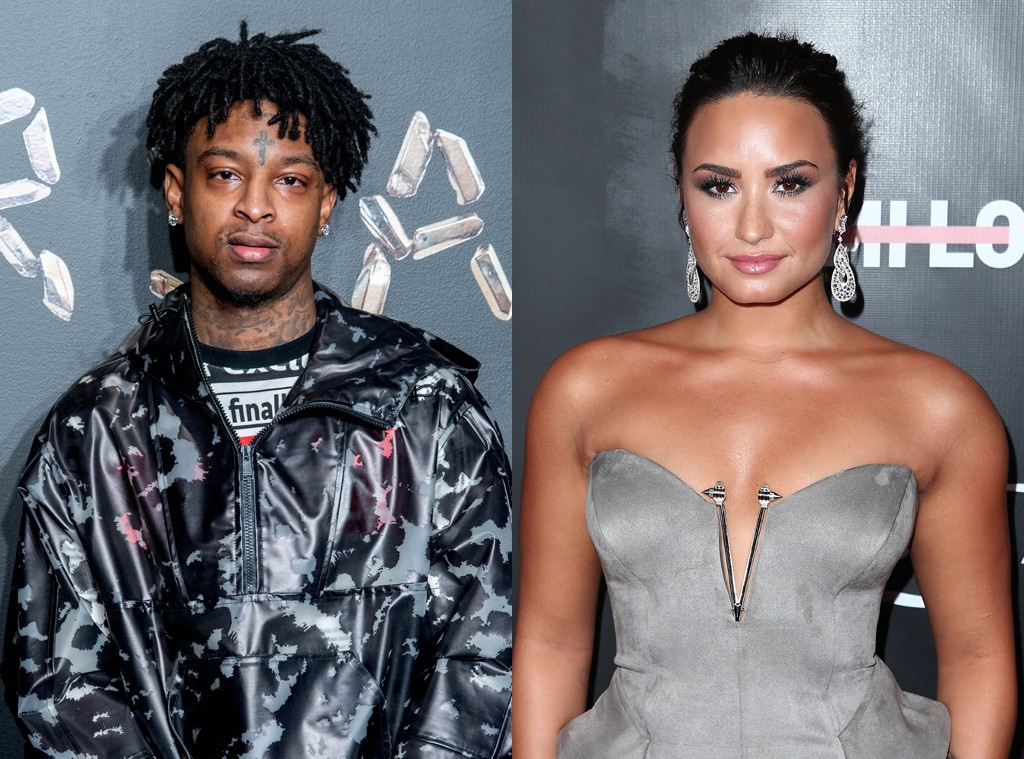 Roy Rochlin/Getty Images; Joe Scarnici/WireImage
Demi Lovato's Twitter has gone dark.
The "Confident" singer sparked some ire on Sunday night during the 2019 Super Bowl when she made a comment about the rapper 21 Savage. 21 Savage, whose real name is  Sha Yaa Bin Abraham-Joseph, was arrested on Sunday morning by ICE (Immigration and Customs Enforcement) for reportedly overstaying his visa. He faces a possibility of deportation. He was reportedly born on the island of Dominica, which was a British colony.
News of 21 Savage's arrest quickly spread over social media and subsequently became a meme. Lovato wrote on Twitter Sunday afternoon, "So far 21 savage memes have been my favorite part of the Super Bowl."
People immediately began calling her out, including Offset, who sort of seemed to subtweet her. "ALL THE MEMES AND S--T AINT FUNNY WHEN SOMEBODY GOING THROUGH SOME," the Migos rapper wrote. "PRAYING FOR MY DAWG AINT S--T FUNNY HIS FANILY [sic] DEPENDING ON HIM."
The 26-year-old singer tried defending and clarifying herself in later tweets, but it wasn't enough to calm the criticism.
"If you're gonna come at me for making a joke, try coming at me with some original not involving drugs," she wrote.
Lovato said in another message, "F--k Twitter. This is why I don't tweet anymore."
Many of the memes that poked fun at the "Bank Account" rapper's situation had to do with American Revolution-era images and British monuments. In a fourth tweet, the "Sorry Not Sorry" artist clarified which image she found so amusing.
The picture showed a person writing on paper with a feather-tip pen and a bottle of ink next to it, clearly from a much earlier era. The meme was captioned, "This how 21 Savage be writing his verses."
"FYI this is the s--t I'm laughing at...not the fact that anyone is getting deported," Lovato wrote. 
Other memes involving 21 Savage include a classic red British phone booth with the caption "21 Savage: I'm in the booth. The booth: [picture]." 
Lovato wrote a cryptic note on Instagram, too. She wrote in one font over a plain black background, "This break couldn't last long enough tbh."
Not long after deleting her Twitter, Lovato wrote another note on her Instagram Story about her prior tweets. She also shared screenshots of comments people made about it, including calling out her overdose and drug use.
"Wasn't laughing at anyone getting deported. I know that's not a joke...not have I EVER laughed at that," she penned. "The meme I posted/was talking about was of him being writing with a feather pen. Sorry if I offended anyone."
She continued, "But it's no excuse to laugh at someone's addiction, let alone their OD."
Just the other day, Lovato celebrated six months of sobriety after her July overdose. 
Prince Williams/Wireimage
21 Savage's attorney Dina LaPolt told E! News in a statement that they were "working diligently to get Mr. Abraham-Joseph out of detention while we work with the authorities to clear up any misunderstandings."
LaPolt's statement continued, "Mr. Abraham-Joseph is a role model to the young people in this country, especially in Atlanta, Georgia, and is actively working in the community-leading programs to help underprivileged youths in financial literacy."
ICE also provided E! News with a statement later in the day. The federal agency said in their note that his arrest was a "targeted operation." 
"He is unlawfully present in the U.S. and also a convicted felon," ICE said. 
An ICE spokesman told CNN, "His whole public persona is false."