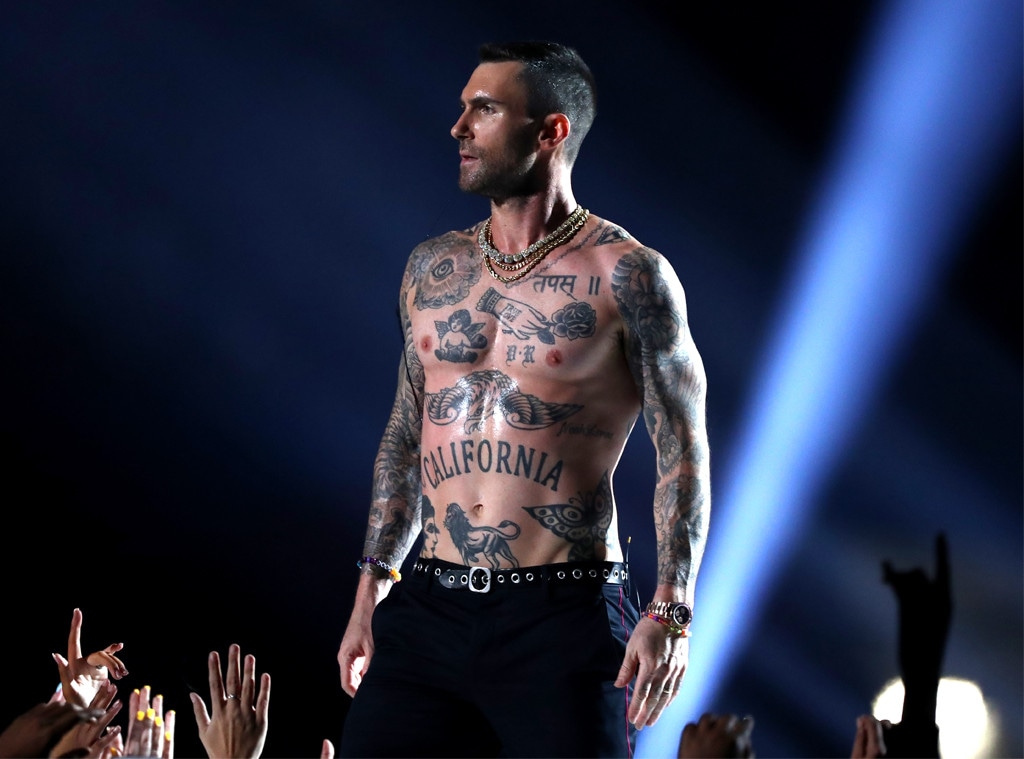 Al Bello/Getty Images
 It's safe to say the 2019 Super Bowl Halftime Show took a bit of a turn.
Maroon 5 took the stage during the halfway point of football's biggest game of the season. As if the New England Patriots and Los Angeles Rams facing off against each other wasn't enough of a star-studded and stressful game, the "Girls Like You" band paid homage to none other than SpongeBob SquarePants himself.
There were murmurs that the band would do some sort of tribute to the animated show about the sponge who lives in a pineapple under the sea, but nothing was certain until today. In fact, over 1.2 million people signed a Change.org petition to have Maroon 5 perform the show's song "Sweet Victory," which was performed during a SpongeBob SquarePants episode in 2001 where SpongeBob gave the halftime show at a game that looked eerily like the Super Bowl. 
Maroon 5 teased the SpongeBob appearance in a Jan. 13 tweet that documented some of their Super Bowl prep. Now we have all the proof we need. 
We also have all the proof we need of Adam Levine's abs, but that comes later.
Right after the SpongeBob moment, Travis Scott arrived in a literal fireball and started rapping "Sicko Mode."
Maroon 5 sang some of their top songs like "Girls Like You," "There Will Be Love," "Sugar" and "Moves Like Jagger" during their set. They also sang atop an M-shaped stage. 
During "Girls Like You," a drum line and gospel choir both had wonderful solo acts.
The crowd then released Chinese lanterns while Levine crooned "There Will Be Love," which is timely given that Chinese New Year is Tuesday, February 5. The lanterns spelled out "ONE LOVE."
Big Boi arrived not too later on in a black Cadillac convertible and fur coat. He briefly sang "I Like the Way You Move."
It seems like the stage got a little too hot for Levine because he stripped down and ended up just wearing pants.
The band posted about their performance shortly after halftime. "When we accepted the responsibility to perform at the SBHTS, I took out my pen and just wrote. Some of the words that came to me in that moment eventually made their way onto the incredible lanterns that flew high and low tonight," the post began. "We thank the universe for this historic opportunity to play on the world's biggest stage. We thank our fans for making our dreams possible. And we thank our critics for always pushing us to do better. One Love."
Levine (who presumably wrote the note) mentioned some of the words that appeared on the lanterns, including, "Forgive," "Laugh," Cry," "Embrace," "Enlighten" and more.
There were some reports that they were offered the spot after Rihanna turned it down in a stance of solidarity with Colin Kaepernick. There was yet another Change.org petition that the time hoping to get Maroon 5 to drop out of performing.
"I'm not in the right profession if I can't handle a little bit of controversy. It's what it is. We expected it. We'd like to move on from it," Adam Levine told Entertainment Tonight. 
On Wednesday, they announced in an unprecedented move that they would not participate in a pre-game press conference. "Maroon 5 has been working hard on a Pepsi Super Bowl LIII Halftime Show that will meet and exceed the standards of this event," the NFL said in a statement. "As it is about music, the artists will let their show do the talking as they prepare to take the stage this Sunday."