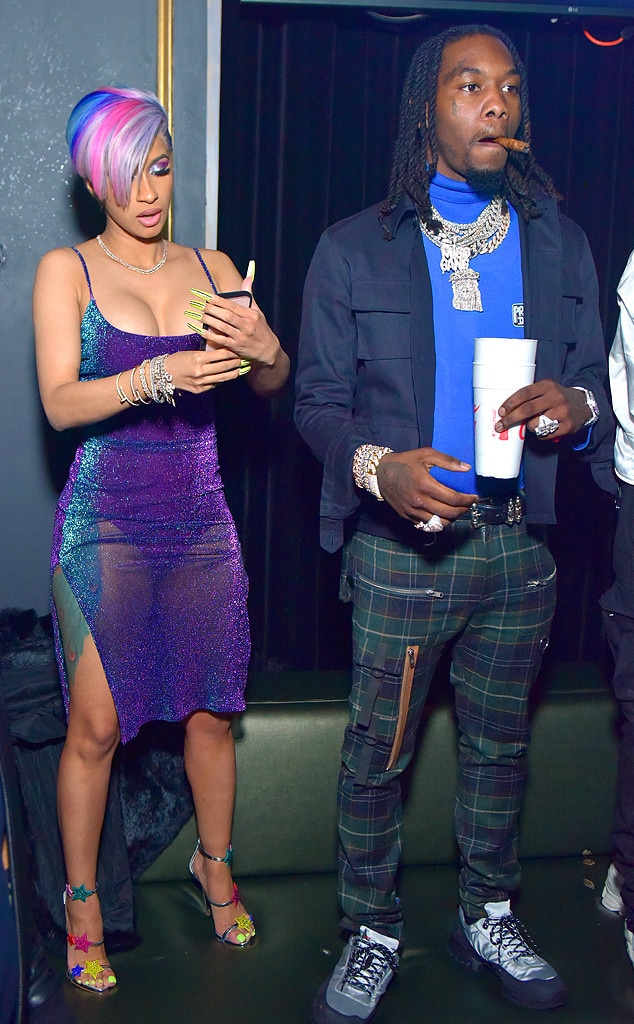 Prince Williams/Wireimage
Cardi B and Offset could be sparking reconciliation chatter once again.
The two of them—who announced their split two months ago—were seen at The Big Game Weekend Party at Oak Nightclub in Atlanta just two days before the Super Bowl.
It's an eventful weekend for the duo. Offset's rap group Migos performed at a pre-Super Bowl event and Cardi is set to make her Pepsi Super Bowl commercial debut alongside Steve Carell and Lil Jon.
The Grammy nominee debuted a new silver, blue and pink hairstyle while out in Atlanta with Offset. On Thursday, she gave fans some hope when she gave a relationship update and said she and Offset were "working things out." Their daughter Kulture Kiari Cephus has been a big priority for both parents.
According to a source, Cardi hasn't officially filed for divorce yet, so there's some hope they could get back together.
"A divorce isn't on Cardi's mind anymore. She has been focusing more on how they are going to work this out," the source said. "The negativity of their relationship has blown over and she's staying positive that it will work."
While the Super Bowl fête isn't the first time Cardi and Offset have reunited, it's certainly one of the first times they've been photographed together in public since Offset's very public apology. On Dec. 15, he crashed her show in Los Angeles and presented her with a cake and $15,000 worth of roses that spelled out "Take Me Back Cardi."
"I just wanna tell you I'm sorry, bro, in person, in front of the world," the 27-year-old announced on stage. "I love you. Whatever I gotta do to show you that, I'm there."
Prince Williams/Wireimage
Cardi, however, kicked him offstage but encouraged her fans not to criticize him. "Violating my baby father is not gonna make me feel any better, 'cause at the end of the day, that's still family," she said in an Instagram video that night.
About a week later, the two of them went to Puerto Rico together and spent the winter holidays as a family with Kulture.
Following their split, Offset was very vocal on social media about how much he "missed Cardi" and wanted her back. After rumors of his infidelity, he posted a lengthy video on Instagram that begged for her forgiveness.
"I want to be able to spend the rest of my life with you. I apologize. I am sorry for what I have done to you," he said. "I didn't f--k that girl, but I was entertaining her, you know what I'm saying? I apologize, and I love you, and I hope you forgive me."
Perhaps he's been forgiven? We'll just have to wait and see.