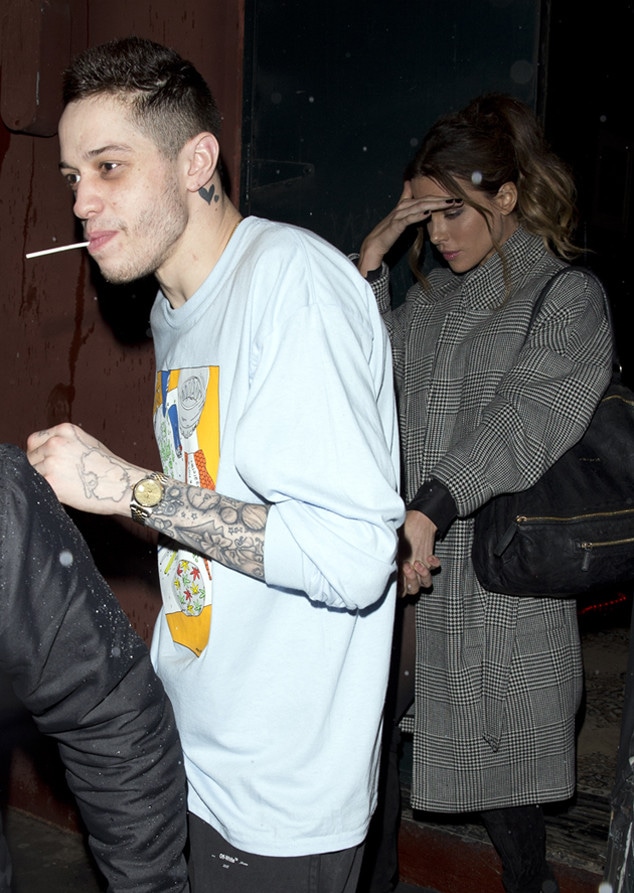 MEGA
Pete Davidson and Kate Beckinsale are certainly fueling those romance rumors...
On Friday, the 25-year-old Saturday Night Live star and comic and the 45-year-old actress were photographed walking together and holding hands outside the Los Angeles comedy venue Largo at the Coronet, where he performed a show. The actress bundled up in a black and white checked AllSaints coat.
"Pete arrived at Largo on his own a little while before his 10 p.m. show time," an eyewitness told E! News. "He was in a good mood and walked in with his arms in the air, saying hi to people. A few minutes before the show, Kate Beckinsale was dropped off in the back alley of the venue and went straight backstage. Kate rushed inside with her hand over her face."
"At the end of the show, Pete and Kate left together through the back door," the eyewitness continued. "Pete was holding Kate's hand tight and led her to their waiting car. They were giggling together in the back of the car and having fun."
The eyewitness said Davidson and Beckinsale were driven to a hotel.
"Inside the lobby, they sat on a couch together," the person continued. "Pete had his arm around Kate and she was leaning into his neck. They definitely looked like a couple."
A source close to Beckinsale told E! News that the actress "has spent some time with him and thinks he's very funny and charming," adding, "Its definitely not anything intense."
The sighting comes several weeks after a source told E! News that they spotted the two celebs looking "very cozy" at Netflix's 2019 Golden Globes after-party, adding, "She was very flirty with him and there were definitely some vibes going on."
Watch:
Pete Davidson & Kate Beckinsale Spotted Flirting at Globes After-Party
While a romance between the two was not confirmed, Beckinsale responded to the rumors in a humorous way; After the actress shared a photo of her model mother on Instagram, a Instagram user commented on Beckinsale's rumored hook-up with Davidson, writing, "Dear heavens, Kate. Not Pete Davidson."
"No that's my mother," the actress responded. "Easy mistake."