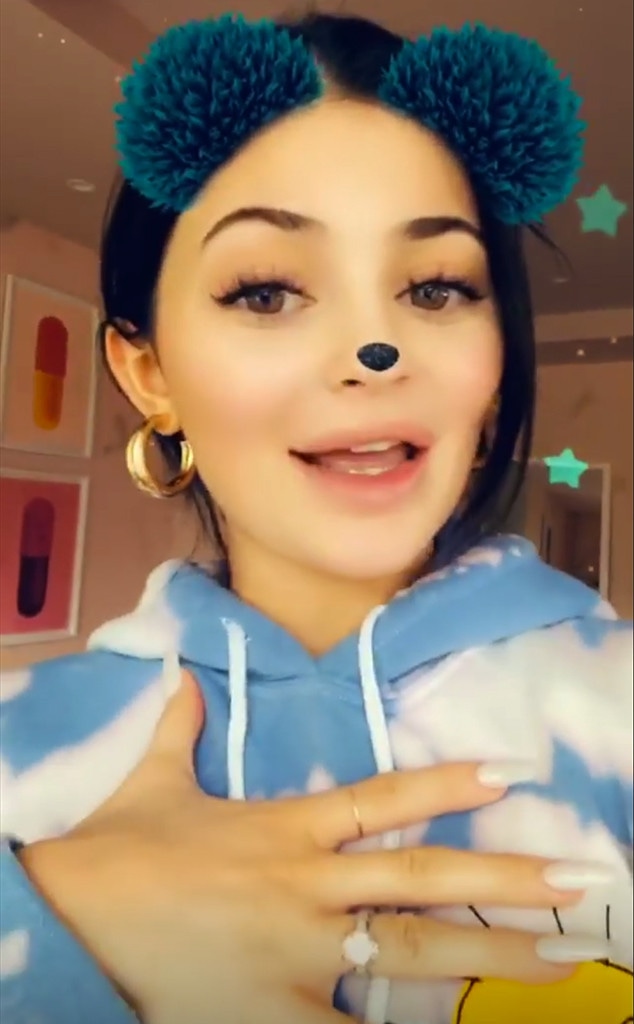 Instagram
If diamonds are a girl's best friend, then Kylie Jenner has a lot of besties. 
The Keeping Up With the Kardashians star is sparking engagement rumors with Travis Scott once again.
Earlier today, the 21-year-old beauty mogul took to Instagram Stories to share details about her daughter's first birthday party.
What caught fans' attention, though, was Kylie's new bling. In her series of video clips, she's seen wearing a massive diamond ring on that finger.
If anything, the jewelry piece is so huge that it's hard not to focus on it. 
The reality TV star didn't mention her new ring on her Stories, leaving fans in the dark about whether or not she's engaged.
However, she did confirm a couple of things—Stormi Webster's birthday plans and her Kylie Cosmetics Valentine's Collection (which launched today).
Sadly, the couple had to cancel their daughter's b-day celebration due to the fickle weather, saying it was "better to be safe than sorry."
This isn't the first time Kylie has sparked engagement rumors.
She's been teasing fans with new ring finger jewelry since 2017.
Just last month, she showed off new bling on her ring finger. In August, she and Travis were seen jewelry shopping and they purchased a "couple items," a source previously told E! News. 
Her beau is known for giving romantic gifts, so when they do get engaged, it's going to be unforgettable.
In December, Travis told Rolling Stone that when he proposes to Kylie, it will be in "a fire way."
"We'll get married soon," he revealed to the magazine. "I just gotta sturdy up—I gotta propose in a fire way."
If you want to see all of Kylie's rings, scroll through our gallery below. From her huge diamond bling to her custom-made rings, these are the jewelry pieces that sparked engagement rumors.
We're sure the engagement ring Travis gets Kylie will be one-of-a-kind.