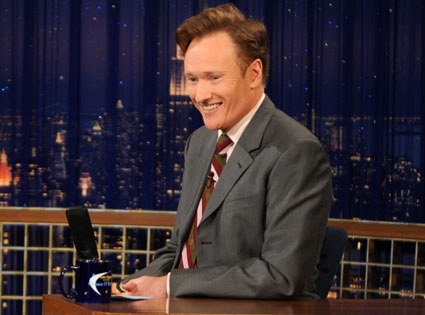 Dana Edelson/NBC
Just What Conan O'Brien Needed: A big, Abe Vigoda-blessed sendoff. Overnight ratings for O'Brien's final Late Night were up a whopping 44 percent over the show's season average, NBC said today.
Craig Ferguson Is Waiting for You, Jimmy Fallon: NBC didn't yet know exactly how big O'Brien's audience was last night, but, in something of a change, it was definitely bigger than the Late Late Show's. In the latest full late-night rankings for the week of Feb. 9, Ferguson's Late Late Show outdrew O'Brien's Late Night, 2 million viewers to 1.9 million.
The Bad News for Joss Whedon Fans: Dollhouse was down about 15 percent from its series premiere, from 4.8 million viewers to 4.2 million estimated viewers, as reported by MediaWeek.
The Slightly Better News for Joss Whedon Fans: In the 9 p.m. Friday hour, Dollhouse tied for second in the 18-49 demo.
Etc.: Terminator: The Sarah Connor Chronicles (3.8 million) was up; Friday Night Lights (3.9 million) was up; given that those two shows and others still weren't all that big, a repeat of Ghost Whisperer (8.4 million) was the biggest thing going.