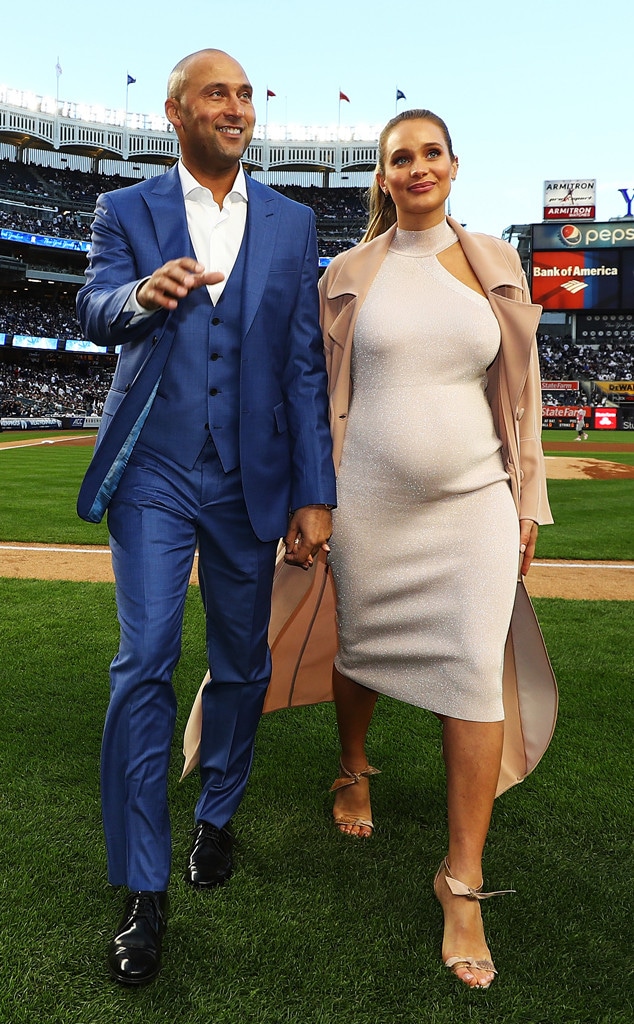 Al Bello/Getty Images
Derek Jeter and Hannah Jeter are now the parents to not one, but two beautiful girls.
On Thursday, the Players' Tribune made the happy announcement that the baseball player and his wife recently welcomed their second child. "Congratulations Derek and Hannah on the birth of your second baby girl, Story Grey Jeter. Welcome to the family, #2," the sports site, which Derek founded, tweeted.
Story Grey joins older sister Bella Raine Jeter in the Jeter-Davis household. Big sister Bella is only about a year-and-a-half older than her.
The MLB star and Sports Illustrated Swimsuit model shared the news of their pregnancy with the world in September, when Hannah stepped out with a growing baby bump. Since then, the couple has kept their family life relatively private and only appeared in public for the occasional night out on the town. 
When Hannah and Derek announced they were expecting their first child, Hannah wrote an emotional essay about Derek and her hopes for their future. In the piece written for The Players' Tribune, the 28-year-old said, "We want our kids' lives to be as 'normal' as possible. They're going to be born into such an extraordinary situation. They're going to have to be some strong little people. We don't want them to be defined by their dad's name — for them, we want him to just be 'Dad.' That will be the piece of him they'll have that the rest of the world doesn't. It will be special, and it will be theirs."
One thing that makes the model slightly sad is that their girls will never know the Derek Jeter that the city of New York praised. "We can show them videos, and photos, and memorabilia — I already can't wait to show them footage of that last night at the Stadium. But I know it won't be quite the same," she explained.
Nonetheless, Hannah and Derek, who wed in 2016, are overjoyed by their small family and the home they've created for themselves. In September, Derek told Extra, "Regardless of what happens in the course of a day, when you get home and you have your daughter there, it puts a smile on your face, so I have no complaints whatsoever."
Congratulations to Derek and Hannah!