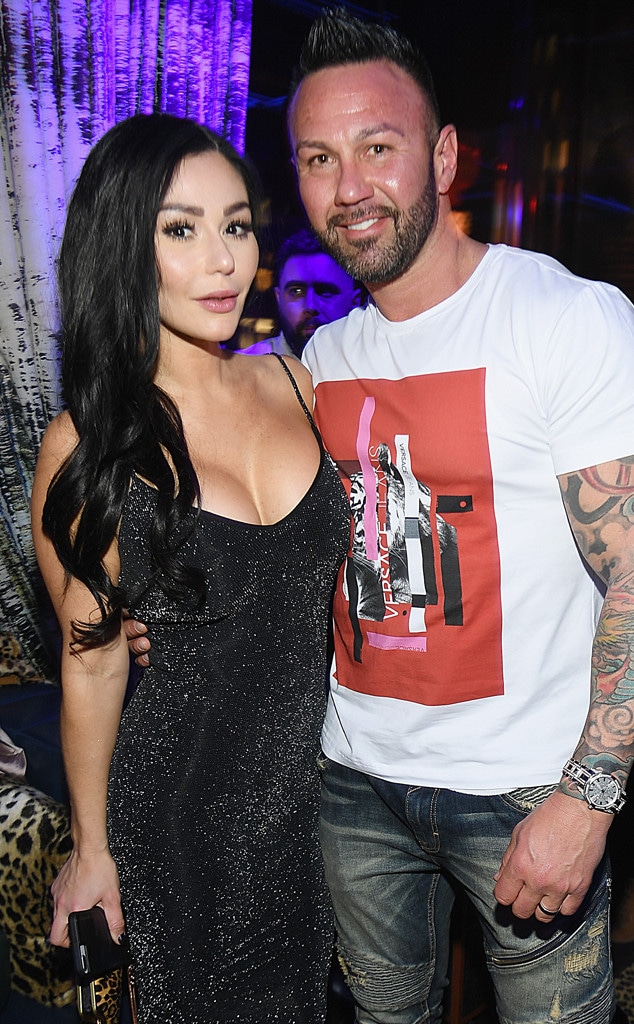 Dave Kotinsky/Getty Images for MTV
Jenni "JWoww" Farley is standing up to estranged husband Roger Mathews.
The Jersey Shore star released an explosive and lengthy statement regarding her contentious divorce from Roger. In the message, which she posted on Instagram and her website, Jenni details the alleged abusive behavior she experienced at the hand of Mathews and the "manipulative" actions her ex has taken. "I can no longer sit idly by while you mistreat and malign me in such an egregious manner," the mother-of-two writes. "You have presented yourself to the public as a praiseworthy father and a husband who has been suffering by my alleged actions and behavior."
She alleges that it was in fact herself and their children who were "hurt" by his actions. 
Furthermore, Jenni claims that his social media "postings are consumed with inaccuracies, false statements, self-serving comments, outright misrepresentations and blatant lies."
"Your actions have and continue to place the children in harm's way. Stop, pause and have a true reality check," Jenni pleads with the 43-year-old.
She even alleges that Roger attempted to contact her former ex to get him to "intimidate" her, despite knowing that Jenni had a restraining order placed for her protection. "Your attempt to bring this heinous person back into my life (the mother of your children) after he nearly murdered me speak volumes as to who you really are," Jenni accuses. "You are an abuser to the core, Roger Mathews." 
Her ex, Thomas Lippolis, has denied all allegations of abuse. 
The Jersey Shore star then lists off the numerous ways that Roger allegedly abused her, including allegedly throwing her to the ground. Jenni shares a supposed video of one of these incidents on the website, however, E! News has not been able to independently verify the validity of the clip. 
The accusations of abuse don't end there. JWoww accuses Roger of contacting her bosses to "attempt to smear my name and hurt my public image." 
Watch:
Roger Mathews Breaks Down Over Ex JWoww's Restraining Order
Jenni then claims that Roger planned to blackmail her with a two-year-old video of herself throwing a vacuum and other items in his direction, while Roger is holding a then-six-month-old Greyson Mathews, who can be heard crying. "Your intimidation tactics with footage that you intend to show out of context are meaningless," Farley says. 
In the video taken by Roger, he admits to cheating on her with another woman, whose husband apparently ended up beating him. Roger claims it was worth the beating because his alleged mistress was "smoking hot."
At the bottom of the lengthy statement, Jenni includes a plethora of supposed evidence that includes texts, which E! News is unable to independently verify, between herself and their shared nanny. There are also the aforementioned videos included at the bottom. Read JWoww's full statement to Mathews here.
E! News has reached out to Roger Mathews for comment.
For more information on domestic abuse or to get help for yourself or someone you love, visit the website for The National Domestic Violence Hotline (http://www.thehotline.org/) or call 1-800-799-7233.