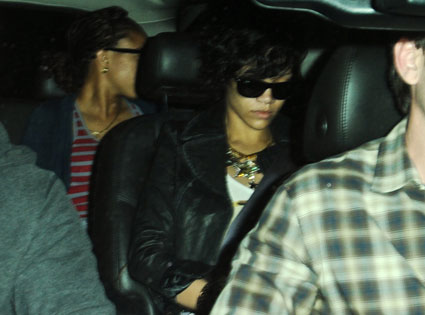 Nationalphotogroup.com
Rihanna should have been celebrating her 21st birthday today. Instead, the Barbadian songbird is lying low in Los Angeles and staying strong.
Her camp finally broke radio silence and issued a statement to fans.
"At the request of the authorities, Rihanna is not commenting about the incident involving Chris Brown," her publicist says in a statement.
"She wants to assure her fans that she remains strong, is doing well, and deeply appreciates the outpouring of support she has received during this difficult time." It's the first statement since her rep said Rihanna was "well" in the hours following her alleged altercation with Brown on Feb. 8.
After a trip to Barbados to be with her family and friends, Rihanna surfaced last night, photographed in the L.A. area for the first time since the purported roadside blowup.
In the pics, she is wearing sunglasses and sitting in the back seat of a car. Two unidentified men, a driver and passenger, are in the front seat and another woman is sitting behind the "Umbrella" singer.
As I first told you, Rihanna's record label canceled plans to throw her a birthday party in NYC. The soiree for about 200 guests was to have had a carnival theme with various "sideshow" attractions. The deal wasn't finalized, but it was probably going to happen at Gotham Hall.
(Originally published Feb. 20, 2009 at 2:48 p.m. PT.)