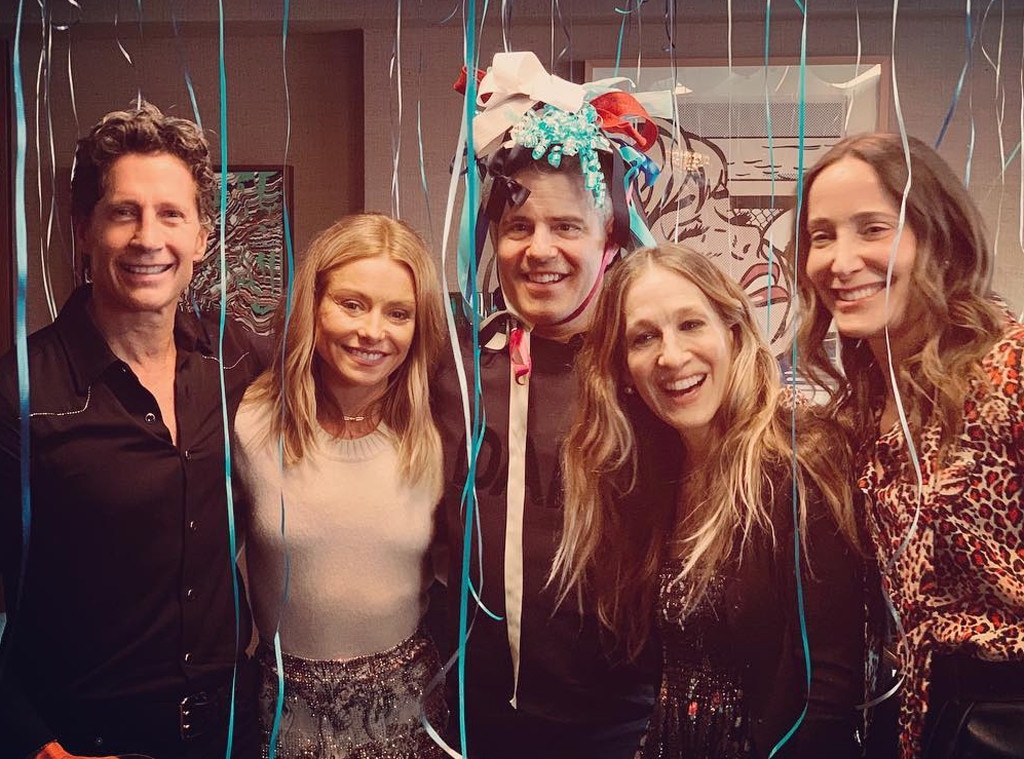 Instagram
Andy Cohen is feeling the love coast to coast.
Just days after being treated to an epic baby shower at The Palm restaurant in Beverly Hills, the Watch What Happens Live host revealed on Instagram that he also enjoyed an intimate celebration in New York City.
"I had a heart-boner for days after this crew threw me an equally epic affair on the East Coast," Andy wrote on social media Tuesday morning. "I feel loved & it's all going to the baby."
He continued, "Thank you @brucebozzi @kellyripa @sarahjessicaparker @jackie__greenberg. (Worth noting that Anderson made the ribbon hat and did a beautiful job!)."
While details about this shower are much more private than the Real Housewives celebration, Kelly Ripa couldn't help but wonder if New York's party lived up to the West Coast bash.
"Still feel like we got the assignment wrong after seeing that other shower," the daytime talk-show host wrote in the comments section. Andy replied, "You got it right babe."
Back in December, Andy revealed on Watch What Happens Live that he's having a baby via surrogate.
"If all goes according to plan, in about six weeks time, I'm going to become a father thanks to a wonderful surrogate who is carrying my future," Andy shared with the audience.  "Family means everything to me and having one of my own is something I've wanted in my heart for my entire life and while it has taken me longer than most to get there, I cannot wait for what I envision will be my most rewarding chapter yet."
As the surrogate's due date continues, Andy continues to broadcast Watch What Happens Live from Los Angeles.
And for those still reliving his epic shower on Saturday, you aren't alone. In addition to Real Housewives stars from across the country, John Mayer, Jerry O'Connell, Jenni Pulos and more stars celebrated the dad-to-be.
And between Lisa Rinna's dance moves, Kyle Richards' heartfelt toast and surprise guests—oh hello Phaedra Parks—this is one shower pop culture fans will remember forever.
Fortunately, we can experience it when Andy's Baby Shower premieres Friday at 5 p.m. on SiriusXM's Radio Andy.
(E! and Bravo are part of the NBCUniversal family)