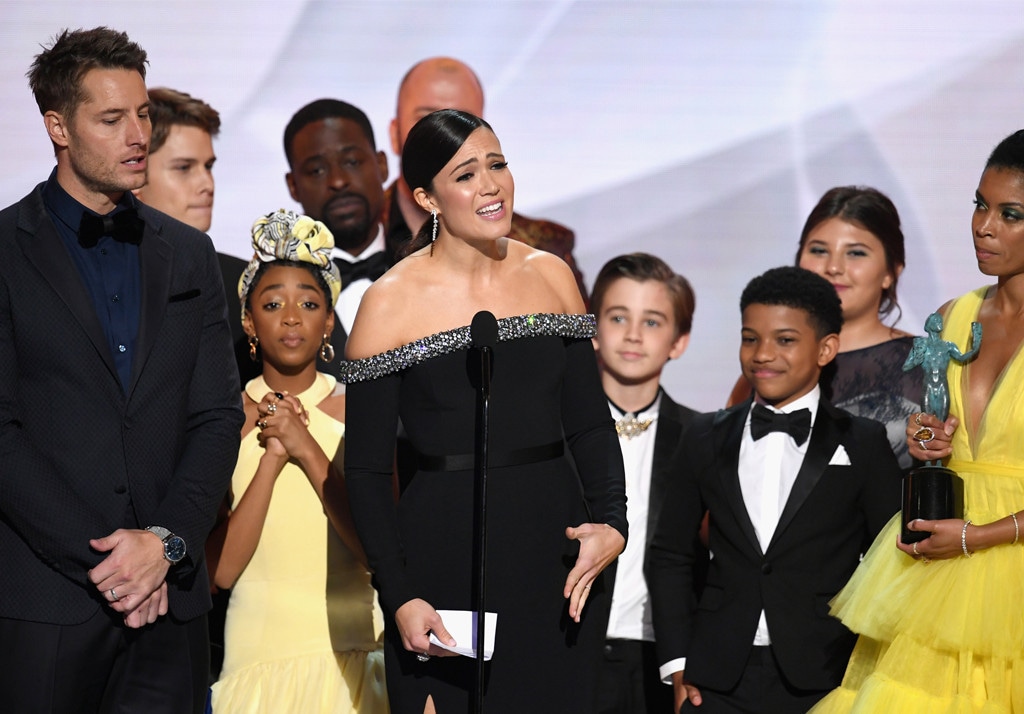 Kevin Winter/Getty Images for Turner
It was a big night for the Big Three.
Of course, we're talking about our favorite  TV family, the Pearsons, who took home the SAG Award for Outstanding Performance by an Ensemble in a Drama Series for This Is Us on Sunday evening at the 2019 SAG Awards—for the second year in a row, to boot. 
The stars of the hit NBC series, including Mandy Moore, Justin Hartley and Sterling K. Brown, took the stage to accept the award, along with their younger counterparts and fellow co-stars. 
 "Thank you so much for embracing a show that is about life and it's unpredictable loss and its sweet, sweet victories and inclusivity, all of that amazing stuff," Hartley told the crowd and everyone watching from home. 
Watch:
Melanie Liburd on John Stamos' Reaction to "This Is Us" Name-Drop
Needless to say, it was a sweet, sweet victory for the cast as well, notably the SAG Award newcomers like Melanie Liburd, who is one of the newer additions to the show. 
"It's my first SAG Awards," she told E! News' Giuliana Rancic and Jason Kennedy on the red carpet. "The energy in the room is insane. It's wonderful."
As for getting to join the show, Liburd was both thrilled and scared. 
"I was a fan of the show. I got the job. I was so excited and then I thought, 'Oh my God, this is so intimidating,'" she explained. 
But, as to be expected, "Everyone was so lovely. Justin, Sterling said anything you need—just so sweet, so, so kind."
While she already has incredible people to call co-stars, there were a few famous faces she was looking forward to seeing at the Shrine Auditorium. "I love Bohemian Rhapsody—I want to meet some of that cast because they're so good," Liburd told the co-hosts. "Brian May—big fan."
Watch:
"This Is Us" Young Stars Reveal Their Celebrity Inspiration
For younger cast members Niles Fitch and Logan Shroyer, who play younger Randall and Kevin, the SAG Awards were the perfect place to spot two of their acting inspirations. For Fitch, it's Michael B. Jordan. "I've met him before. Seeing him do Fruitvale Station when I was younger really had a big impact on me," he told Rancic and Kennedy. 
Meanwhile, Shroyer's is Bradley Cooper. "I was still little when he was coming up and really starting to do big stuff...I feel like he just brings it every time and what he did in A Star Is Born was really subtle and it was insane to see that layered [performance],"he explained. "This season, I started doing some drunk work and I was like, 'Oh, I'm good at this,' and then you watch Bradley Cooper do it—you're like, 'Ok, I've got a couple more hours to put in."
Watch:
Milo Ventimiglia Always Knew He Would Become an Actor
Their TV dad Milo Ventimiglia knows a thing or two about putting in hours—he's been in the business since he was 19 years old. As he recalled to E! News, he got his SAG card through getting cast on Sabrina, the Teenage Witch. All these years later, the beloved actor is just happy to work. 
"The most rewarding thing is still being here, doing a job that I love with people I care about in a profession that is changing, but also hopefully going in a positive direction," he told the co-hosts. "When you're a kid, you think about being a movie star, a TV star, winning awards whatever...the older you get, you're like, I just want to be working, I want to be with my crew, I want to be with my cast, I want to be working, and then hopefully you can kind of participate in the greater good of the world and give some positivity back. I think that's probably what I'm most proud of."
Well said, papa Pearson.