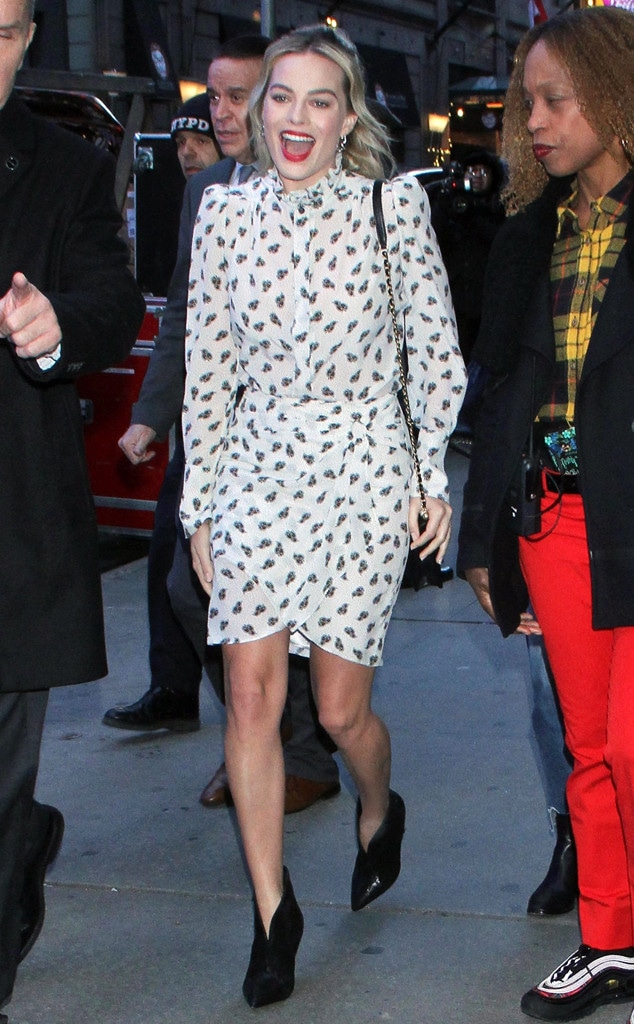 MediaPunch / BACKGRID
She's back. 
Of course, we're talking about Margot Robbie as the one and only Harley Quinn. More than two years after the Oscar nominee's silver screen debut as the DC Comics antihero, she's officially popped back up on our social media feeds. 
Just hours after attending the 2019 SAG Awards, Robbie shared a snap of herself dressed in a one-of-a-kind costume for Quinn, complete with red lipstick and a hear tattoo under her eye. 
"Miss me?," she asked in the caption before signing off as "HQ."
In addition to the platinum blond hair she rocked in the first film, the actress also sported a unique jacket adorned with colorful ribbons, suspenders and a dog tag necklace with "Bruce" on it. Bruce Wayne, perhaps? 
Fans may remember Amanda Waller (Viola Davis) meeting with Wayne (Ben Affleck) in a mid-credits scene at the end of the 2016 film. 
Wherever Quinn's story goes, this snap is yet another bit of information about the Suicide Squad spin-off Birds of Prey, also produced by Robbie and starring Jurnee Smollett-Bell as Black Canary, Mary Elizabeth Winstead as Huntress, Rosie Perez as Gotham City Police Department Detective Renee Montoya, Ewan McGregor as Black Mask and  Chris Messina as Victor Zsasz. 
You can see much of the cast in a quick teaser that has also emerged for the film online. 
Back in November 2018, Robbie shared a sneak peak at the cover for the script, aptly titled, Birds of Prey (and the Fantabulous Emancipation of One Harley Quinn). 
This time around, Quinn is expected to join forces with Huntress, Black Canary and Montoya to protect Cassandra Cain (Ella Jay Basco) from Black Mask in the absence of Batman in Gotham City.
The film is due out in early February 2020, so sit tight until then, puddins.