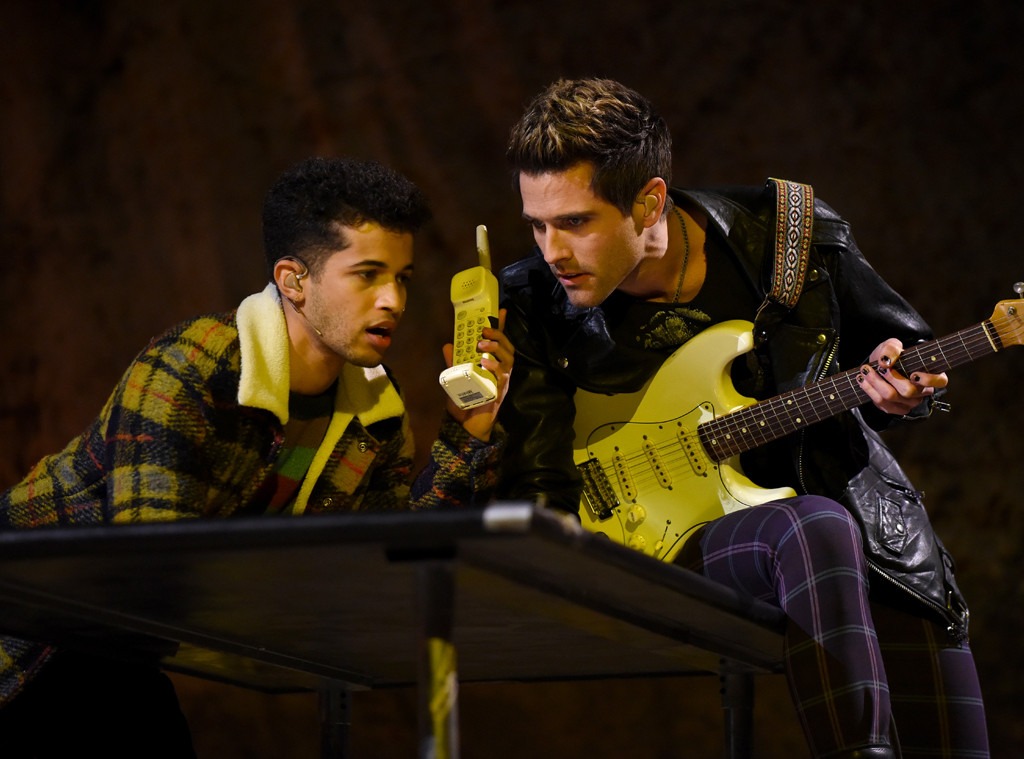 Fox
The big question of the night for Rent: Live viewers: Why didn't the show have an understudy for star Brennin Hunt?
Hunt, a singer-songwriter who previously competed on The X Factor, broke his foot during the taped dress rehearsal the day before the scheduled live telecast on Fox on Sunday, Jan. 27. "Last night during a live performance of Fox's production of Rent, one of the actors, Brennin Hunt, was injured. But in the spirit of Rent, everyone—producers and cast, original and current—is dedicated to ensuring that tonight's broadcast must, and will, go on," Fox Entertainment and 20th Century Fox Television said in a statement.
Without an understudy and with limited mobility for one of its main stars, Hunt played Roger in the musical, Fox used footage captured during the taped dress rehearsal from Saturday, Jan. 26.
"The experience of putting together this beautiful new production of my brother's work, while emotional, has been truly joyous for all of us. This new cast has embodied the spirit of the show from day one and they embraced Brennin with positive and uplifting love in his moment of need. Rent has always been about resilience and community. I speak from my heart when I say that we have a spectacular show for you tonight. We can't wait for a new generation to experience Jonathan's legacy," Julie Larson, executive producer and sister of the late Rent playwright and composer Jonathan Larson, said in a statement.
So…why don't live TV musicals cast understudies like the Broadway shows they're often based on?
"We actually don't have stand-ins," Rent: Live director Alex Rudzinski, who also directed Grease: Live for Fox, told reporters ahead of the musical's premiere. "What we do have is a backup recording from the night [before]. The night before we do a full dress rehearsal on camera to tape, so should the metaphorical meteor hit the studio, we can switch to that backup recording, and it's with an audience, and so there is a degree of backup there. Actually, I think on Grease we lost sound for eight seconds and we switched. I think we had to switch to the backup for eight seconds, and no one noticed."
It wasn't a meteor, but it was a broken foot. The musical started to broadcast live toward the end of the night, including a finale that reunited Idina Menzel, Anthony Rapp, Taye Diggs and the rest of original Broadway cast of Rent.
Again, why no understudies? Think about it: Part of the attraction to these live TV musicals—and even live stage musicals—is the talent.
Viewers may be on the fence about tuning in until seeing Vanessa Hudgens is attached to star. Who would the understudy be? An actor of equal star power who would need to spend weeks rehearsing along the with cast? These shows are a time commitment. The show could use a member of the ensemble, like Broadway shows do, but again, networks bank on star power. Is star power more important than actually broadcasting a live musical live?