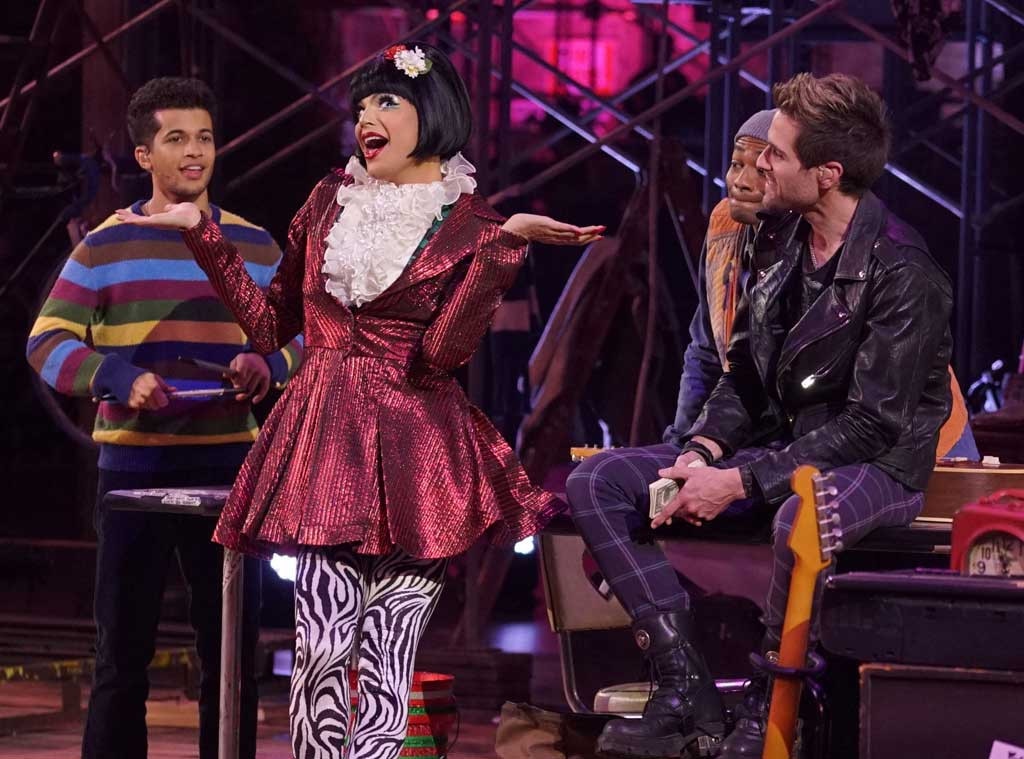 Fox
The show is still going on, in more ways than one. 
After star Brennin Hunt broke his foot during a rehearsal performance of Rent Live, Fox decided to air that rehearsal instead of going live aside from the final act. Despite the fact that the show was no longer technically live, a studio audience was still in attendance, and one audience member recorded the version of the show being shown in studio. 
It's very different, as Hunt can only sit in a wheelchair and sing, but we'd almost rather be watching it. That's part of the fun of a live show—you just gotta do it the best you can, no matter the circumstances, because it's live. What we got instead definitely does not have that same excited energy a real live performance would have. 
The video is just a portion of Roger's song "Another Day," and the lights in the studio are fully on while Hunt and Tinashe, who plays Mimi, seem to just be having a very chill, casual time performing the song despite the wheelchair. 
Fox obviously had a very difficult decision to make in the past less-than-24 hours, but a live musical is best when it feels live, and anything could happen. A main character in a wheelchair that no longer fits into the original blocking certainly feels like one of those anythings. Please, let us watch trained actors and singers work through challenges in real time! That's way more interesting than everything going as planned! 
The same audience member also tweeted a video of another performance of "No Day But Today" in the same setup. 
Another video showed the audience laughing as Jordan Fisher/Mark joined in on what was supposed to be an intimate moment between Roger and Mimi. 
Even if they mostly showed us the pre-recorded version, it would have been great to see an occasional actual live view of the studio, with just a glimpse of what the studio audience is seeing as we lead up to the final act, which is the only part that will actually be live tonight since Hunt broke his foot before performing it during the rehearsal. That portion has been reworked to allow Hunt to still participate without having to be too active, and will also include appearances by all of the original Broadway cast members of the show.
We just wish we didn't feel like that's the only part of the show we're now really excited to see. 
UPDATE: Fox eventually tweeted its own videos of the performances happening live, and we say again: THEY SHOULD HAVE AIRED THEM. 
This version of "I'll Cover You" will give you CHILLS. 
And here, ladies and gentlemen, is Vanessa Hudgens just casually rolling all over the floor during "Over the Moon." 
We're going to need that entire "cast concert" on DVD at the very least, thank you very much Fox.