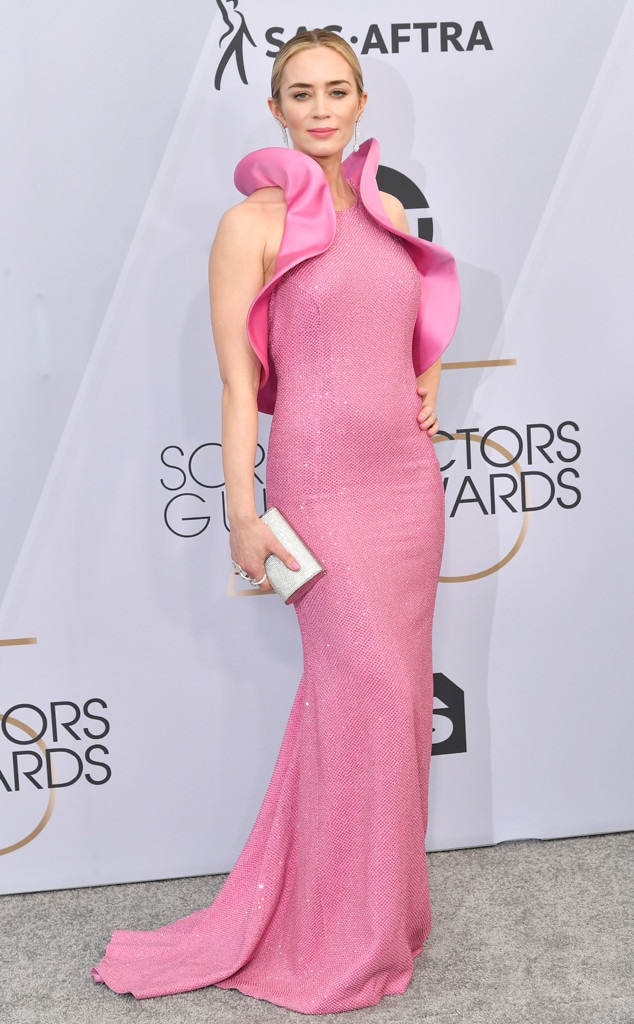 Rob Latour/Shutterstock
Emily Blunt is giving thanks to the most important man in her life.
The Quiet Place star is sharing her 2019 SAG Award with the one man who made her win possible. As she accepted the award for Outstanding Performance by a Female Actor in a Supporting Role, the star revealed she is "completely" sharing the achievement with her husband, John Krasinski. "I'm so moved and completely lost for words and unprepared," she said onstage. "I am going to share this completely with my husband, John, because the entire experience of doing this with you has completely pierced my heart directly."
As John held back tears, his wife praised him for his work as "a stunning filmmaker" and thanked him for casting her opposite him in the thriller.
The emotional moment was only made that much sweeter when Emily joked, "Thank you for giving me the part. You would have been in major trouble if you hadn't. So you didn't really have an option, but thank you."
And last, but certainly not least, the star dedicated her award to their darling daughters. "And thank you to the two little poems in our life, our daughters Hazel and Violet who will have to be at least 45 before they can see this film, but they'll be proud of you nonetheless," Blunt shared.
Blunt definitely had some tough competition. She went up against Amy Adams for her role opposite Christian Bale in Vice, Margot Robbie for her character in Mary Queen of Scots and both Emma Stone and Rachel Weisz from The Favourite.
Congratulations to Emily on her award!
To see the full list of winners, click here!