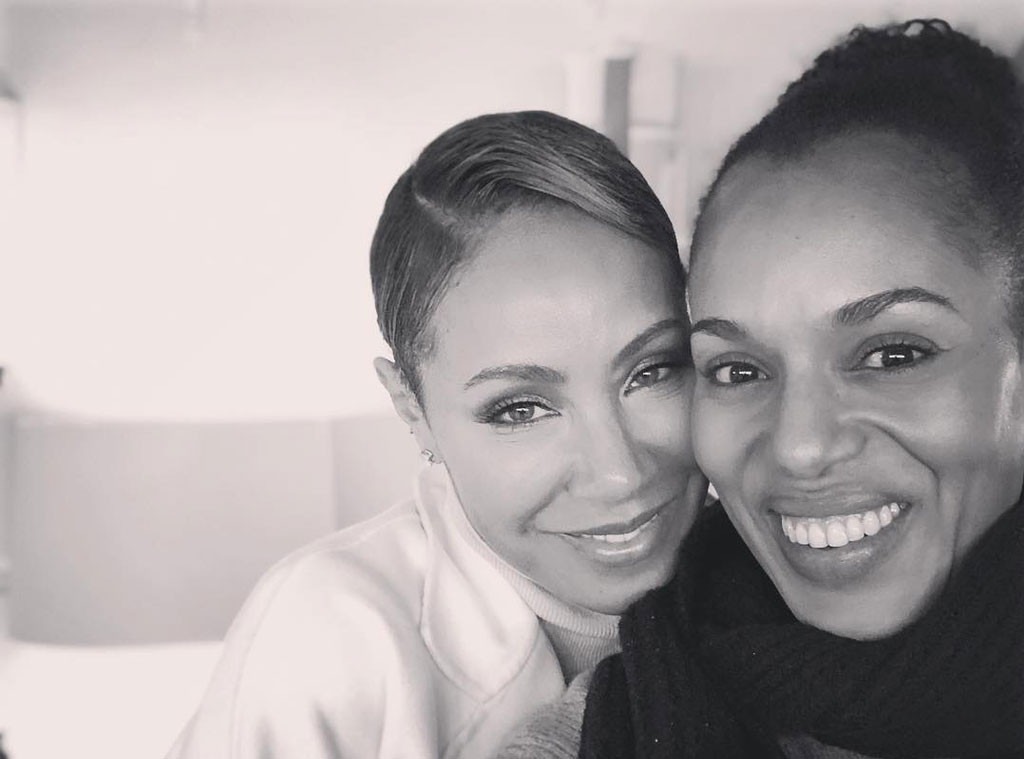 Instagram
The only scandal here is that we weren't invited.
Kerry Washington and Jada Pinkett Smith had a flawless-looking reunion over the weekend that both women documented on Instagram. Washington is currently starring in the Broadway play American Son, which runs until Sunday. While Washington has a powerful presence onstage, there are a number of women who signed on to help produce it, including Shonda Rhimes, Pinkett Smith and Gabrielle Union.
In her Instagram post, Pinkett Smith said she was "so happy" see Washington's "brilliant performance" in the play. "Kerry ... I am so honored to be on this ride with you. Thank you for including me," she wrote. Pinkett Smith added the hashtag "#sisterlove" as well.
Washington dubbed the Red Table Talk co-host a "goddess" in her caption.
"Honestly, I think about power as more of an internal phenomenon. I tend to think about empowerment for myself so that I have the courage and ability to act on the ideologies and priorities that resonate with me," she explained. "I've always wanted to cultivate a sense of empowerment within myself without seeking approval from outside sources, which is hard to do as an actor, which is part of why producing is so important and which is where some of my freedom, or learning, to take that sense of freedom and bring it to a larger audience and larger space has a lot to do with having my employer be a black woman." 
Not only did Pinkett Smith cheer on her friend Washington on Broadway, but she also has a new movie, Hala, premiering at the Sundance Film Festival this year.
Her two children Willow Smith and Jaden Smith joined Pinkett Smith at the premiere on Saturday. She told Jimmy Fallon in an interview that Hala was written and directed by women and all the heads of the departments are female.
"It's about a young woman learning how to keep her family traditions and growing up as a young woman in America," she told the late-night host.
When she isn't behind the camera, the Girl's Trip star, her daughter Willow and mom Adrienne Banfield-Norris get candid about all types of topics on their Facebook Watch show Red Table Talk.
In the show, the three women have tackled difficult subject matters, including mental health and loss. 
"I was severely depressed, severely," Pinkett Smith said in one episode in December. "And that was something that I battled with for years. Waking up in the morning was like the worst part of the day." Other tearful episodes include the time she spoke about her family's history of abuse and when her husband Will Smith appeared on the show and admitted to "failing miserably" at one point in their marriage.
But Pinkett Smith has a clear vision about her show and how she hopes to help fellow viewers. She told NPR on Friday, "I really want to create conversation where people don't have to feel like they're alone. And whatever pieces individuals can take with them to make whatever changes they might feel is necessary for more happiness, more joy, more peace — I want to be part of that journey."