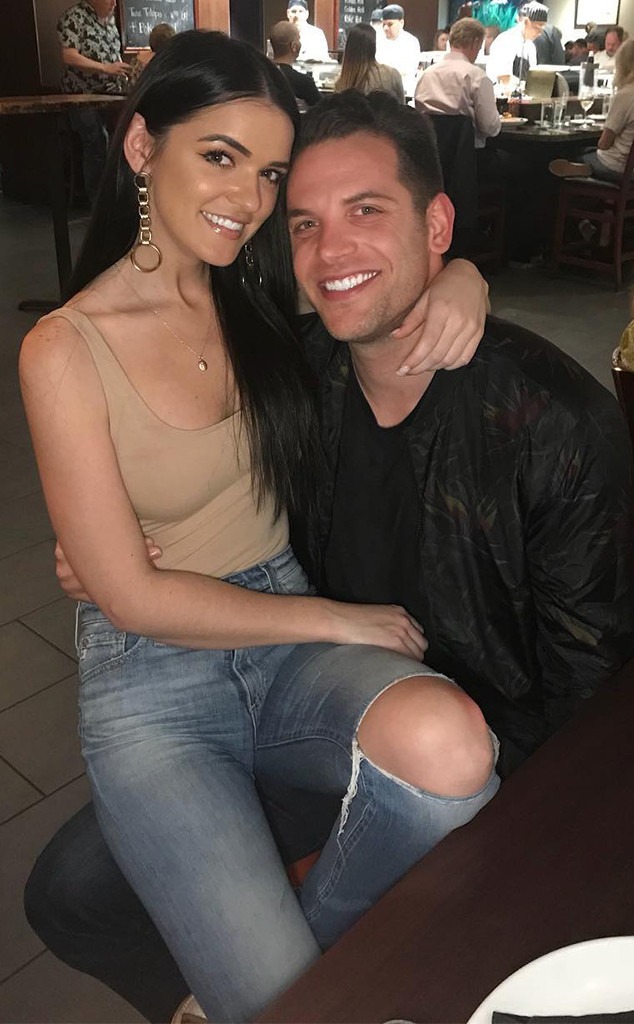 Instagram
Bachelor in Paradise's Raven Gates isn't afraid to gush over her man, Adam Gottschalk.
The reality TV star candidly spoke about her relationship while she was on Kaitlyn Bristowe's Off the Vine podcast.
From sleeping with Adam in the Fantasy Suite to being embarrassed to poop in front of him (#relatable!) to being "truly happy," Raven put it all out there. Nothing was off limits.
On the topic of how she knew she wanted to be with Adam, she says she was "pretty damn sure" about him after they slept together in the Fantasy Suite.
"When I was on [Bachelor in Paradise], he would take me into the ocean and say some dirty s--t to me," she dishes. "We get into the Fantasy Suite and he did the damn thing. That's when I was pretty damn sure."
Blushing that they did it on "non surfaces," and adding that it was "mind-blowing." She was shooketh to say the least.
In terms of how comfortable they are together, there's one thing Raven is still shy about: pooping.
She tells Kaitlyn that last Valentine's Day, she was horrified when she needed to go number two. The couple celebrated the holiday at a "bougie" restaurant, ordering everything on the menu. Raven got so ill she vomited in the public restroom, and well, they left so she could go about her business.
"It wasn't, like, a little poop. It was, like, this is gonna be bad," she says, embarrassed.
"My biggest fear is that someone recognizes you when you come out, and you just blew the whole f–––––g toilet."
Even more mortifying? She recalls that when they got home, she thought everything was "under control." So, they did some things in bed since it was Valentine's Day, after all.
"I s––t all over the bed," Raven says, adding that Adam was still in the bed with her. 
However, he told her it wasn't a big deal, which helped the situation.
It's safe to say that the couple is still going strong. Raven says people don't understand how happy she and Adam truly are. Revealing that the Bachelor in Paradise star makes her feel "safe to open up," something that can be hard for her to do.
"In the beginning, it was harder for me to communicate because I don't like to talk about feelings. If we disagreed about something, I am not gonna talk about it," she says. "Adam is the opposite. He wants to talk about his emotions and feelings."
"Finally, one night, we weren't in an argument, but he said, 'Raven, you have to tell me how you feel about me because I cannot continue in a relationship where you don't speak how you feel.'"
For the reality TV star, she feels like people are in your life for "a season, a reason or a lifetime."
It seems like Adam just might be in the category of "lifetime" for her.