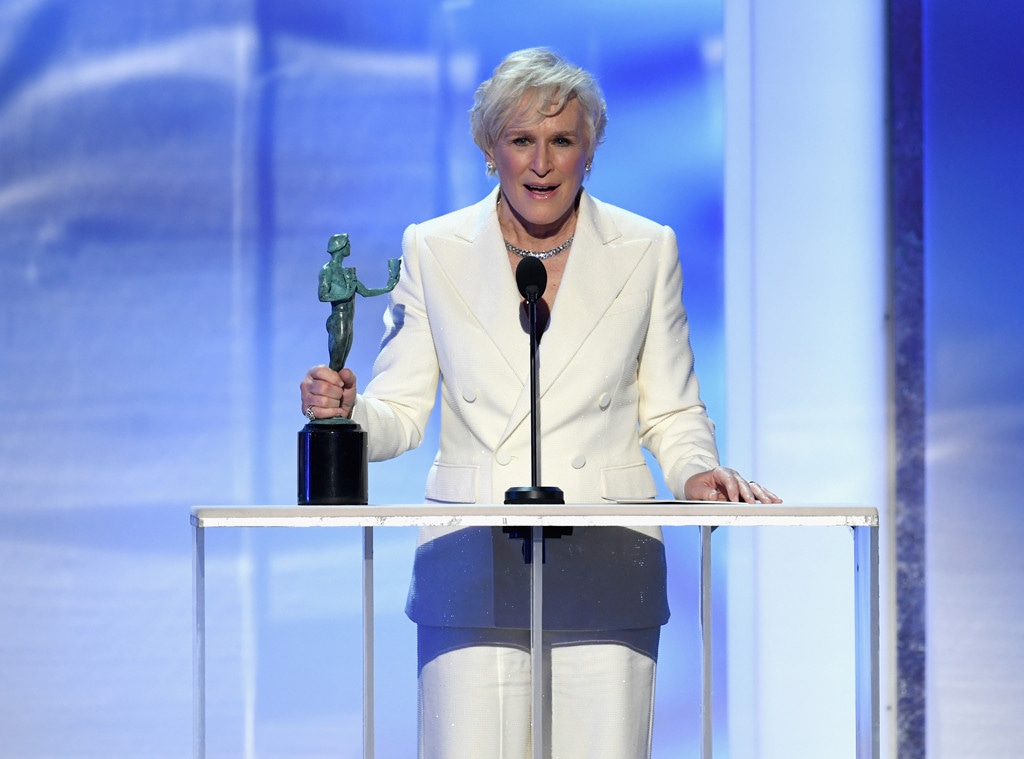 Kevin Winter/Getty Images for Turner
Glenn Close is not gonna be ignored...she has won her second Screen Actors Guild Award and first in 14 years! Two for you now, Glenn Close. And none for Gretchen Wieners, bye.
The actress was visibly shocked as she was awarded Outstanding Performance by a Female Actor in a Leading Role in a Motion Picture at the 2019 SAG Awards on Sunday for her role in The Wife.
Close beat Emily Blunt for Mary Poppins Returns, Olivia Colman for The Favourite, Lady Gaga for A Star Is Born and Melissa McCarthy for Can You Ever Forgive Me?
In The Wife, Close plays a woman who questions her life choices as she travels to Stockholm, Sweden with her husband, who is set to receive a Nobel prize.
In her acceptance speech, Close thanked the cast and crew of the film, gave a shout-out to viewers and made a rare plea.
"I think of all of us sitting in the room and I think of all of you watching on TV, all of you who haven't had the chances that we've had, and I salute you with this," she said. "One of the most powerful things that we have as human beings are two eyes looking into two eyes. And film is the only art form that allows us the closeup. And it substitutes for real life two eyes looking into two eyes. And I think we have to remember how powerful that is in a world that is consumed with different sized screens. That the power that we have are two human eyes looking into two other eyes. That will give us empathy and understanding."
This marks Close's ninth nomination. She won her first SAG Award in 2005 for her role in the Showtime movie The Lion in Winter and has also been nominated for her leading role on the show Damages and for performances in other TV films as well as the movie Albert Nobbs.
Earlier in the night at the SAG Awards, Close had a Fatal Attraction reunion onstage with Michael Douglas.
Watch:
SAG Awards 2019: By the Numbers
The 2019 SAG Awards were held at the Shrine Auditorium in Los Angeles and aired live on TNT and TBS.