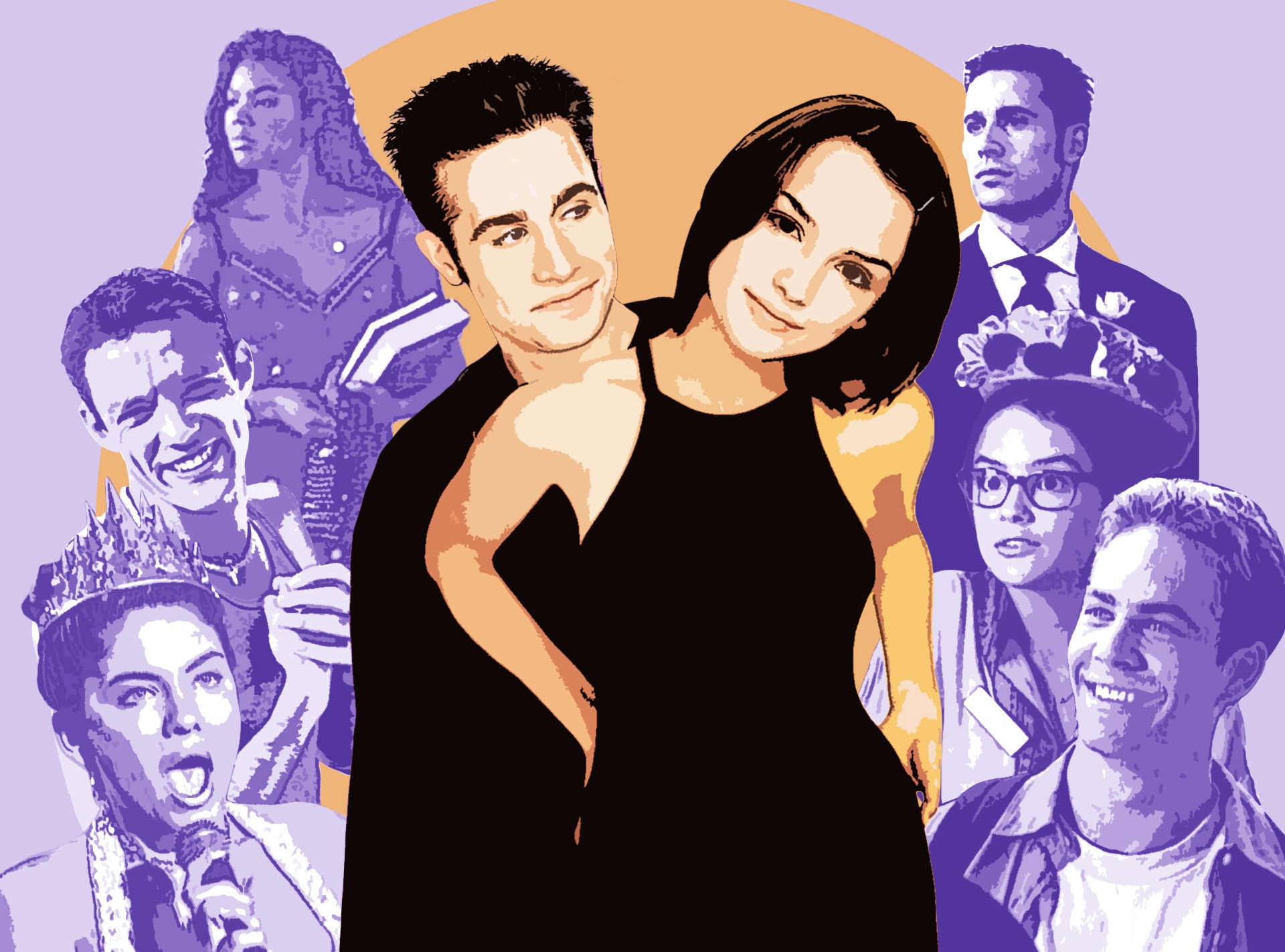 Miramax; Melissa Herwitt/E! Illustration
Grab a hacky sack and cue up "Kiss Me": She's All That hit theaters 20 years ago.
In the iconic teen rom-com, Rachael Leigh Cook and Freddie Prinze Jr. star as Laney Boggs, a "dorky" (that would definitely be "adorkable" now) art student, and Zack Siler, student body president and captain of the soccer team. After getting dumped by his girlfriend Taylor Vaughan (Jodi Lyn O'Keefe) for former reality star Brock Hudson (Matthew Lillard), Zack makes a bet with his buddy Dean Sampson (Paul Walker) that he can turn any girl into the prom queen—even, gasp, shy, brainy Laney.
"When you read a script—if that script is a solid 8, 9, really good—you can usually count on the outcome being a solid 7, if you're lucky," Cook tells E! News. "And this movie just lived up to its potential and then some."
Laney gets a makeover, Zack realizes what a jerk he's been, and (spoiler alert) they totally fall for each other. She's All That became an instant 1990s classic—even if its leading lady is hesitant to call it that.
"It's difficult for me to call it a classic," Cook says, "because to me the classics are like the John Hughes movies I grew up watching. I still feel weird to this day putting myself in any category that could attempt to be as great as those films."
But Cook "100 percent takes joy in the fact that people think it's a '90s classic," she says. "I'll be honest, some part of me has always wished that it came out just a little bit later," because not every year of the '90s was created equal.
"It did come out in '99, and I'm kinda like, 'Hey, hey, I wasn't a teenager in 1991, let's take it easy. It's different,'" she said, mock sternly.
She's All That is 1999 in a nutshell, though: Kieran Culkin and Oscar winner Anna Paquin play Laney and Zach's younger siblings, Usher is the school's resident DJ, and Gabrielle Union, Dulé Hill and Lil' Kim are the cool kids.
Meanwhile, Cook (and Prinze) couldn't resist trying on a certain rapper's famous wigs while in their proximity. "So the rumor got out that Freddie and I wore Lil Kim's wigs," Cook says. "I really hope Lil' Kim's not watching this because that is 100 percent true. I'm sorry, they're magnificent, and they were just there. I'm only human, of course I was going to put on Lil' Kim's wigs!"
All hair sampling that happened was in good fun, though, because unlike many a movie where you have a sprawling cast of young, attractive people, there really wasn't any off-screen drama among the stars of She's All That. 
"We were kind of at the beginning of our careers," Tamara Mello, who played Taylor's friend Chandler, tells E! News. "So there was no, like, anybody who thought that they were a big star and treated the rest of us who were sort of new on the scene [poorly]…Really, everybody was lovely."
Prinze, especially, "was such a doll," says Mello. That was important, because as Rachael points out, Zack Siler pretty much had to played by a genuine good guy like FPJ. "If you looked at his character, just on paper, even though he's not an ill-intentioned person or a nefarious character, he does something that's really deeply unkind [in the movie] and you would not accept this from a lot of actors," she says, "but for some reason Freddie is just so inherently…good, and just pure at his core." 
"He's a good egg," adds Cook, "and so I think we can watch him and know his intentions not to be bad ones when we watch him in the film. And he's a damn good actor. So there's that." Nor is he hard to look at. "Oh, those puppy dog eyes, come on," Cook agrees. "He's adorable."
Cook clearly enjoyed working with Prinze, and she also got along well IRL with her onscreen arch nemesis Taylor Vaughan. And Jodi Lyn O'Keefe, who played the ultimate pre-Regina George movie mean girl, tells E! News she, too, "loved Rachael and thought she was so much fun."
"It was really hard for me to be mean to her," O'Keefe says with a laugh, "which is pretty funny because that's all I am throughout the entire film."
Cook admits she "was a little intimidated" by the late Paul Walker. "[He] was an awesome actor, but he didn't act actor-y," she recalls.  "He seemed like a surfer who somebody picked off the beach and dragged onto a movie set—who happened to be good at acting."

"He wasn't hyper-social, he sort of just did his work and kept to himself," she adds. "I think that I was a little bit intimidated by him—plus he's really tall and was super hot, so respect to that. Just, wow."
By the time She's All That premiered, Walker had been in Pleasantville and Varsity Blues. Prinze had starred in I Know What You Did Last Summer and its sequel, and Lillard slayed in Scream. But overall, the impressive ensemble had a refreshingly up-and-coming quality that suited the high school setting.
As She's All That producer Richard N. Gladstein puts it, "There were other films that you could've seen them in, but they weren't usually the leads in those films."
And this was intentional. "In some ways, we were [going] back to what were like the John Hughes movies I grew up on," Gladstein tells E! News. "They were all people that could be leading people, but who weren't necessarily before...and the group of them together made for a sort of shining ensemble."
Cook might be too modest to admit it, but She's All That did bring together a "Brat Pack"-reminiscent cast of characters. Prinze—who ended up marrying the actress who had a blink-and-you'll-miss-it cameo turning down fresh-ground pepper in the cafeteria—went on to star in multiple YA romances, including Down to You, Boys and Girls and Summer Catch.
Cook, up next in Hallmark Channel's Valentine in the Vineyard, had a recurring role on Dawson's Creek and played the titular band leader in 2001's Josie and the Pussycats.
Walker cemented his teen idol status with films like The Skulls, Into the Blue, Blue Crush—and of course the Fast and the Furious franchise. And the ever-youthful Union, who most recently starred in the BET series Being Mary Jane, played a formidable teen queen in 2000's Bring It On. 
But She's All That, even 20 years later, holds a special spot among all the '90s teen rom-coms. For Elden Henson, who played Laney's friend Jesse, having even a smaller role in the movie "really helped my career," he says. 
"Whenever you're in something that's as successful as this was, you know, people want to cast you more in other stuff," says Henson, who you would recognize now as Pollux from The Hunger Games: Mockingjay - Part 1 and Part 2 or Foggy Nelson from Netflix's Daredevil. "I just remember feeling very lucky and grateful that I got to be a part of it." 
If you ask Henson, the fact that we're still talking about She's All That today has a lot to do with its two main stars. "Freddie was such an awesome guy, and Rachael was really sweet. I think that helped," he says. "And I think the writing was really great."
Fact, those zingy one-liners are a lot of what kept She's All That from being vapor, spam, a waste of perfectly good yearbook space (or IMDb space, if we're bringing it into this millennium.) The script itself is pretty stellar, too—so let's just clear up another big 20-year-old myth right now: The movie wasn't "ghost written" by M. Night Shyamalan.
If you thought that, though, you're in good company. In fact, even Cook didn't know the whole story behind this very unbelievable-sounding bit of She's All That trivia. 
"I heard the rumor years ago that M. Night Shyamalan wrote this movie and I think I put on Twitter, 'Yeah, and I kidnapped the Lindbergh baby," because I just thought it was so utterly ridiculous," she recalls. But then she found out that the Glass director did work on it. "He didn't write most of it, from what I've heard... a guy named R. Lee Fleming actually wrote the majority of the script."
The script is indeed credited to R. Lee Fleming Jr., but Shyamalan—who burst onto the cinematic scene as the new master of the movie twist with the The Sixth Sense six months after She's All That came out—did some script-doctoring after the project was sold to Miramax.
Gladstein tells us that Shyamalan's tweaks, specifically, "helped enormously with the relationship with Kevin Pollak [who played Laney's father, Wayne]," but the script for She's All That "was pretty much done" already by the time it made its way to him.
The overall story, meanwhile, is still being shuffled around Hollywood today, which is why talk of a She's All That  TV show or remake seems to come up at least every couple of years. Fleming says that while "some of the details would be different" with a modern-day reboot, he thinks "the specifics, the general story, would stay largely the same." (Cook, for one, suspects the infamous "Hoover it" scene wouldn't make the cut in this day and age.) 
"Obviously, there's technology stuff that would be different," Fleming tells E! News. "And I think that there would likely be more diversity—especially among the leads—in terms of casting...[But] I feel like a lot of the emotional stuff still holds up."
The original Laney, meanwhile, has no problem if the film ends up getting rebooted for the 21st century. "They should!" exclaims Cook. "She's All That, it's My Fair Lady, it's Taming of the Shrew—we were not the first. I'm not precious about it."
As for what happened to Zack and Laney after graduation? (Stop reading here if you harbor particularly strong feelings about those two.)
Fleming thinks that they "had an amazing summer" and likely "tried to make the long-distance thing work when Laney went off to art school and Zack picked one of those colleges, [but] I don't think they were able to make it work long term."
That's not to say, though, that Zack and Laney's story is over.  Fleming is "absolutely" down to write a sequel.  "I think there's a lot of ways that could go," he says, "[but] I think people would like it, and I know we'd have a lot of fun making it."
And Cook, FWIW, is always happy to chat about her breakout role when people inevitably approach wanting to know more. "It would be easy to say, 'Oh, don't talk to me about that thing from a long time ago, I've done other things since, [I've] moved on,'" she shares, "but my vanity loves it when I'm recognized from this movie. Because, the reason we're talking—that was almost 20 years ago!
"So then I'm recognizable as the same human? I'm all in, let's talk about it. Love it."
For more of Rachael Leigh Cook's She's All That memories, tune into E! News at 7/11 p.m. Valentine in the Vineyard premieres Saturday, Feb. 2, at 8 p.m. on Hallmark Channel.