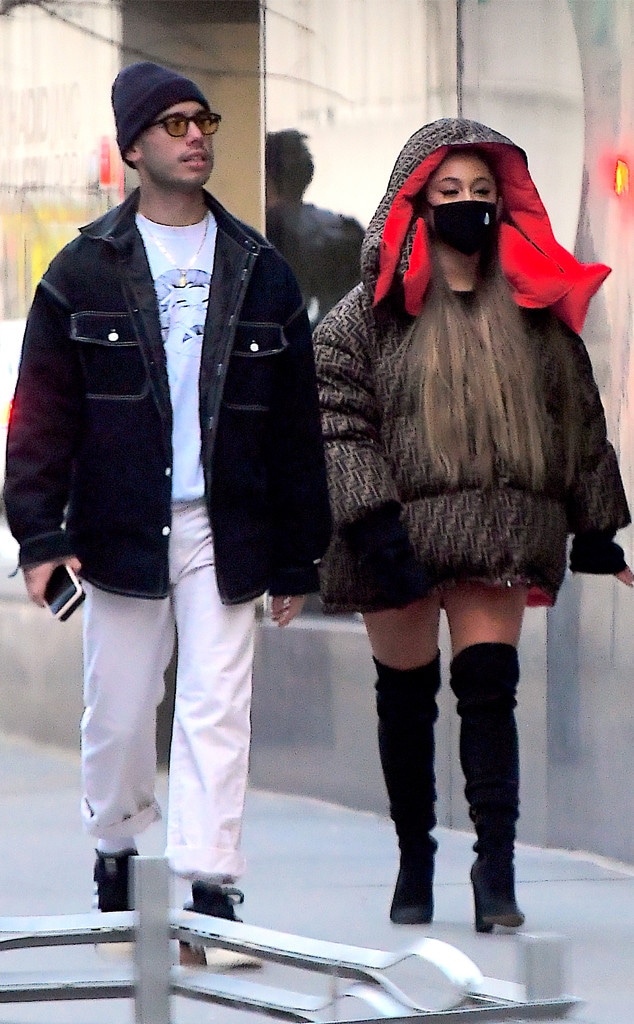 Louis Bloom / SplashNews.com
Is Ricky Alvarez heading out on tour with Ariana Grande?
The "Thank U, Next" singer just dropped a major hint that her dancer ex will be joining her on the Sweetener World Tour, which kicks off in March. Grande and Alvarez, who have been spotted spending time together in recent weeks, dated for a year before calling it quits in July 2016.
"She broke up with him. He didn't cheat or anything, they just found it difficult to make it work," a source told E! News at the time. "They are still friends though."
Following her split with Alvarez, Grande went on to start a relationship with the late Mac Miller. In May 2018, after about two years together, the musical duo's split was announced.
Amid a very tough end to 2018, with the sudden death of Miller and her breakup with Pete Davidson, Grande found comfort in friends and in her music. In November, Grande released her song "Thank U, Next," which references her relationship with Miller, Davidson and Alvarez. It was around this time that Grande and Alvarez first sparked reconciliation rumors, with Alvarez even promoting the song on social media and Grande commenting on his Instagram.
On New Year's Day, Grande was photographed walking around New York City with Alvarez. That same day, Grande took to Twitter to declare that she's dating "no one."
"Spoiler: for the rest of this year/probably my life: It's no one,"  Grande wrote. "Please refer back to this tweet for future questions."
As Grande and Alvarez continued to spend time together, rumors started to surface that he'd be joining his ex on her tour. Adding fuel the speculation, Alvarez attended Grande's recent "7 Rings" party. On Monday, Alvarez posted a photo from the party with Grande's go-to director and editor Alfredo Flores and photographer Stefan.
"the best team," Grande commented on the post before seemingly confirming the tour rumors. "see y'all on touuuur."
That same day, Alvarez also posted photos of Grande to his personal and photography accounts.
"A flower," he captioned one post, while writing "wrist" alongside another.
This could mean that Alvarez is either dancing or doing the photography on Grande's tour, maybe even both!
The Sweetener World Tour kicks off in Albany on March 18.