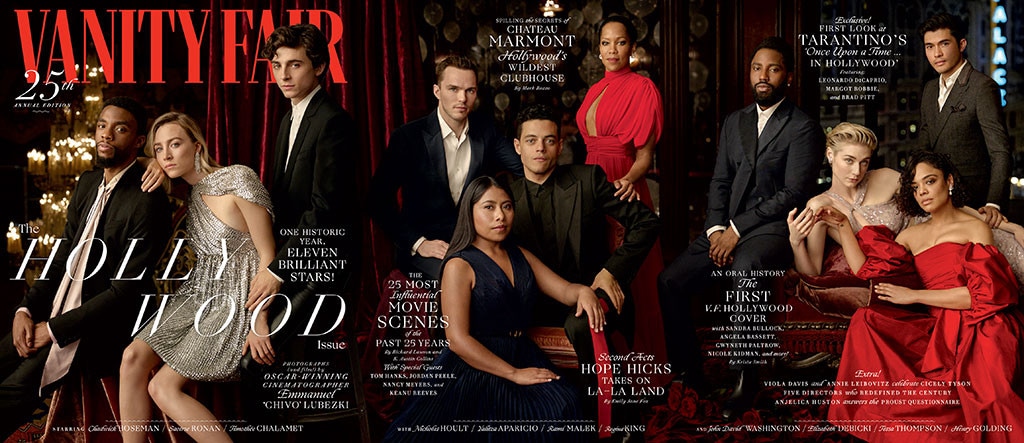 Vanity Fair
It's here!
Yes, we're talking about Vanity Fair's annual Hollywood issue. For more than two decades, the magazine has been chronicling the standout stars of Tinseltown right as award season ramps up. So, when it came time for the 25th issue, you better believe it was going to be as special as ever. 
"This is the 25th issue this magazine has dedicated to appraising the ambitions and personalities that power Hollywood, and we've celebrated by making some moving pictures of our own," the magazine explained. As such, the issue not only features the usual glamorous cover spread, but also an accompanying online feature using literal moving pictures of each movie star.   After all, it's 2019 and the technological boundaries are impressively endless. 
So, who made the cut? 11 celebrated, dynamic and diverse actors and actresses, ranging from industry veteran and first-time Oscar nominee Regina King to swift breakout newcomer Henry Golding. Nine of the stars are making their Vanity Fair cover debut. 
"Did I expect this at the beginning of the year? Definitely not," the Crazy Rich Asians actor told the magazine. "I'm super-fresh on the scene, but I plan on sticking around for a long time."
Golden Globe winner and first-time Oscar nominee Rami Malek of Bohemian Rhapsody posed for the shoot as did fellow Golden Globe nominees, Beautiful Boy's Timothée Chalamet and BlacKkKlansman's John David Washington, all dressed in sharp attire. 
"As I was putting this wonderful suit on, I realized it's not about me, it's about somebody who looks like me in Kansas or North Carolina, Middle America or in the South, who sees a cover like this and will be inspired to change their environment, to be motivated and say, I can be this, I can do this," Washington, Denzel Washington's firstborn son, told Vanity Fair. 
David Lee / Focus Features
The Favourite's Nicholas Hoult and Black Panther's Chadwick Boseman round out the group of men. As for the impressive list of talented actresses, Tessa Thompson, Saoirse Ronan and Elizabeth Debicki are all featured in dazzling gowns. 
Completing the group is Roma's Yalitza Aparicio, who incredibly earned her first Oscar nomination for her first role ever this year. 
As she perfectly said to Vanity Fair, "While my time in the business has been short, it has been a source of pride and hope for many people to see someone that looks like me—an indigenous person—starring in an Oscar-winning director's film. And a big change for Hollywood."
The issue hits newsstands on Jan. 29.