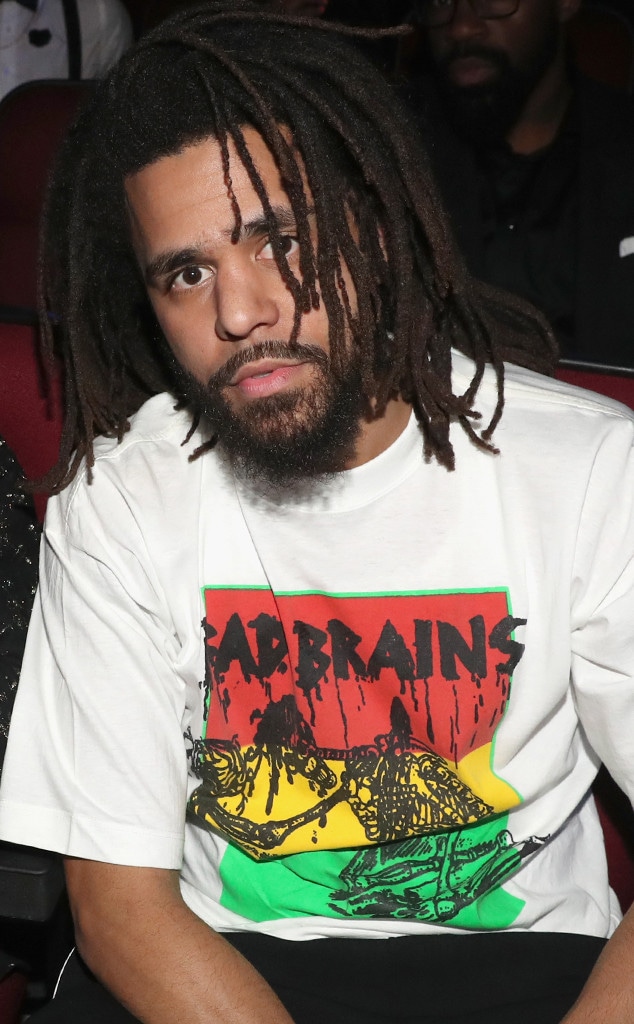 Johnny Nunez/VMN18/Getty Images for BET
Another day, another celebrity beef.
J.Cole is sneakily throwing shade at Kanye West in his new single, "Middle Child." 
The highly-anticipated track released on Wednesday, Jan. 23, and fans went wild over the bop. So much so, it's already trending on Twitter.
Aside from its catchy tune, the rapper's fans are already pointing out the subtle shade that's being thrown at Yeezy. The Twitter user Def Pen wrote, "J. Cole has some words for Kanye," and followed the post with the lyrics:
"But I'd never beef with a n–––a for nothin / If I smoke a rapper it's gon' be legit / It won't be for clout / It won't be for fame / It won't be 'cause my shit ain't sellin' the same / It won't be to sell you my latest lil' sneakers." 
Adding more fuel to the fire, J. Cole gives Drake a shout out right before he disses Kanye. "This watch came from Drizzy, he gave me a gift," he raps.
Of course, the 33-year-old rapper's fans are Tweeting they "need answers" in regards to the Ye shade. 
Let's not forget that last May the "Kevin's Heart" singer took shots at Kanye. "That made me feel a certain type of way," Cole said of the "Famous" rapper.
Yeezy shared a screenshot of their phone call, which has now been deleted, but the 33-year-old rapper said he felt "used" by it.
That's not all who Ye has had drama with in the past year. He's currently feuding with the "In My Feelings" rapper. After Kanye learned that Drake followed (and unfollowed) his wife Kim Kardashian on Instagram, things got messy. 
"I've never mentioned or touched anything related to family when it came to Drake," the "Famous" rapper wrote in a series of now-deleted tweets. "He dodged me for months when I extended olive branches to talk and then called to threaten me. This man tried to used my family's song to get at me He been trying to pick a fight since the pool line."
He wrapped up his social media posts, writing, "I don't have beef with no one. Love everyone but don't follow my f--king wife on Instagram. Ima focus on my family And you keep my family out of all of this wrestling foolishness."
Drama aside, J. Cole's "Middle Child" single references his feelings towards being in the "middle" of old and new generations of rappers.
"I'm a little bro and big bro all at once," he sings. "Just left the lab with young 21 / I'm 'bout to go and meet Jigga for lunch."
To further promote his song, the rapper took to Twitter to share famous celebrities who are all middle children. From Britney Spears to Jennifer Lopez to even Lisa Simpson from The Simpsons. 
If you haven't given it a listen, it just might be what you need to hear for a little mid-week pick-me-up.