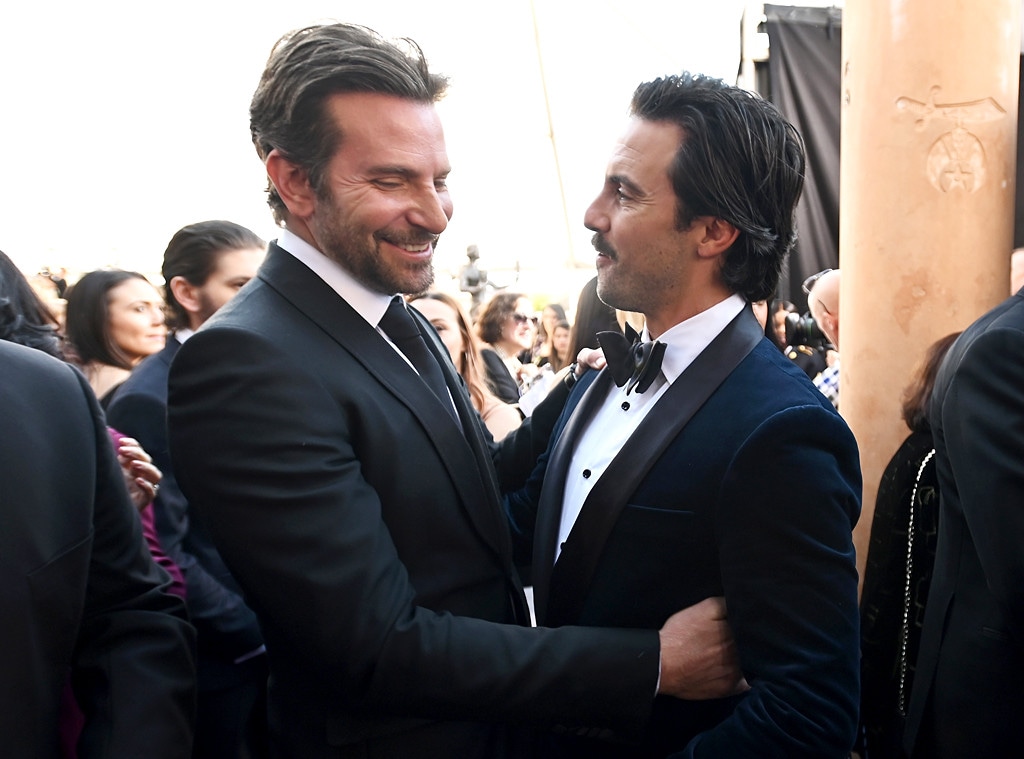 Mike Coppola/Getty Images for Turner
Awards season is still kicking!
The 2019 SAG Awards represent more than just another awards show. Year after year, producers, writers, directors, members of the Academy and more cast their ballots to vote for their favorite film and television moments. At SAG, the power and decision lies in the hands of fellow actors. 
Stars gathered at the Shrine Auditorium in Downtown Los Angeles for the 25th Anniversary of the show. SAG honored the big anniversary by laying out over 17,000 square feet of silver carpet rather than a red one. Just because there's a change in color doesn't mean the people on it are any less glamorous! The SAG Awards have always been home to some of the best and most fashionable red carpet looks during awards season. This year was certainly no different.
Will & Grace star Megan Mullally took the stage as the show's second-ever host, one year after Kristen Bell became the inaugural host.
The 2019 SAG Awards were filled with great moments both on and off-screen. For instance, Michael B. Jordan arrived at the show channeling his inner Timothée Chalamet and wearing a multi-colored Louis Vuitton harness over his navy blue and black suit. John Krasinski cried tears of joy for his wife Emily Blunt when she won the award for her role in A Quiet Place, which he wrote and directed. Chalamet wasn't wearing a harness like his 2019 Golden Globes look, but he was reading a book or program at one point and people were confused.
But what happened when the cameras weren't rolling? E! News has got you covered with all the things you missed on TV at the 2019 SAG Awards.
Crazy Ex-Girlfriend's Rachel Bloom was E! News' first red carpet arrival and gushed to Giuliana Rancic and Jason Kennedy about the time her mom met Lady Gaga. Justin Hartley and his wife Chrishell Stause arrived not long afterwards and they rushed through the red carpet holding hands to take photos. Hartley made sure to stop and talk to a young man who looked like a fan on the red carpet and shook his hand. So nice!
MARK RALSTON/AFP/Getty Images
Shangela Laquifa Wadley was dressed to the nines in a princess-inspired ombré dress and stopped to pose for photos every few seconds. Fans in the stands and people around were yelling her name and she was enjoying every moment. 
SAG Award presenter Sterling K. Brown was all smiles as he and his wife Ryan Michelle Bathe walked the carpet. Sandra Oh also made her grand but quick entrance and waved to fans sitting in the risers. Fellow This Is Us stars Milo Ventimiglia and Mandy Moore both looked fabulous when they each arrived. Moore hugged some of her cast members and seemed to be in a great mood.
Similarly, SAG winner Patricia Arquette took in the entire scene and looked elated to be there. In a bit of a different note, Rumer Willis appeared a bit lost at one point, but found her publicist and the two of them continued to make their way down the carpet.
Golden Globe and SAG winner Glenn Close exuded power in her white pantsuit and waved to fans for a decent amount of time before making her way inside.
Lady Gaga was another vision in white on the carpet in her Dior Haute Couture floor-length gown. She was swarmed by an entourage upon her arrival but was lovingly supported by her fiancé Christian Carino. At one point, she and co-star Bradley Cooper reunited on the carpet and shared a huge hug. They seemed very happy to see each other, which could also have to do with their impromptu "Shallow" duet performance at Gaga's Enigma concert on Saturday night.
Kevin Mazur/Getty Images for Turner
The Marvelous Mrs. Maisel star Rachel Brosnahan gave a huge hug to the Crazy Rich Asians cast, and they seemed to be having a ball. Brosnahan talked to Michelle Yeoh, Henry Golding and Gemma Chan for a few minutes and they were laughing and hugging. When she walked away, the Crazy Rich Asians cast shared a huge group hug.
Brosnahan also told E! News that if she won, she would be celebrating with some In-N-Out Burger. Well, she won. It's time to get her some fries and make 'em animal style! Her In-N-Out meal may be a good luck charm because she had the same celebration meal after the 2019 Golden Globes.
Michael Douglas and Catherine Zeta-Jones looked very much in love as they made their way down the carpet. The two of them held hands throughout the night and she had a huge smile on her face.
Bohemian Rhapsody star and SAG Award winner Rami Malek may be loving awards season, but some of his wardrobe wasn't feeling the same way apparently. Malek had to take off his shoe at one point and people swarmed around him to help him adjust whatever was impacting his footing.
Other celebrities who turned heads on the carpet include Lily Tomlin and Jane Fonda, Emma Stone, Laverne Cox, Darren Criss, Laura Harrier and more.
Check out the full list of 2019 SAG Award winners here. Congrats to all the winners and nominees!
-Reporting by Amanda Williams
(This article was originally published Jan. 27 at 4:00 a.m.)