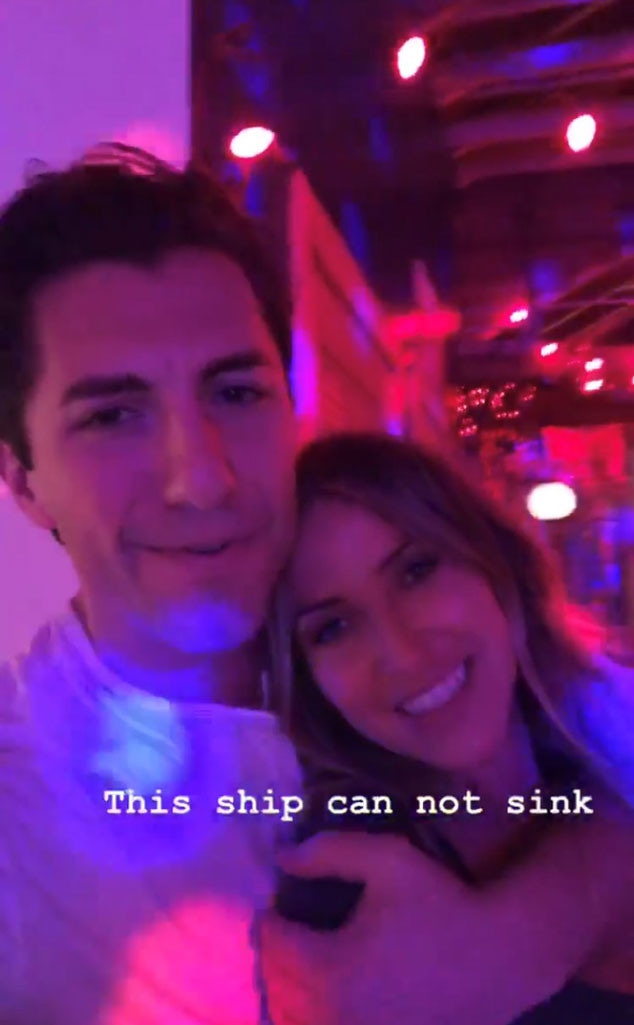 Instagram
Talk about zero to a hundred real quick.
Kaitlyn Bristowe and Jason Tartick's whirlwind romance keeps getting stronger as these Bachelor Nation lovebirds now seem to be in a committed relationship. It goes back to early January when Tartick asked Bristowe out on a date during an episode of her podcast, Off the Vine. You could practically feel him blushing through the headphones. "I mean if we're both going to be in the same city at the same time I see no reason why we shouldn't go to dinner or grab drinks," he told the host. "My heart is racing over here, my beats per minute are off the chain."
Thus began the next Bachelor Nation power couple.
Bristowe and Tartick met up in Denver and had a weekend filled with conga lines, slow dancing, basketball games and more. Their chemistry was apparent even through the Instagram Story videos. At later time, she even referred to herself as his "sweet girlfriend" when she surprised him in Seattle.
Bristowe's most recent episode of Off the Vine, which features fellow Bachelor Nation alum Danielle Maltby, paints a clear picture of how Bristowe and Tartick's relationship has flourished so quickly. 
For starters, Bristowe wanted to clarify that their "date night gone wild" featuring Bachelorette finalist Blake Hortsmann was just a tiny part of their time together because they spent some hours watching Titanic together. The New York native also spoke about how he initially felt "bummed" when ABC named Colton Underwood to be the next Bachelor rather than himself. "I said candidly at the time that I was a little bummed out, but where I'm at in my life I have someone very special in it, and that's Kaitlyn," he said on the podcast. "For that I'm so thankful."
She squealed in the background out of happiness and she loves hearing him say it, too. "If he doesn't tell me five times in a day I'm like, 'Can you tell me?'"
Tartick shared similar words to E! News back in September. "This was an opportunity I would've liked to have had simply because I wasn't sure that it would work the first time around but I did find love in a place I really wasn't certain I could," he told us.
At the time he said he hadn't dated anyone since being sent home by Becca Kufrin, but he was "willing to start." Lucky for Kaitlyn Bristowe.
"He's here for the right reasons," Maltby joked, quoting the popular mantra of the show.
Later on in the podcast episode, Tartick made fun of himself for snoring and falling asleep one time on FaceTime. "Sorry you can't be perfect Jason," Bristowe joked. "You gotta have something. You're good looking, you're the sweetest person I ever met. You just have good intentions, you're well raised, you're just a little diamond in the rough."
Maltby, Bristowe and Tartick discussed past relationships and the importance of communication in a partnership. Tartick said their openness and vulnerability is something they "do really well."
Bristowe added, "We are so open and honest and like our communication is like so mature and healthy. And we're very vulnerable. It's life-changing actually."