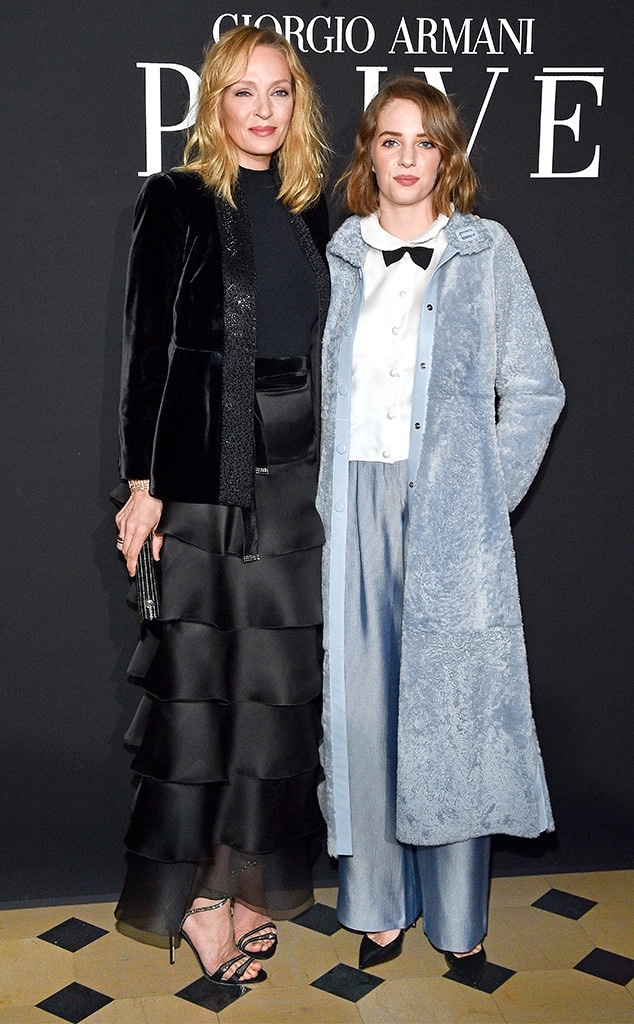 Corbis via Getty Images
Uma Thurman and her daughter Maya Hawke were the ultimate mother-daughter duo on Tuesday.
Thurman and Hawke attended Giorgio Armani's fashion show during Paris Fashion Week and sat front and center along the famed designer's catwalk. The Kill Bill star and her daughter were photographed sitting next to Celine Dion and Amber Heard as well.
Thurman looked stunning in a black ruffled skirt, black top and velvet coat. Hawke brought a pop of color with a calf-length light blue furry coat, blue pants and white collared shirt with a black bow tie attached.
On Sunday, Thurman was elegant as can be in a midi-length black sequin dress with a black belt.
20-year-old Hawke is quickly taking after her parents in terms of career choices. The daughter of Thurman and actor Ethan Hawke got her acting start in the 2017 rendition of Little Women as Jo March.
Frazer Harrison/FilmMagic
The actress and director had a falling out in the past after suffering a set of injuries while filming a car crash scene in Kill Bill. "Quentin and I had an enormous fight, and I accused him of trying to kill me. And he was very angry at that, I guess understandably, because he didn't feel he had tried to kill me," Thurman told the New York Times in February 2018.
Tarantino said his piece to Deadline two days after Thurman's revealing interview with the Times. "It was heartbreaking. Beyond one of the biggest regrets of my career, it is one of the biggest regrets of my life. For a myriad of reasons," the Pulp Fiction director explained.
In May, Thurman said she would be willing to work with him again "if he wrote a great part and we were both in the right place about it."
The Training Day star and Thurman divorced in 2005 and told GQ that was when his "personal life fell apart." His kids, however, helped get him out of the dark period. "That's the wonderful thing about children is they just need you every day. It gives your life balance," he said. "Meaning your whole life isn't just about yourself."
Hawke praised his daughter and spoke about his divorce to Thurman in an interview with GQ. "If you know my daughter, it becomes kind of awesome, because she's not some kind of doe-eyed victim in all this," he told the magazine. "She's a ferocious young person who's gonna try to carve her own path. And so for me, that's the energy that's motivating everything. But it definitely feels like an acid trip."