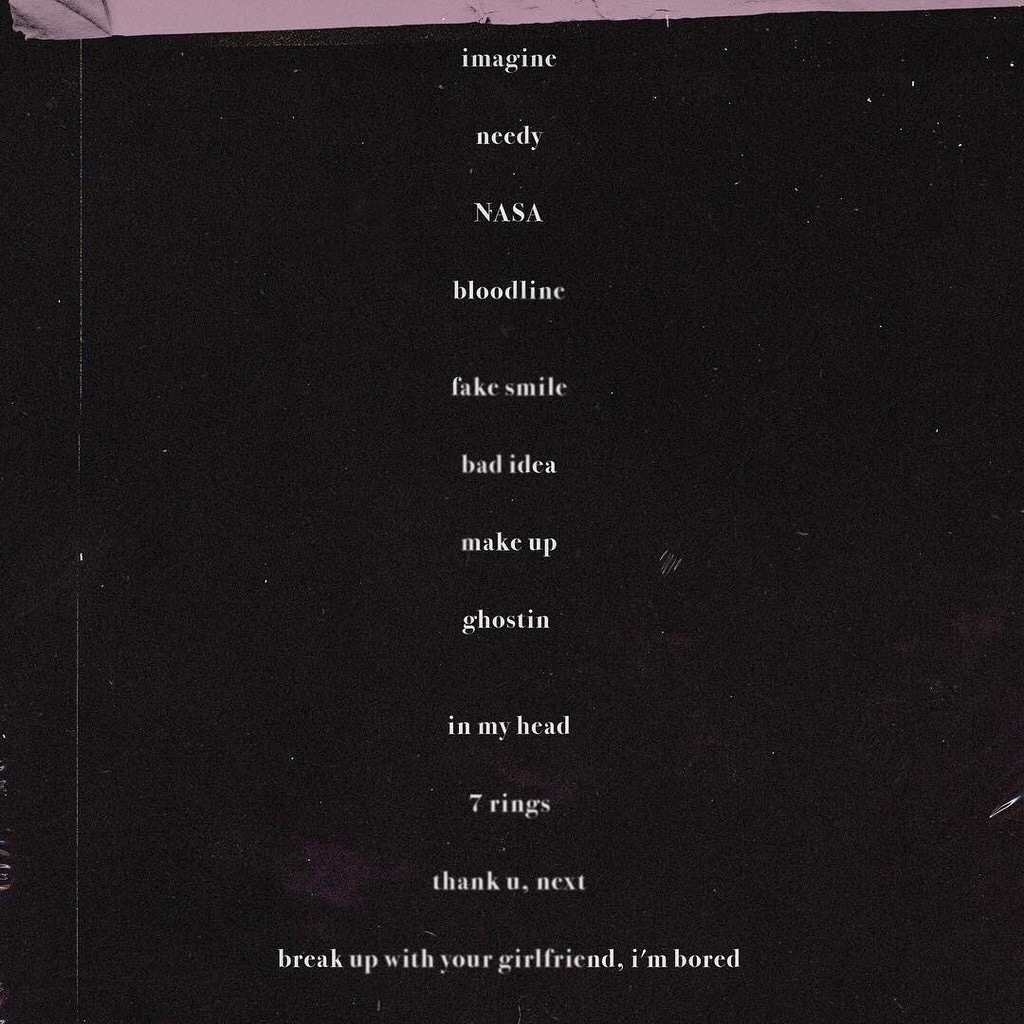 Get ready, because Ariana Grande is gearing up to release her newest album. 
The pop star just dropped the final track-list for the Thank U, Next album and fans are already busy deciphering the meaning behind the titles. Clearly, the songstress draws inspiration from her own life, as we have seen with the Sweetener album, so people were quick to dig into the past few months for clues.
As it is, the singer has already gifted the world the now-iconic song "Thank U, Next," as well as "Imagine." And just last week she dropped the song and music video for "7 Rings," which has a well-known story behind it. So there's no guessing there. 
Ariana has also dropped plenty of teasers for some of the tracks over these past few months. So we took the liberty of breaking down the possible inspirations behind the lyrics. Check out our breakdown below!
1. Needy
For the lyrics and emotions behind this long, look no further than Ariana's very own Twitter account. Ariana already shared a behind-the-scenes look at the making of the song on her profile, which revealed plenty of lyrics from the tune. In one line she sings, "I can be needy, tell me how good it feels to be needed." Some people are already predicting that this is going to be one of her biggest hits. Want to see for yourself? Check out the video below.
2. Bloodline
The Grande family is a tight-knit clan full of supportive women, and Ariana is known to praise her Nonna and mother Joan Grande frequently. So it makes sense that the 25-year-old would devote a song to the "Bloodline" that made her who she is today. 
3. In My Head
Ariana is known to be open about her mental health, and even sang about her struggles with anxiety in the Sweetener track "Breathin'." This has caused many Arianators to speculate that "In My Head" will be similar to "Breathin'." The pop star seems to have swapped this song for the track "Remember," which people believe was about her late ex-boyfriend Mac Miller.
4. NASA
According to Ariana, this one is "kind of" about outer space. However, some super sleuths pointed out that her ex, Pete Davidson, wore a NASA shirt to the 2018 VMAs, where they made their red carpet debut as a couple. Perhaps the shirt holds a bigger meaning to her?
5. Break up with your girlfriend, i'm bored
Okay, this one has most people stumped. But, oddly enough, it also appears to be the track that her fans are most excited about. 
As for the rest of the songs, it looks like we'll just have to wait and hear them to learn the truth.