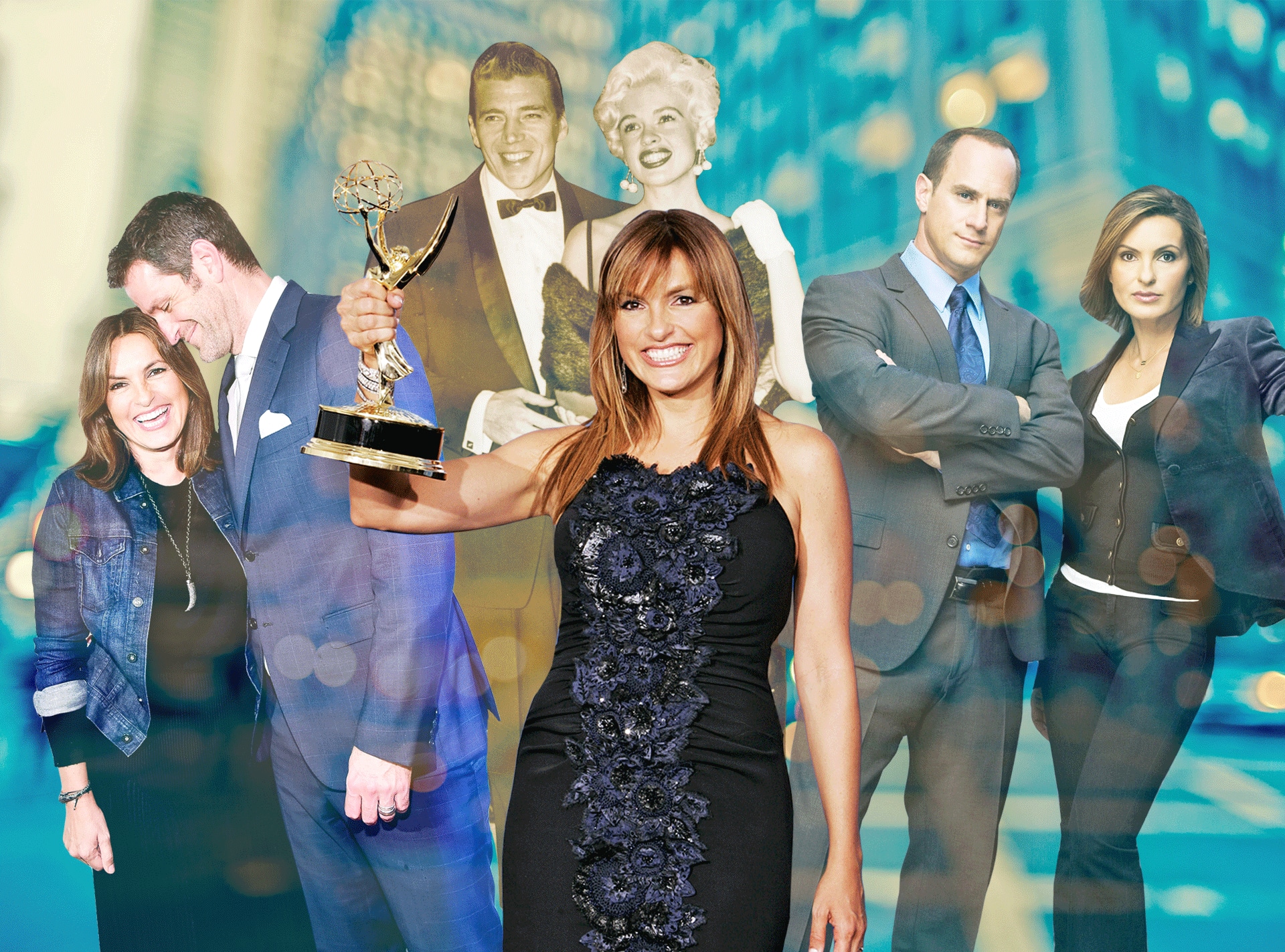 Getty Images; NBC; Melissa Herwitt/E! Illustration
It's hard to remember a time when Mariska Hargitay wasn't synonymous with Olivia Benson. Heck, it's getting increasingly hard to remember a time when Taylor Swift wasn't synonymous with Olivia Benson.
After all, Hargitay has played the cop and feline namesake for 20 years now on Law & Order: SVU, starting as a detective and rising through the ranks to become a seasoned sergeant and, now, a regularly aggrieved lieutenant and single mom on the ever-intense NBC drama.
The iconic role wasn't the actress' first—she had been acting for 15 years before scoring the plum part—but she has been perfectly fine with it being her primary acting focus while she raises her own family with her husband, Peter Hermann, whom she met on the show, and tirelessly works to help victims of sexual violence in real life.
Basically, SVU was the gift that has never stopped giving—be it love, a comfortable life or a platform—but Hargitay's journey to finding happiness couldn't have started out more tragically.
"Losing my mother at such an early age is the scar of my soul," she told Redbook in 2009. "But I feel like it ultimately made me into the person I am today. I understand the journey of life. I had to go through what I did to be here."
The celebrity world is full of actors and artists whose parents were also actors and artists, some doomed to forever be overshadowed by famous family members, while others become major players in their own right.
Hargitay has become entirely her own star, but that doesn't make her any less a part of one of Hollywood's most incredible stories.
Hungarian-born bodybuilder turned actor Mickey Hargitay, named Mr. Universe in 1955, married actress Jayne Mansfield, a star who embodied the description "blonde bombshell" and ran with it, in 1958. It was the second marriage for both, each had one child already, and the bride had only been divorced for about a week from Paul Mansfield when they said their I-dos. (Five-time Mr. Universe Arnold Schwarzenegger and Loni Anderson played the couple in the 1980 TV movie The Jayne Mansfield Story.)
The couple made four movies together and had three children, sons Mickey Jr. and Zoltan and their youngest, daughter Mariska, before divorcing in 1964 after a couple of years of indecision.
Noonan-Taylor Prod/Kobal/REX/Shutterstock
Mansfield, who with a reported 160 IQ was no dumb blonde, flaunted her hourglass curves and became not just a sexy starlet but a full-blown, almost ahead-of-her-time Celebrity. How many 62-year-old photos are still being dissected and reenacted as if they were taken yesterday the way Sophia Loren's side-eye glance at Mansfield's cleavage is? Mansfield, who unlike Marilyn Monroe voluntarily posed for Playboy and in February 1955 was Playmate of the Month, had a pink house with a heart-shaped pool out back, drove a pink Cadillac and played up her sex-kitten looks.
That neckline she wore in the famous Loren picture was her go-to, bust-framing shape. She knew the PR value of a well-timed wardrobe malfunction. She also was one of the first major stars to appear nude (though strategically covered, of course) in a mainstream film, as she did in 1963's Promises! Promises!, while compiling a tidy resume of scene-stealing roles in B-pictures.
"To establish yourself as an actress," she once said, "you have to become well known. A girl just starting out, I would tell her to concentrate on acting, but she doesn't have to go around wearing blankets."
Overall, Jayne Mansfield embraced her sexuality and enjoyed thumbing her nose at puritanical hypocrisy. She would have loved Instagram.
Mansfield also notably didn't feel that she had to choose between being a mother or being a sex symbol. The tabloids embraced her in turn as scandalous fodder, chronicling her divorces, love affairs, racy photo ops, cinematic hits and misses and her family troubles, including when son Zoltan was mauled by a lion in 1966 while his mom was posing for publicity pictures at an animal preserve.
Frequently lost in the literal silhouette of Mansfield's legend, then and now, was the actress, mom and human being.
Wigmore/Abpc/Kobal/REX/Shutterstock
"My mother was this amazing, beautiful, glamor­ous sex symbol—but people didn't know that she played the violin and had a 160 IQ and had five kids and loved dogs," Hargitay told People in 2018. "She was just so ahead of her time. She was an inspiration, she had this appetite for life, and I think I share that with her."
Speaking of shared attributes, Hargitay near-broke the Internet in 2014 when, without comment, she posted an image of half of her face next to half of her mom's, and the two blended into one, minus their different hair colors.
"Someone once said about my mother: 'All you have to do is look in the mirror,'" Hargitay told People. "She's with me still."
On June 29, 1967, Hargitay was 3 and riding in the back of a Buick Electra with Mickey Jr. and Zoltan; her mother; Mansfield's boyfriend at the time, attorney Sam Brody; and driver Ronnie Harrison on U.S. Route 90, heading from Biloxi, Miss., where Mansfield had just performed in a nightclub act, to New Orleans. At around 2 a.m. the car plowed into the back of a trailer truck that was spraying mosquito repellent. The children survived, while all three adults were killed. Mansfield was 34.
According to the New York Times' obituary, police said Harrison may not have been able to see because of the thick chemical fog the truck was spraying in its wake. Authorities said she died instantly. (One of the more macabre urban legends in Hollywood was that Mansfield was decapitated, with the rumor going so far as to say her body was buried one place while her head was interred at Hollywood Forever Cemetery, but official accounts never indicated as such.)
Keystone Press Agency/Keystone USA via ZUMAPRESS.com
Hargitay still sports a scar on the side of her head from the accident.
"The way I've lived with loss is to lean into it," the actress told People in 2018. "As the saying goes, the only way out is through. In my life, certainly I've tried to avoid pain, loss, feeling things. But I've learned instead to real­ly lean into it, because sooner or later you have to pay the piper...I'm not saying it's easy, and it certainly hasn't been for me. There's been a lot of darkness. But on the other side things can be so bright."
All told Hargitay has five siblings, including half-sister Jayne Marie Mansfield from her mom's first marriage and half-brother Tony Cimber from her third, to Matt Cimber, and half-sister Tina Hargitay from Mickey's first marriage, to Mary Birge.
Albert L. Ortega/WireImage
After her mother died, she was raised by Mickey and his third wife, Ellen, a flight attendant whom he was married to for the rest of his life.
"My parents' friends were not in [show] business, and we spent a lot of time, especially in the summers, traveling," Hargitay told the Washington Post. "We went to Hungary and Italy when my dad was still appearing in spaghetti Westerns." (Hargitay, multilingual like both parents, speaks Hungarian, Italian and French.)
Mickey's last acting role came in the scene-setting beginning of an SVU episode in 2003. He died in 2006 at 80, not long after Hargitay's first child was born.
Albert L. Ortega/WireImage
"It was huge to lose this person who was my everything, my strength, my power, the person who believed in me," the actress told People. "But I got to say goodbye, and I remember it was very calm, and he just looked at me and he said, 'Mariska… Always.' I was the most like him, and the gift that I got, in addition to being able to say goodbye, was knowing that he was in me. I already carried his fire, the lessons that he taught me, his compas­sion, his love, his kindness. Now I do feel that he's with me. Even though he's not here physically, I carry him."
And his name remains a visible fixture in L.A. Her brother Mickey Jr., who was 8 when their mother died, owns a beloved West Hollywood nursery, Mickey Hargitay Plants, that enjoys a number of celebrities among its loyal clientele.
Though Hargitay lost her mom so early, Mansfield remained an influential presence in her daughter's life as Mariska embarked on her own acting career in the mid-'80s.
Alice S. Hall/NBCU Photo Bank
After studying theater at UCLA, she seemingly hit all the stops on the aspiring-actress trajectory: a horror movie, pilots that didn't go anywhere, TV shows you don't remember and some you kinda do, cheesy TV movies with names like Night Sins and the 1-2 '90s punch of a spot on Seinfeld and an arc on ER.
"I had a house and car I didn't want to lose, and I had a lot of credit card debt," she later recalled her paycheck-to-paycheck days to Good Housekeeping. A boyfriend paid her bills for awhile and "when we broke up, he said I owed him 60 grand. I'm a payer-backer. So as soon as I could, I paid him off." (Surely only after a thorough forensic investigation into his allegation.)
When she was 35, lightning struck.
"I played lots of tomboys, wearing flannel shirts, jean and boots," Hargitay told the Washington Post in 2000. "On some unconscious level, I was shying away from those sexual roles because of my mother. But as I got older, I changed my mind. I now look forward to doing all kinds of parts, including those that are sexual and sensual."
At the time she was half a season in to her exciting new role playing a detective who investigates sex crimes on Law & Order's first spin-off, Law & Order: SVU, on NBC.
"Olivia is an extremely independent and professional woman who is seeking some kind of sense of fairness in the world," Hargitay explained her character. She added, "Olivia is completely empathetic and feels things deeply. I think she may be an unprecedented woman detective on TV. She's allowed to be female and gentle in a man's world."
She recalled telling L&O universe creator Dick Wolf at her first callback, "'You gotta be kidding! What's with the other women? This is my part, sweetheart. Tell them to go home.'"
Hargitay still had to do the read, but soon after she got the call to go to New York for the screen test. She had already decided to move there, coincidentally, to pursue theater. "In Hollywood, you turn 35 and it's over. In New York, it's a different world," she said.
Little did Hargitay know she had signed up for a show that not only would be chugging along in its 20th season in 2019 but would also become a cultural touchstone, both as a deadly serious take on the splashiest true-crime stories of the day and a perennially bingeable entertainment despite the gruesome plots. Last year Hargitay was No. 4 on Forbes' list of the highest-paid actresses on TV with $13 million.
Along the way, she was nominated for an Emmy eight consecutive times, winning once; won a Golden Globe; became a modern-day sex symbol as the tough, brainy, no-nonsense and yet unmistakably gorgeous Detective Benson; and formed one of the TV partnerships for the ages with Christopher Meloni, who left SVU in 2011 and took Olivia's partner, Elliot Stabler, along with him.
Though in a way the show has never been the same without their chemistry, Hargitay—with an assist from Ice-T, who's been on the show almost as long—handily shouldered the burden of keeping SVU compelling as cast members have started cycling through more frequently.
She has also directed a handful of episodes and became a producer in 2014 and then an executive producer in 2016.
Hargitay kept the plot twists coming for herself as well. Younger star Peter Hermann made the first of his dozens of appearances on SVU as defense attorney Trevor Langan in 2002, and that was that.
"I had a few rough years in New York because I'd lived in L.A. my whole life, and felt ripped from the womb when I moved here," Hargitay told Glamour in 2007 about her pre-Peter dating life. "It was difficult to maintain relationships working 14 hours a day. As an actor, you dream and pray to have steady work, so I felt guilty that I wasn't happy. Then I met Peter and everything changed."
Jamie McCarthy/Getty Images for Samsung
Hargitay was 40 when she and Hermann married in August 2004. "Life begins at 40, and I'm living proof," she told Shape. "I have a more developed sense of my priorities. Life has so much more meaning now. To me, the definition of sexy—at any age—is strength and confidence."
She recalled to Good Housekeeping, "I had been engaged before, but what I felt for Peter I had never felt before—it was knowing that someone else put you first and that you put him first. A lot of people have doubts on their wedding day, but I was never so sure and happy. We were going into the unknown together and were taking care of each other the way you're supposed to when you are married."
The two bonded over faith (their first date was at his church) and shared values. Hargitay was raised Catholic but said in 2010 that she considered herself a Christian who tends to make other plans on Sundays.
"I find faith to be a more private thing," she said. "For me, it's about my personal relationship with God. I think God has a plan, and a big one. I try to live in gratitude and awe and to get to know Him better and pray that He helps guide me in the decisions I make."
What she definitely does believe in are signs, miracles and giving back.
She and Hermann welcomed son August in 2006 and in 2011 adopted daughter Amaya and son Andrew. The family lives in New York, where SVU has filmed all these years.
Hargitay told Glamour back in 2007, "I wasn't ready to be a wife or mother before now. And my character on Law & Order: SVU has become a huge role model; I don't think I could've handled that before my forties."
"I feel like I'm the poster child for 'You can do it another way,'" she added. "I didn't get cast just because of my looks. [Aging] is more of a curse for those really beautiful girls."
(Um, who wants to tell her?)
In 2009, while doing one of her own stunts on the show, a scene in which she took off running after a suspect and had to jump, Hargitay suffered a tear in her lung tissue that ultimately caused the lung to collapse and required multiple surgeries to repair.
"I didn't know for three months that something was really wrong," she told Redbook. "At first I seemed to get better. But then two weeks later I had chest pains and shortness of breath. My grandfather died of a heart attack at 34, and my mom died at the same age. At first I worried it was a heart attack. Then someone pointed out that my heart was on the other side!"
Eventually an x-ray showed that one lung was half-collapsed. She had a procedure to stave off surgery, but it didn't work, and ultimately she needed the operation.
"I just thought, Please make me better, please make me better," the actress remembered. "I got really scared that maybe something else was wrong. All those old fears about my mom and my grandfather came shooting up. Having a child changes everything. All of a sudden you have so much to lose, so much to live for. Sometimes things in life happen that allow us to understand our priorities very clearly. Ultimately you can see those as gifts."
SEBASTIEN NOGIER/EPA-EFE/REX/Shutterstock
Asked what else she took away from her mother's untimely death, Hargitay replied, "Surviving and thriving in the wake of my mother's loss, I learned to believe in God. He has a plan, if you pay attention to the signs. I am inspired by the absolute proof of miracles."
Meanwhile, though in 2000 she said that she was looking forward to different parts, plural, since a TV movie in 2004 called Plain Truth she has been all Benson, all the time (minus joining a different kind of squad in Taylor Swift's 2015 "Bad Blood" video).
With Benson's steely resolve punctuated by little bouts of joy down to a science, Hargitay has turned much of her extracurricular attention to her Joyful Heart Foundation, which provides support to victims of domestic abuse and sexual violence and seeks to educate the masses about what they can do to stop the cycle of abuse and help survivors. 
Few actors' real-life passion projects are such an organic extension of the characters they play onscreen.
"Normal fan mail is, 'Can I get an autographed picture?' But the letters I started receiving was a very different kind of fan mail," Hargitay told Vanity Fair last year. "I started getting letters in which women actually disclosed their stories of abuse...the fact that they were writing to this actor on TV, this fictional character, showed me how alone they felt. The themes in the letters were all the same—they talked about shame and isolation."
She launched the Joyful Heart Foundation in 2004.
"I have all these amazing friends—Hilary Swank, Carrie-Anne Moss, Maria Bello," Hargitay told Glamour in 2007. "About 10 years ago, they were all just hitting it, movie after movie after movie. I loved these women, but I couldn't help but feel like the loser of the group. But one thing my dad taught me was, there's only one person to compete with—yourself.
"If you had asked me 10 years ago, 'Are you going to start a foundation for victims of sexual assault?' I would've said, 'No, I'm an actor, I just want to be in movies.' I'm really grateful my job has led me down this road."
Bryan Bedder/Getty Images for Joyful Heart Foundation
Hargitay concluded, "My mom had five kids, worked, had a million dogs and played the violin. I look at my life now and think, I'm on a TV show, I run a foundation, I run a household, I'm a mom, I'm a wife, I'm a lot of things. I realize I'm like that because it's what I know."
After finding out about a decade ago that there were thousands of untested rape kits sitting dormant in police labs due to underfunding and general bureaucratic inefficiency, Hargitay testified on Capitol Hill advocating for the rights of sexual assault victims in 2010. Joyful Heart's efforts aiding the city of Detroit in getting its backlog of kits processed are featured in the 2018 HBO documentary I Am Evidence, which Hargitay produced.
"I couldn't believe that people weren't talking about it, that people didn't know," she told Vanity Fair. "The fact that these kits weren't tested means, to me, that [these authorities] are saying that women are not of value." She added, "One thing that this film is going to do is restore faith in the criminal justice system because people will realize that there are people out here who are willing to right the wrongs, even if we have to go back 40 and 45 years to do it."
None of this is to say that Hargitay is super-serious all the time—and even her foundation's name, Joyful Heart, is an indicator of just how much she wants to emphasize the healing powers of looking at the bright side of life.
"Comedy and humor have always been a part of who I am," she told Shape. "Humor is about perspective, and hanging out with people who see life through a similar lens is so important."
Jonathan Leibson/WireImage
Talking about the keys to her now almost 15-year marriage back in 2010, she shared with Good Housekeeping, "We've said really honest things to each other—about how we feel and what we want—and I've thought for sure we were going to break up. And then we laugh, we can make a joke about what we talk about, and it becomes a part of the repertoire of the relationship. It's not this secret you carry anymore. We have it out in the open. It dissipates any bad feelings, because you know the person heard you and it registered."
She nicknamed her family's home in the Hamptons the "Happy House" (it was printed on the guest towels and everything), she likes to entertain and her preferred mode of relaxation is spending time with Hermann and the kids. A California girl at heart, she loves swimming and being by the water and that translated to beach-inspired decor amid the family photographs and mementos.
But she carries the most important keepsakes around with her everywhere she goes.
"The message I got from my father was that life is hard, but you just don't quit," Hargitay said. "I am grateful that I didn't let fear get the best of me. It only holds you back from possibilities and greatness. You've got to kick fear to the side, because the payoff is huge."
(E! and NBC are both members of the NBCUniversal family.)