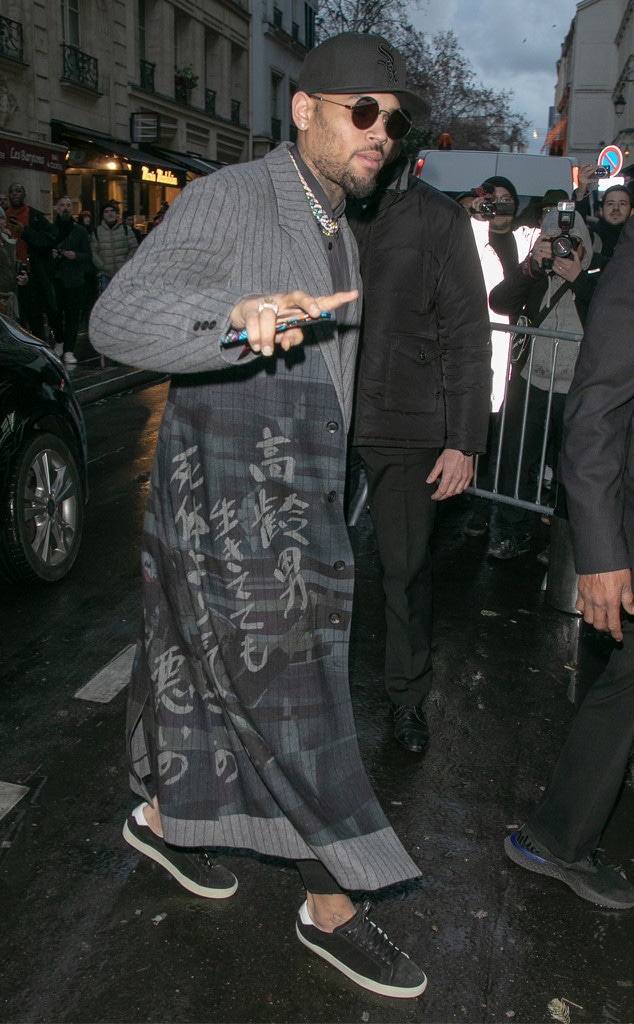 Marc Piasecki/Getty Images
UPDATE: Chris Brown and two other individuals have been released hours after they were taken into custody on alleged rape and drug-related charges, according to NBC News. 
A source adds, "The investigation is not closed at this stage and continues under the authority of the Parquet of Paris."
According to TMZ, Brown was released without bail and is free to leave France.
_____
Chris Brown is in police custody. 
A judicial source close to the investigation confirmed to NBC News the the 29-year-old Grammy winner was detained by police in Paris and accused of aggravated rape and drug offenses. CBS News reported the singer was still in custody on Tuesday. E! News has reached out to Brown's attorney, his music label, police and the French prosecutor for comment. 
Later Tuesday, the singer issued a denial on social media. "I WANNA MAKE IT PERFECTLY CLEAR...... THIS IS FALSE AND A WHOLE LOT OF CAP! NNNNNNNNEEEEEEEEEEVVVVVVVVVVEEEEEERRRRRR!!!!!! FOR MY DAUGHTER AND MY FAMILY THIS IS SO DISPRESPECTFUL AND IS AGAINST MY CHARACTER AND MORALS!!!!!" he captioned a photo that read, "THIS B--CH LYIN'."
Citing two anonymous police officials, the Associated Press (via NBC News) reported the star was detained on Monday. According to reports, a woman accused Brown of raping her last week in a hotel room. A source confirmed to NBC News that two other people are also in police custody for questioning. 
The star was photographed in Paris on Thursday ahead of Paris Fashion Week. While it's unclear what his plans were in the city, he shared a photo of himself during rehearsal in Paris on Monday. 
"Dance REHEARSAL! @dancer_boysmith got me working IN PARIS....," he captioned the shot. 
In May 2018, an anonymous woman sued him and others for alleged negligence, intentional infliction of emotional distress, battery and assault after alleging she had been sexually assaulted at his house. 
"The fact that they made a demand for $17 million and I told them to go pound sand probably explains why they did the press conference today. Chris didn't do anything and they know Chris didn't do anything," Chris' attorney Mark Geragos retorted to TMZ at the time. "Other than using his name so she can have a press conference, I don't understand why he's dragged into anything."
(This story was originally published Tuesday, January 22, 2019 at 6:42 a.m. PST)
(E! and NBC are both part of the NBCUniversal family.)