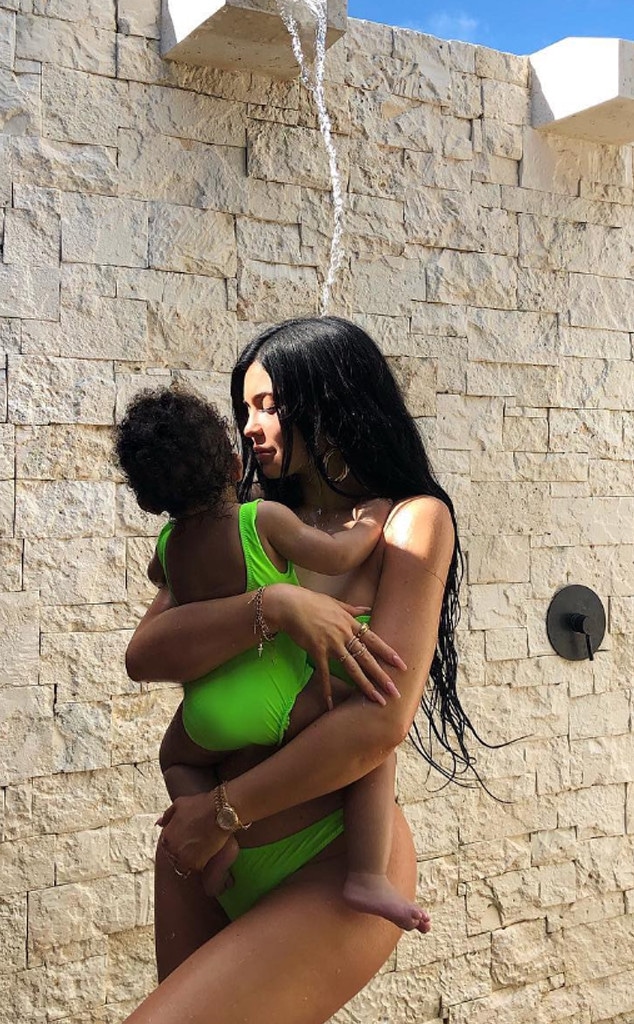 Instagram
On an island in the sun, Kylie Jenner and her baby girl are going to have some fun.
As the Keeping Up With the Kardashians star continued her getaway with Stormi Webster, the mother-daughter duo was able to enjoy some time by the pool.
What came next were a few family pictures that fans can't help but "like" on social media.
"Let's get away," Kylie wrote on Instagram as she posed in a green two-piece White Fox Swim bikini and 8 Other Reasons Jay Duster earrings while holding Stormi. As for her daughter, she matched mommy in a green bathing suit as she kept her eyes on the nearby fountain.
Khloe Kardashian and Kim Kardashian were quick to like the photo with Ashley Tisdale writing what we were all thinking in the comments section: "Too cute!"
As for her Instagram Stories, Kylie shared photos of a separate innocent photo shoot with Stormi. The proud mom wore an orange mini-dress and straw hat as the sun began to set.
"Let the birthday adventures begin," the cosmetics mogul teased on Instagram.
According to a source, the trip to Turks and Caicos lasted two short nights. But those lucky to score an invite stayed at the gorgeous Hawksbill Estate that rents for approximately $13,700 a night.
"They spent all of their time on the beach and at the pool," a source shared with E! News. "It was a very relaxing few days and they didn't leave the property."
Stormi isn't the only Kardashian family member celebrating a birthday. Chicago West turned one on Tuesday and a family gathering occurred at Kim and Kanye West's home.
In addition to a low-key dinner, guests including Kourtney Kardashian witnessed Chicago receive her very own kid-friendly neon yellow Mercedes G-Wagon.
"It's Chicago's birthday and look what Kourt pulled up with," Kim said in one video. "This is what Chi gets to match mommy. Oh my gosh, thank you Kourt!"
Ultimately, the fun may just be beginning for Stormi's first birthday. After all, her special day isn't until February 1.