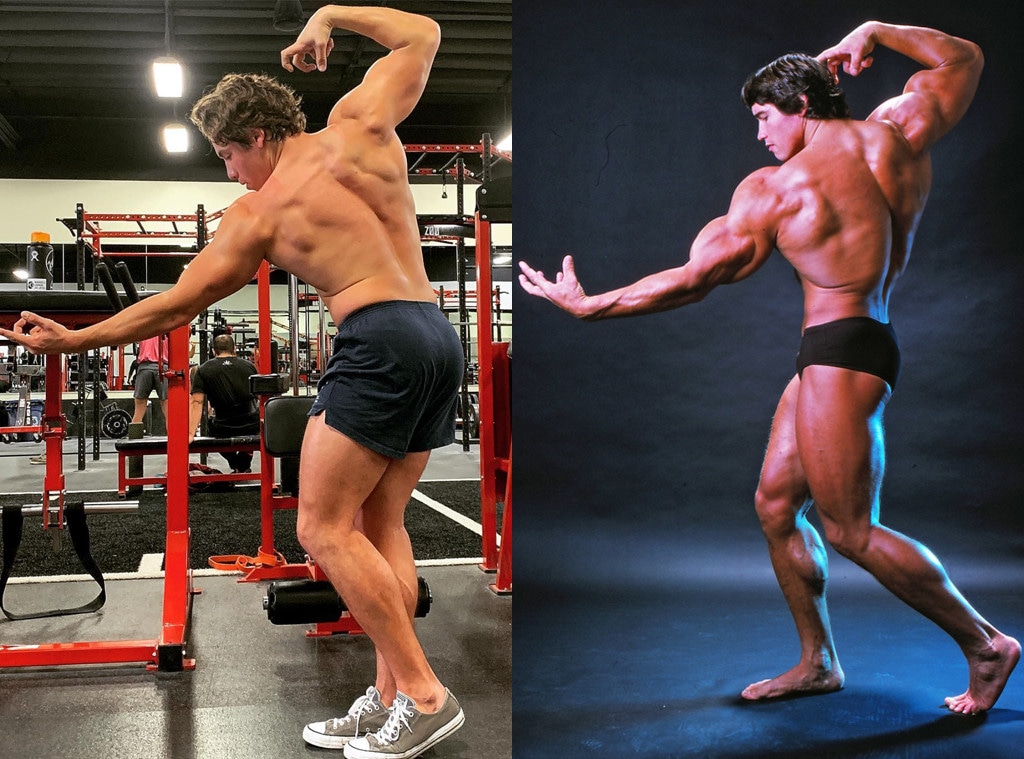 Instagram, Jack Mitchell/Getty Images
Like father, like son.
Arnold Schwarzenegger's son, Joseph Baena, proved just how much he takes after his famous father this week by posting a picture of himself flexing at the gym.
The photo showed the 21-year-old offspring baring his muscles in nothing but a pair of black shorts and sneakers. He also struck a pose that was very similar to the one his dear old dad did in 1976—not long after The Terminator star won his sixth consecutive Mr. Olympia title in 1975.
"Just a lil thicc," he captioned the image.
This wasn't the first time Schwarzenegger's son had compared his physique to his dad's. In November, he posted a video of himself showing off his enormous arm muscles. Again, fans noted he seemed to resemble his pops. He also poked a little fun at his dad in 2017 when he wished a Happy Father's Day "to the man that's almost as big as I am."
It looks like Schwarzenegger likes to help his son with his workouts, too. The 71-year-old star posted a picture of them hitting the gym together on Baena's birthday in 2017.
"You're a fantastic son and a great training partner," Schwarzenegger wrote at the time. "You get stronger and smarter every year and I'm so proud of you. I love you."
Instagram, Jack Mitchell/Getty Images
Schwarzenegger shares Baena with Mildred Baena—the actor's former housekeeper with whom he had an affair. The Jingle All the Way star also has four children with his ex Maria Shriver: Christopher Schwarzenegger, Christina Schwarzenegger, Patrick Schwarzenegger and Katherine Schwarzenegger, who recently got engaged to Chris Pratt.