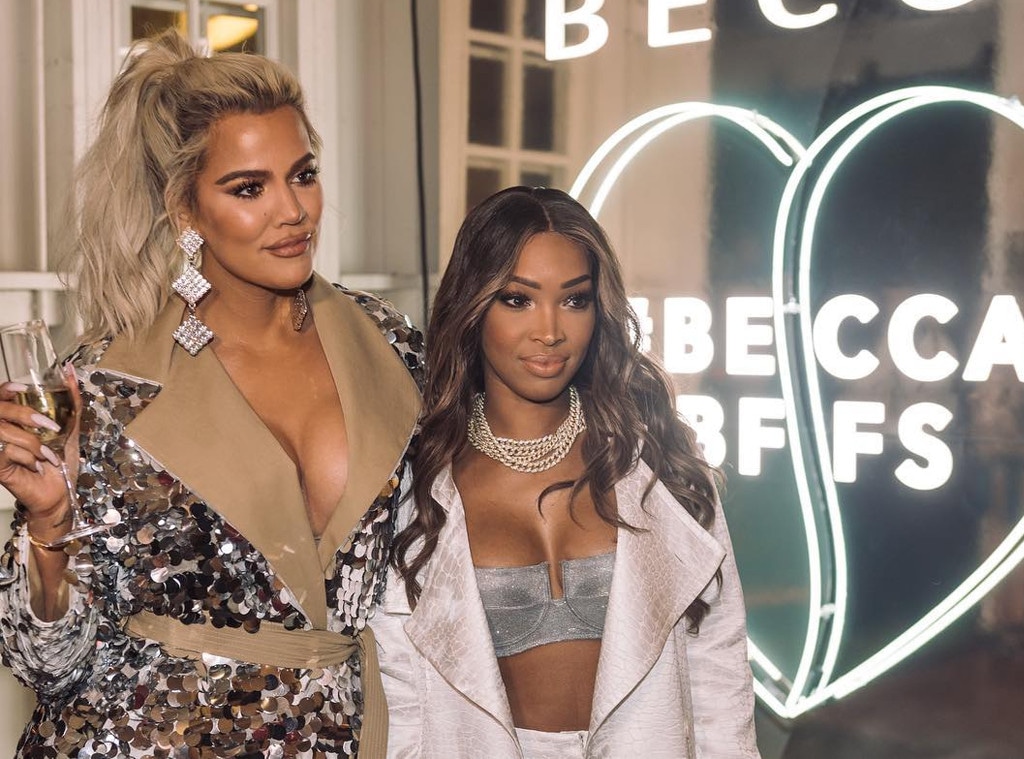 Instagram
In honor of Valentine's Day, Khloe Kardashian is showing love to the person that always has her back: Malika Haqq.
Since the early days of Keeping Up With the Kardashians, viewers have watched Koko and Malika's friendship grow and evolve, and while they've had their personal trials and tribulations, they always manage to find their way back to each other. They're relatable, loyal and inseparable. Now they're making it a point to celebrate their long-lasting friendship through a new collaboration.
"We've actually never done a collab together of this magnitude before," Khloe told E! News, in reference to their seven-piece collection with Becca Cosmetics. "I think a lot of best friends can relate, especially when someone is going through a breakup or whatever. People always make this huge emphasis on Valentine's Day, but you have each other...You don't always need a man to enjoy Valentine's Day. We just love the whole idea and it really spoke to us."
It also made sense for Malika and Khloe, who has had ups and downs with boyfriend Tristan Thompson. With different skin complexions, undertones and beauty styles, they tend to get ready together but are forced to use different products or the same products on different parts of the face.
Khloe continued, "[The collaboration] also started very naturally for us. Malika would come over and if she left her makeup bag somewhere she would use my makeup, but just in a different way. She would use an eye shadow as a blush."
In fact, this is what lead to their first collection with Becca Cosmetics.
"We knew as people that use Becca that there was a way for us to come up with palettes that work for both of us," Malika shared with E! News, sitting next to Khloe. "If I can't use something in Khloe's palette as a highlighter, I can use it as an eye shadow. They're all just very good tones that work for both of us."
With cool, neutral and warm tones, as well as light to dark shades, represented in the two palettes (one created by Khloe and other by Malika), they promise to work for everyone else, too. 
It's also an organic fit because makeup collections run in the Kardashian-Jenner family. Between KKW Beauty and Kylie Cosmetics, which has launched its own BFF collaboration between Jordyn Woods and Kylie Jenner, there is no shortage of beauty moguls willing to give feedback at beckon call. Even True Thompson, Khloe's nine-month-old daughter, is getting involved in the family business.
When asked when True will start playing with makeup of her own, the Good American co-founder jokingly said, "She started this morning. The mirrored packaging I think is really irresistible to a nine-month-old...Makeup is supposed to be fun. We're already all beautiful. I think people take [makeup] too seriously or they judge it too harshly...I wasn't allowed to wear makeup until I was 14. I think it was a blue eye shadow. I don't know why anyone let me do that. So, I think I might steer in the right color direction."
Malika will be there to help: "[True] makes my ovaries literally leap."
True, even at her young age, also has had a major impact on Khloe's routine: "She's so great and she's such a good baby. But, I did just sleep in my makeup. I'm so militant about beauty routines and cleanliness and hygiene and sleeping in my makeup is just not an option, unless I'm really drunk. But on a regular night, you're just so tired. I have slept in my makeup and in the morning said 'You know it doesn't look that bad, so I might just touch it up and go,' which is something that I've never done before. I've perfected the five-minute makeup. You have to."