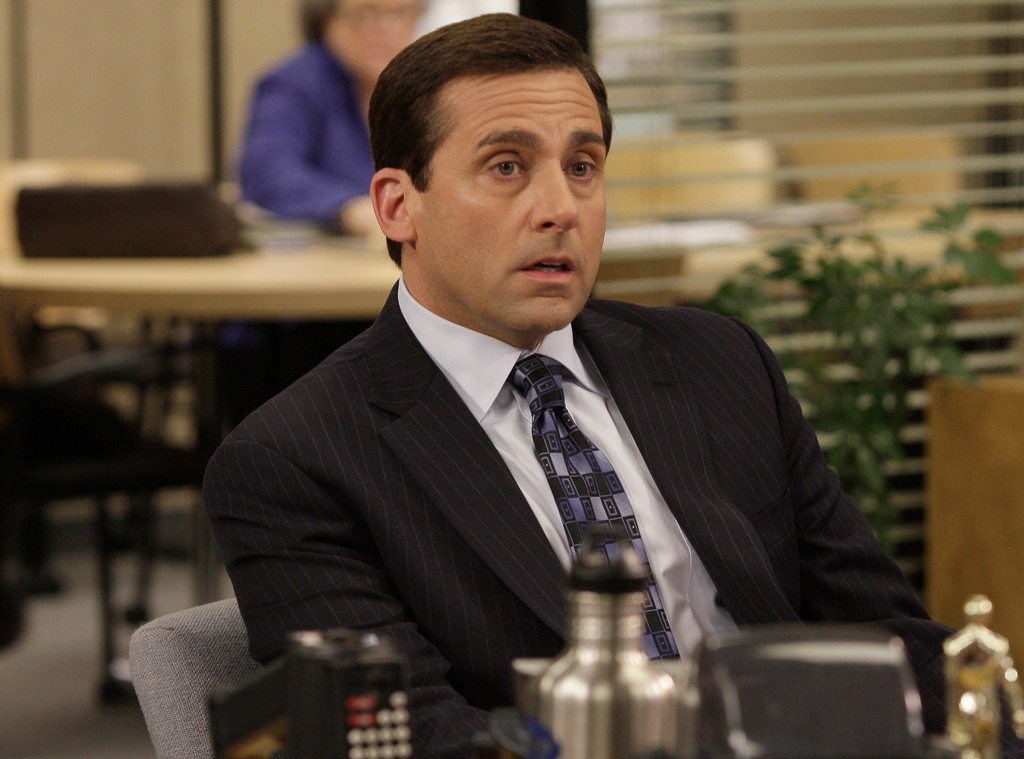 Byron Cohen/NBC
Every day, the dream of a reboot of The Office gets further and further away. 
But if we're being honest, that might not be such a bad thing, especially if we're getting new shows in its place. Netflix announced today that Steve Carell is reteaming with The Office executive producers Greg Daniels and Howard Klein for Space Force, a workplace comedy about the team assigned to start a new, sixth branch of the military designed to protect us in space. 
So basically, it's The Office, but it's about space instead of paper! 
It's not going to be the same show, obviously, but maybe it's the show we should be focusing on instead of begging for a reboot of The Office, which has reportedly been in the works since 2017. Carell himself was the one who pointed out that The Office was a product of its time, and while it might work really well in a Netflix binge, Michael Scott's not a boss who would work in 2019. The Office is not the show we need anymore, but maybe Space Force could be. 
"Apart from the fact that I just don't think that's a good idea, it might be impossible to do that show today and have people accept it the way it was accepted 10 years ago. The climate's different," Carell told Esquire in October. 
"I mean, the whole idea of that character, Michael Scott, so much of it was predicated on inappropriate behavior. I mean, he's certainly not a model boss. A lot of what is depicted on that show is completely wrong-minded. That's the point, you know? But I just don't know how that would fly now. There's a very high awareness of offensive things today—which is good, for sure. But at the same time, when you take a character like that too literally, it doesn't really work," he said. 
When Carell hosted Saturday Night Live in November, his monologue featured Office stars popping up to ask him if he'd do the reboot, should it happen. 
"Um, no, actually I don't think so," he said. "It was a great experience, I love all those people but I just don't think it's the best idea. I think maybe we should just leave it alone." 
Even as Jenna Fischer, Ed Helms, Ellie Kemper, and Carell's wife Nancy bugged him further, Carell refused. 
"I don't think it would be as good this time around," he said. "I just don't think it's a good idea." 
So it's safe to say that Steve Carell doesn't think it's a good idea, and while other cast members, like Mindy Kaling, have said their participation depends on Greg Daniels being behind it, and Greg Daniels is behind this show, along with Steve Carell...it just all sounds like an actual return to The Office isn't going to and probably shouldn't happen.
Reports of the reboot were never actually confirmed, but fans went crazy when TVLine reported that NBC was looking to revive the show with a mix of old and new cast members and a new boss. The show was definitely on the list of shows former NBC president Bob Greenblatt wished he could revive, which he revealed to reporters just before the highly successful launch of the Will & Grace revival. 
"I've talked to Greg [Daniels] four times over the past few years. It's always, 'maybe someday, but not now,'" Greenblatt had said. He stepped down from his role in September 2018. 
All that said, with as often as the cast apparently reunites to just hang out, we would never ever say no to a reunion movie or just a nice catch-up video on Youtube. But a reboot of The Office that Michael Scott doesn't approve of (and that would likely also not feature movie star John Krasinski) isn't really an Office reboot we're interested in watching. 
Space Force, on the other hand, is already on our must-watch list.